Ukraine's Elite Forces Turn Vehicles at Russian Base Into Fiery Wrecks
Aerial footage purports to show Russian military vehicles and pieces of Russian military equipment spewing flames and thick, black smoke after they were hit in Ukrainian artillery strikes.
Zenger News obtained the video from the Ukrainian Air Assault Forces (DShV), one of the five branches of the Armed Forces of Ukraine and considered the elite of Ukraine's armed forces, on Monday.
The DShV said (in Ukrainian): "The Air Assault Forces of the Ukrainian Armed Forces destroyed a BM-27 Uragan multiple rocket launcher and a material and technical support unit of the Russian occupiers."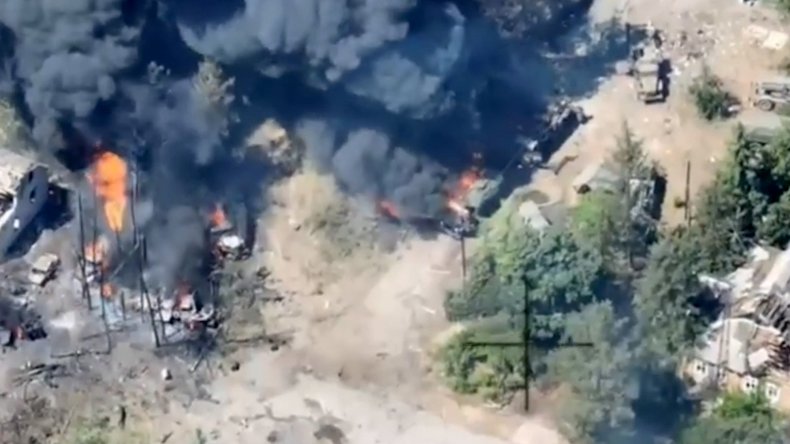 "Effective use of artillery from the 81st Airmobile Brigade of the Air Assault Forces of the Armed Forces of Ukraine destroyed an BM-27 Uragan multiple rocket launcher together with special vehicles and a logistics base of the Russian Armed Forces, where the occupiers refueled and serviced military equipment in the field.
"Death to the Russian occupiers! Air Assault Forces - always first! Glory to Ukraine!"
The BM-27 Uragan is a self-propelled 220mm multiple rocket launcher designed in the Soviet Union. It entered service in 1975. It is also used by the Ukrainian military.
The DShV, which are headquartered in Zhytomyr in western Ukraine, did not specify where in the country the footage was filmed.
Zenger News contacted Russian and Ukrainian officials for comment but had not received a reply at the time of writing.
Russian troops invaded Ukraine on February 24 in what the Kremlin is still calling a "special military operation." June 14 marks the 111th day of the campaign.
The General Staff of the Armed Forces of Ukraine reported that between February 24 and June 14, Russia had lost 32,500 personnel, 1,434 tanks, 3,503 armored fighting vehicles, 721 artillery systems, 229 multiple launch rocket systems, 97 anti-aircraft systems, 213 warplanes, 179 helicopters, 2,473 motor vehicles and fuel tankers, 13 warships/boats, 588 drones, 54 pieces of special equipment and 125 cruise missiles.
Elsewhere in Ukraine, all bridges to the besieged Ukrainian city of Severodonetsk have reportedly been destroyed, the local governor, Serhiy Haidai, has said. Ukrainian forces there are now cut off from any possible retreat, and fierce street-to-street fighting is taking place in the city, which has been the focus of Russian artillery fire for weeks.
Ukrainian officials have said that weapons from allies are not arriving fast enough. An adviser to President Volodymyr Zelensky, Mykhailo Podolyak, has said that to end the war, they need "1,000 howitzers caliber 155 mm; 300 [Multiple Launch Rocket Systems]; 500 tanks; 2,000 armored vehicles; 1,000 drones."
Podolyak added: "Contact Group of Defense Ministers meeting is held in Brussels on June 15. We are waiting for a decision."
This story was provided to Newsweek by Zenger News.