Ukraine's Energy Blackouts Will Most Likely Last Through March: Utility
As Russia continues to target Ukraine's critical infrastructure, energy providers are preparing customers to expect rolling blackouts to last through March.
In a Facebook post on Monday, Sergey Kovalenko, CEO of the Ukrainian energy provider YASNO, wrote that the company is anticipating several months of power outages as Ukraine tries to preserve its remaining infrastructure.
"Although there are fewer outages now, I want everyone to understand: Ukrainians will most likely have to live in a shutdown mode until at least the end of March," Kovalenko wrote.
According to YASNO's website, the company services over 3.5 million customers and 80,000 businesses.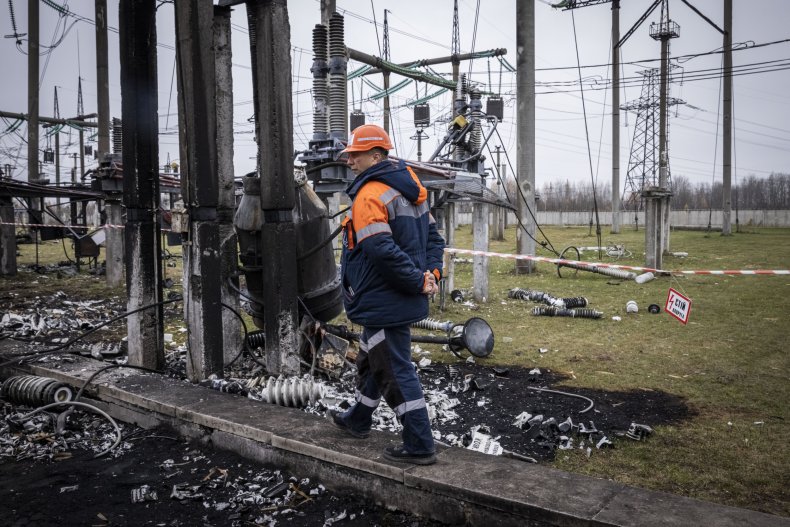 Kovalenko added that as long as there "are no new attacks on the power grid, then under current conditions of electricity generation, the power deficit could be evenly distributed across the country."
"This means the outages will be everywhere but less lasting," read his post.
However, Kovalenko said if Russia continues its attacks, customers should be prepared for more power outages outside of the current rolling schedule.
"I guess we should be prepared for different options, even for the worst," he wrote. "Stock up on warm clothes, blankets, think about options that will help you wait a long outage. It's better to do it now than to be miserable and blame someone later."
Last week, Russia ramped up its attack on Ukraine's critical infrastructure, targeting at least a dozen regions, triggering widespread power outages throughout the country. The increased missile attacks come as Ukraine is preparing for the frigid winter months, which could present a new obstacle for millions of citizens.
Hans Henri Kluge, World Health Organization (WHO) regional director for Europe, said at a news conference Monday that roughly 10 million Ukrainians are without power, putting a large part of the country at risk as temperatures are expected to drop below zero, reported the BBC.
"Put simply, this winter will be about survival," Kluge said at the conference.
According to BBC's report, WHO has also tracked at least 703 attacks on Ukraine's health infrastructure since Russia's invasion in late February. Kluge said that as a result, hundreds of healthcare facilities are "no longer fully operational, lacking fuel, water and electricity to meet basic needs."
Ukrainian President Volodymyr Zelensky said in his nightly address Monday that energy providers had to initiate unscheduled blackouts earlier in the day due to "a higher level of consumption than the country can provide at this time."
Zelensky also pleaded with Ukraine's regional authorities to "not stop communicating about the rational consumption of electricity" and encouraged citizens and businesses to be "frugal" with their energy consumption.
"Please try to limit your personal use of electricity in areas where there is the most difficulty on a daily basis, and especially during peak consumption hours," Zelensky said. "Of course, there should be a very frugal approach in public places as well."
Newsweek has reached out to Zelensky's office for comment.