Ukraine's 'Feline Defense Force' Brings Some Relief to the War-Weary
A social media account promoting the so-called Ukrainian "Feline Defense Force" is bringing levity to the war-weary as the Russian invasion entered its second month.
The Feline Defense Force Twitter account has regularly posted photos of what are claimed to be "the cats of Ukraine who support our human warriors fighting to protect democracy from enemy invaders" since becoming active on March 5. The cats are often accompanied by Ukrainian soldiers in the pictures, which typically include captions that jokingly suggest they are fighting paw-to-paw alongside their human counterparts and being rewarded with Russian soldiers as food.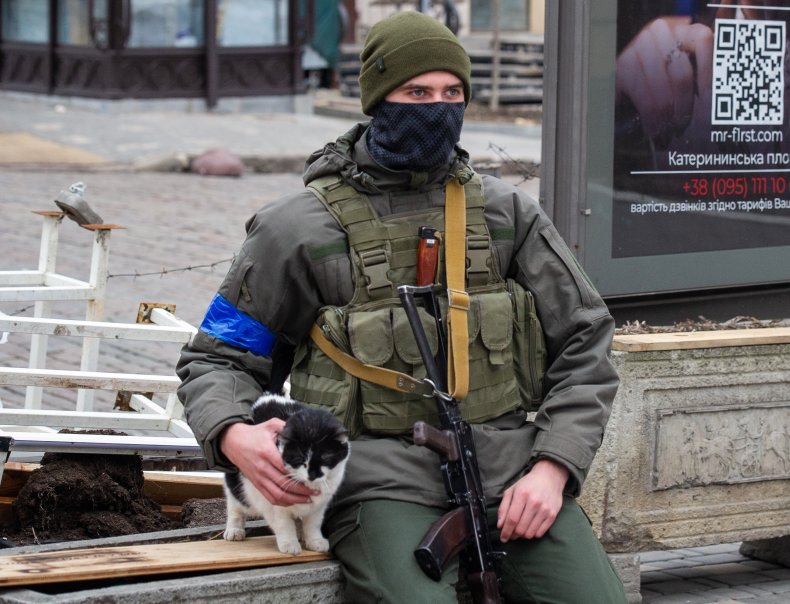 In a March 16 tweet, a caption to a photo of a cat licking its lips while being held by a smiling Ukrainian soldier reads, "We're always happy after eating Russian invaders..."
Another photo, shared on March 21, shows a chops-licking cat that the account claims "just finished eating another Russian invader." A tweet shared on Friday claims that "most Russian taste like cheap vodka and sadness...that is also how they smell."
Other tweets feature cats alongside members of the Ukrainian military with fewer macabre implications. A series of videos shared on Friday show a cat dubbed Private Simba, who was said to have just "reported for duty." Simba is shown being held and petted by soldiers, as well as being held aloft after having "settled into her new unit with human warriors."
While the war has had a heavy toll on humans—over 1,000 civilians have been killed, according to the United Nations, in addition to thousands more Russian and Ukrainian military deaths—the conflict has also had devastating consequences for pets like cats.
The Feline Defense Force is operating a web store that sells clothing and other items branded with an insignia featuring a cat paw and the flag of Ukraine. Proceeds go to a different charity each month. Animal welfare organization Happy Paw is the current charity, which the group says operates 60 shelters to help "animals caught in the crossfire" across Ukraine.
Pets have been killed and injured amid Russian shelling, with some animal shelters and volunteers reportedly being targeted specifically. In addition, over 3.5 million Ukrainians have fled the country amid the assault, many of whom were forced to leave their pets behind.
Earlier this week, Ukrainian journalist Anna Yaremenko shared a video to the popular Reddit forum r/Cats, captioned, "How cats are going through war in Ukraine." The video shows some of the abandoned cats being cared for by Yaremenko's friends Tania and Valerii at a bomb shelter in the northeastern Ukrainian city of Shostka.
"My friends decided to have a mission since they didn't want to run," Yaremenko previously told Newsweek. "A lot of animals were left behind throughout the country. It's war, you can't blame people, but you do whatever you can to save animals. It's not only people suffering, because of the war, but a lot of animals too."
Days after the Russian invasion began in late February, some came to believe that cats were offering real assistance to the Ukrainian military due to a popular social media post that suggested laser-loving felines were helping to identify Russian snipers.
The post claimed that a cat named Mikhael, said to be known as the "panther of Kharkiv," had helped soldiers identify laser dots used by four Russian snipers who were later killed. The claim was quickly debunked by multiple media outlets.
Newsweek reached out to the Embassy of Ukraine in Washington, D.C., for comment.