Ukraine's Maidan: Pictures From a Revolution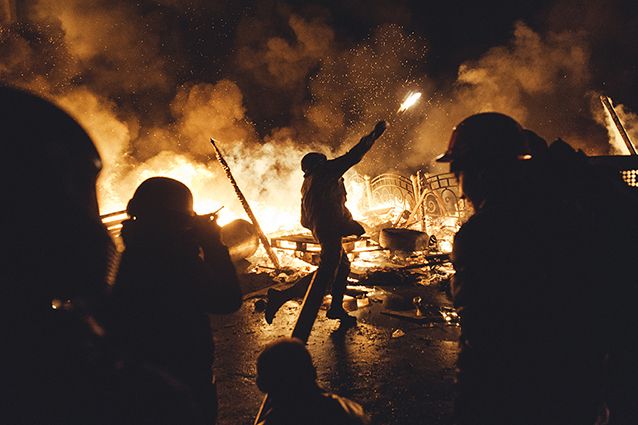 What began as a few small isolated public protests in 2013 against former Ukrainian president Viktor Yanukovich, for his about-face on a trade agreement with the European Union to pursue closer relations with Russia, turned violent when protesters clashed with police.
Public support for the protesters soon grew and their numbers swelled. By December, Kiev's city hall was occupied and over 300,000 were camped out in the capital's Independence Square.
In "Maidan. Ukraine. Road to Freedom," at the The Ukrainian Institute of America on 5th Avenue and East 79th Street in New York City, Ukrainian artists who participated in the uprising present through paintings, posters, photography, film, music and artifacts their first-hand account of last year's revolutionary events led by a movement "against corruption, usurpation of power and disregard for human rights," according to Serhiy Fomenko, the show's curator.
Lily Viter worked with Fomenko to gather artifacts from the uprising. Molotov cocktails, sharpened planks of wood, gas masks and a pile of rocks forming a protestor's makeshift arsenal.
The turmoil from "EuroMaidan" or "Revolution for Dignity" -- as the movement has come to be known among Ukrainians—is still being felt. "[It] turned into a real performance, where the battle of opposites started. Good and evil, light and shadow, thick black smoke and whiteness of the February snow," photographer Maxim Dondyuk wrote of the experience of recording the scenes unfold.
The exhibition continues through October 27.