Ukrainian Air and Ground Targets Turned to Smoke After Russian Missile Strike
Video shows Russian missiles being launched from both sea and land and toward targets in Ukraine.
The video also shows targets both in mid-air and on the ground being hit in pinpoint strikes and turned into balls of smoke.
Zenger News obtained the footage from the Ministry of Defense (MoD) of the Russian Federation on Monday.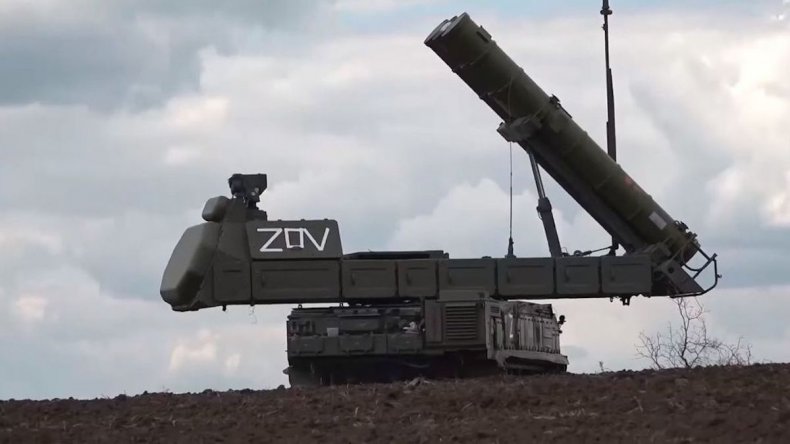 The Russian MoD said (in English): "The Armed Forces of the Russian Federation continue the special military operation in Ukraine.
"High-precision, long-range sea-based missiles near Malin railway station in Zhitomir Region have destroyed weapons and military equipment of the Ukrainian armed forces' 10th Mountain Assault Brigade from Ivano-Frankovsk that had been transferred to Donbass.
"High-precision air-based missiles have hit 4 command posts, 1 communication center of the North Task Force near Bakhmut in the Donetsk People's Republic, 48 areas of manpower and military equipment concentration, as well as 6 ammunition depots near Soledar, Sol', Bakhmut, Berestovoe, Zakotoe and Nyrkovo in the Lugansk People's Republic, during the day.
"1 Ukrainian Osa-AKM anti-aircraft missile system has also been destroyed near Bakhmut in the Donetsk People's Republic.
"Operational-tactical and army aviation have hit 39 areas of manpower and military equipment concentration and destroyed 1 ammunition depot near Krasnyi Liman in the Lugansk People's Republic.
"The attacks have resulted in the elimination of more than 230 nationalists and up to 33 armored and motor vehicles.
"Russian air defense means shot down 3 Su-25 aircraft of the Ukrainian Air Force overnight, including 2 near Kiselevka, Kherson Region, and 1 over Pavlograd, Kharkiv Region.
"Also, 13 Ukrainian unmanned aerial vehicles have been shot down near Chervonyi Yar, Chernobaevka, Mirnoe, Aleksandrovka in Kherson Region, Yunokommunarovsk in the Donetsk People's Republic, Hotomlya, Sinichino, Petrovskoe, Terny in Kharkiv Region, including 1 Bayraktar TB-2 near Lozovaya in Kharkiv Region.
"In addition, 2 Ukrainian Tochka-U ballistic missiles over Tomina Balka, Kherson Region, and 8 Ukrainian Smerch multiple-launch rockets over Izyum, Topolskoe, Semenovka and Bikino, Kharkiv Region have been intercepted.
"Missile troops and artillery have hit 73 command posts, 578 areas of AFU manpower and military equipment concentration, as well as 37 artillery and mortar units at firing positions.
"13 tanks and armored infantry fighting vehicles, 5Grad multiple rocket launchers and 3 ammunition depots have been destroyed.
"In total, 177 Ukrainian aircraft and 125 helicopters, 990 unmanned aerial vehicles, 319 anti-aircraft missile systems, 3,226 tanks and other armored combat vehicles, 421 multiple launch rocket systems, 1,643 field artillery and mortars, as well as 3,106 units of special military vehicles were destroyed during the operation."
Russia invaded Ukraine on February 24 in what the Kremlin is now calling a "special military operation" to "protect Donbass."
From February 24 to May 23, the total combat losses of Russian troops stand at around 29,200 personnel, according to the General Staff of the Armed Forces of Ukraine.
The Ukrainian military also claims that Russia has lost 1,293 tanks, 3,166 armored fighting vehicles, 604 artillery systems, 201 multiple launch rocket systems, 93 anti-aircraft systems, 204 warplanes, 170 helicopters, 2,206 motor vehicles and fuel tankers, 13 vessels, 476 unmanned aerial vehicles, 43 units of special equipment, and 110 cruise missiles.
Monday marks the 89th day of the invasion.
This story was provided to Newsweek by Zenger News.