Ukrainian Artillery Strikes Reportedly Destroy Russian Electronic Warfare Station
Footage from Ukrainian military officials purports to show a Russian radar station in Ukraine being destroyed in a series of artillery strikes.
Zenger News obtained the footage from the National Guard of Ukraine, the Ukrainian national gendarmerie and internal military force, on Wednesday.
The National Guard said: "The National Guard destroyed an electronic warfare point of the Russian occupiers in Kharkiv Oblast. National Guard artillerymen struck at the equipment of the enemy's radar station. Ukrainian defenders detected the electronic warfare point and adjusted their fire on it with the help of drones."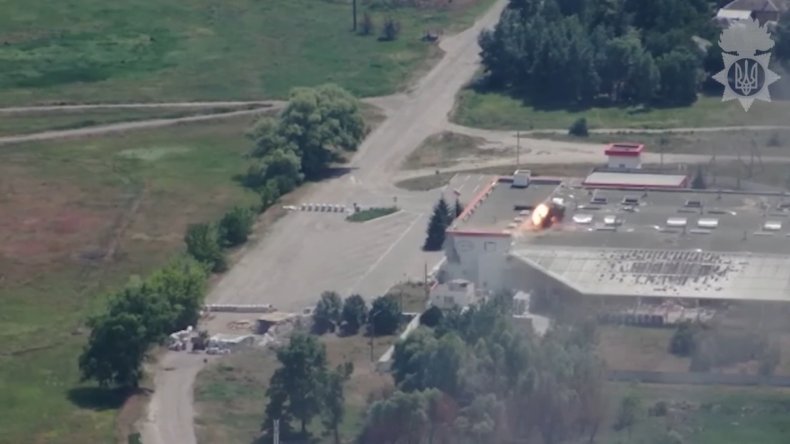 "'They destroyed the enemy's electronic warfare point. Thus, they deprived them of the opportunity to intercept our forces, to jam the signal of our radio stations,' said the commander of the unit.
"The occupiers use electronic warfare systems as a powerful asymmetric tool of war, which allows them to be equal on the battlefield (without effective communication, no modern army can fight). Every year Russia spends half a billion dollars on such systems, each of their teams has an electronic warfare company."
Zenger News contacted Russian and Ukrainian officials for comment but had not received a reply at the time of writing.
Russia invaded Ukraine on February 24 in what the Kremlin is calling a "special military operation" to "liberate the Donbas." June 16 marks the 113th day of the invasion.
The General Staff of the Armed Forces of Ukraine reported that between February 24 and June 16, Russia had lost about 32,950 personnel, 1,449 tanks, 3,545 armored fighting vehicles, 729 artillery pieces, 233 multiple launch rocket systems, 97 air defense systems, 213 warplanes, 179 helicopters, 591 tactical drones, 129 cruise missiles, 13 warships, 2,494 motor vehicles and fuel tankers, and 55 pieces of special equipment.
In related news, French President Emmanuel Macron, German Chancellor Olaf Scholz, and Italian Prime Minister Mario Draghi arrived in Kyiv on Thursday for talks. They are reportedly hoping to rebut what has been perceived as their lukewarm support for Ukraine.
Meanwhile, Washington has told China it risks ending up on the "wrong side of history" following Chinese President Xi Jinping's assurances to Russian President Vladimir Putin that Beijing supports Russian "sovereignty."
Thousands of civilians remain trapped in the key eastern Ukrainian city of Severodonetsk, where the water supply is reported to be dwindling. Hundreds of civilians are taking shelter in the bunkers beneath the city's Azot chemical plant.
Luhansk Oblast governor Serhiy Haidai said earlier this week that all three bridges into Severodonetsk had been destroyed, making delivering supplies and evacuating civilians impossible.
President Joe Biden has promised Kyiv another billion dollars in security assistance and weapon, and General Mark Milley, who chairs the Joint Chiefs of Staff, says Russia has lost around 20 to 30 percent of its armored force during the ongoing invasion.
This story was provided to Newsweek by Zenger News.