Ukrainian Children Becoming Refugees at Rate of 55 Every Minute: UNICEF
More than 1.5 million children have been forced to flee their homes, with about 55 becoming refugees every minute since Russia invaded Ukraine, according to a United Nations humanitarian agency.
The United Nations Children's Fund, better known as UNICEF, on Tuesday published the grim figures reflecting the growing humanitarian toll from the conflict that's approaching its third week. Since Russia invaded Ukraine on February 24, about 75,000 children have fled the country each day, according to UNICEF.
"This refugee crisis is in terms of speed and scale, unprecedented since the Second World War, and is showing no signs of slowing down," UNICEF spokesperson James Elder said in a statement.
"Like all children driven from their homes by war and conflict, Ukrainian children arriving in neighbouring countries are at significant risk of family separation, violence, sexual exploitation, and trafficking."
Elder said he had just spent two weeks in the western Ukraine city of Lviv where pediatricians had received 60 children overnight from the besieged capital of Kyiv. Pediatricians told him that they would use stickers to prioritize treatment with a green signifying a child could be left alone for now, yellow for those needing more immediate medical assistance, red for critical and black for those who couldn't be saved.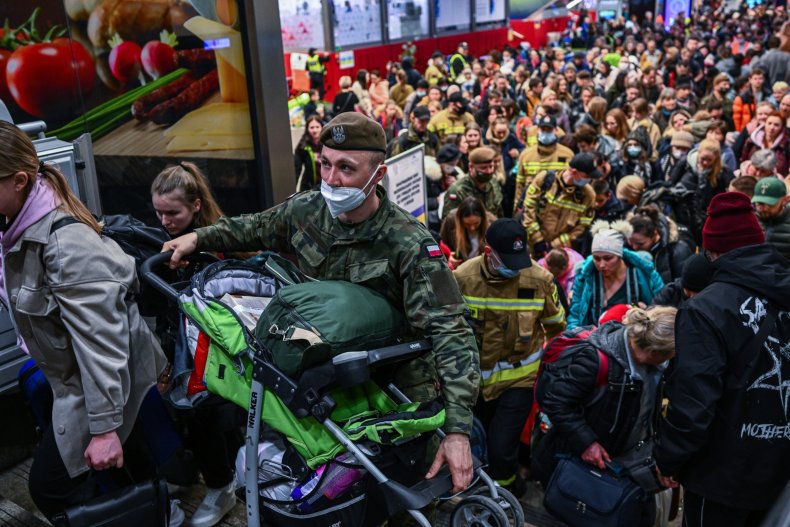 The agency is setting up more "Blue Dot" safe spaces, and over the weekend a UNICEF convoy of 22 trucks with 168 tons of supplies arrived in Ukraine, he said. The supplies included midwifery, surgical and obstetric kits, oxygen concentrators, cold boxes, as well as blankets and winter clothes, water and other items.
But Elder added that "so long as this war continues, the situation for Ukraine's children will only get worse."
The United Nations' human rights office said on Tuesday that it has recorded 1,834 civilian casualties in Ukraine since the invasion, with 691 killed and 1,143 injured.
"Most of the civilian casualties recorded were caused by the use of explosive weapons with a wide impact area, including shelling from heavy artillery and multiple-launch rocket systems, and missile and air strikes," the office said.
As the invasion drags on, reports have emerged that the Russian military has deliberately targeted civilian areas—charges Moscow has denied. Human Rights Watchsaid last week that Russian forces bombarded an intersection of a road being used by fleeing civilians. The U.N. human rights office said last week that "civilians are being killed and maimed in what appear to be indiscriminate attacks" by Russian forces.
In response to the worsening situation, Russia has indicated it will propose a humanitarian resolution to the U.N. Security Council in response to a similar measure drafted by France and Mexico.
The resolution calls "on all parties to respect and protect civilians and to refrain from attacking, destroying, removing or rendering useless civilian objects, including those that are indispensable to the survival of the civilian population and critical to the delivery of essential services," according to the TASS Russian news agency.
Additionally, the resolution condemns indiscriminate shelling and attacks on civilians while calling on both countries to respect international law.
"We said from the very beginning that we will be prepared to adopt a humanitarian resolution on the situation in Ukraine, provided that this is not a disguise to blame and shame Russia," Russian U.N. Ambassador Vasily Nebenzya told reporters on Tuesday.
British U.N. Ambassador Barbara Woodward responded on Twitter that Russia's "draft has a few glaring omissions."
"For example, the fact that Russia is the aggressor here, and it is Russia's invasion driving this humanitarian crisis," she said.
U.S. Mission to the United Nations spokesperson Olivia Dalton told Newsweek "it is unconscionable that Russia, the aggressor responsible for creating this crisis, would have the audacity to put forward this resolution."
"What the Ukrainian people need most is for Russia to withdraw its troops and weapons, allow food and humanitarian aid, and stop its brutal attacks claiming the lives of innocent civilians, particularly women and girls and other vulnerable populations," she said.
"We are not going to lend credence to Russia's effort to evade accountability, responsibility and culpability for their unprovoked aggression."
The U.S. Mission to the United Nations will work to seek a resolution that that will more accurately reflect the views of other member countries, she said.
Update 3/16/22, 4:23 p.m. ET: This story has been updated to include comment from the U.S. Mission to the United Nations.