Ukrainian Couple, Both Fighting in War, Get Married on Defensive Line
A longtime Ukrainian couple, both of whom are helping defend their nation against Russia's invasion, were married Sunday on the defense line in the capital city of Kyiv.
Until their wedding Sunday, Lesia Ivashchenko and her partner, Valerii Fylymonov, who have been together for 22 years and have an 18-year-old daughter, had not been able to see each other since the invasion started, according to news reports. "I'm happy that we are alive, that this day started, that my husband is alive and he is with me," Ivashchenko said after the ceremony.
Less than two weeks into the conflict, the Russian invasion has resulted in more than 1,000 civilian casualties and largely upended normal life in the nation. Some otherwise commonplace moments involving Ukrainian civilians, including a young Ukrainian girl's rendition of a popular Disney song inside a bomb shelter, have drawn widespread attention around the world.
Ivashchenko said she left her job when the conflict broke out to help territorial defense forces fight to protect her district, which is located on the outskirts of Kyiv.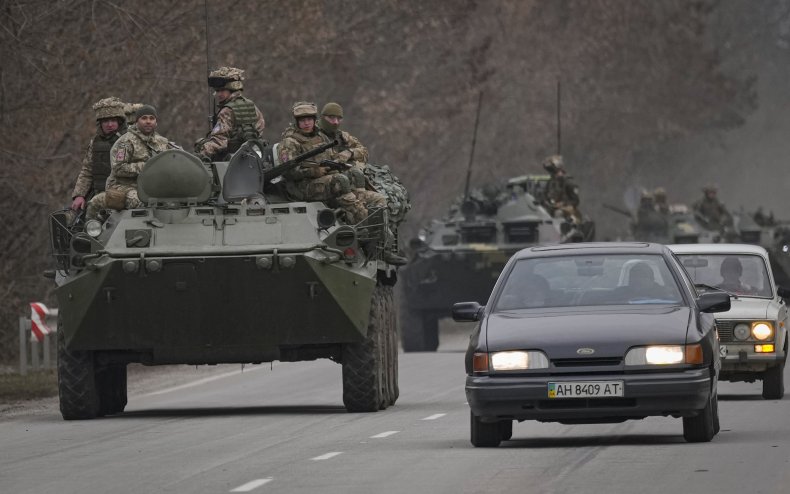 A video of the ceremony posted by the BBC shows Ivashchenko wearing a camouflage jacket and a veil while holding a bouquet of flowers. Fylymonov, who is standing next to her, appears to be wearing fighting gear, including a helmet.
Standing in a field, they are surrounded by a large group also bedecked in camouflage and fighting gear. At one point in the ceremony, the couple is showered with flower petals from a drone hovering above.
"We are determined to push back the enemy and take back our lands and win," Ivashchenko was quoted as saying.
Kyiv Mayor Vitali Klitschko attended the ceremony and congratulated the couple on their marriage. In a statement on Twitter, he said: "Life goes on! And we will protect the life of Kyiv, Kyivites, our state!"
Ivashchenko and Fylymonov are not the first Ukrainian couple to tie the knot during Russia's invasion. Yaryna Arieva and her partner, Sviatoslav Fursin, got married at St. Michael's monastery in Kyiv shortly after Russia launched its attack, despite initially planning to hold the ceremony in May, CNN reported.
They decided to move up the wedding because they weren't sure what impact the invasion would have on their future. Air raid sirens were sounding outside during the ceremony, which Arieva described as "very scary."
"The situation is hard. We are going to fight for our land," Arieva told CNN. "We maybe can die, and we just wanted to be together before all of that."
Update 03/07/22, 11:45 a.m. ET: This story was updated with additional information and background.