Ukrainian Defenders Blitz Russian Base and Destroy Dozens of Tanks
Ukrainian military officials said soldiers blitzed a Russian base and destroyed a large number of tanks and military equipment.
General Staff of the Armed Forces of Ukraine said air and land artillery forces took part in the attack, destroying a dozen tanks, eight armored vehicles, dozens of motor vehicles and military equipment.
The Ukrainian military said in a statement on May 20: "DShV [Ukrainian Air Assault Forces] and Land Forces artillery destroyed a large number of the occupier's armored and motor vehicles and continues to do so.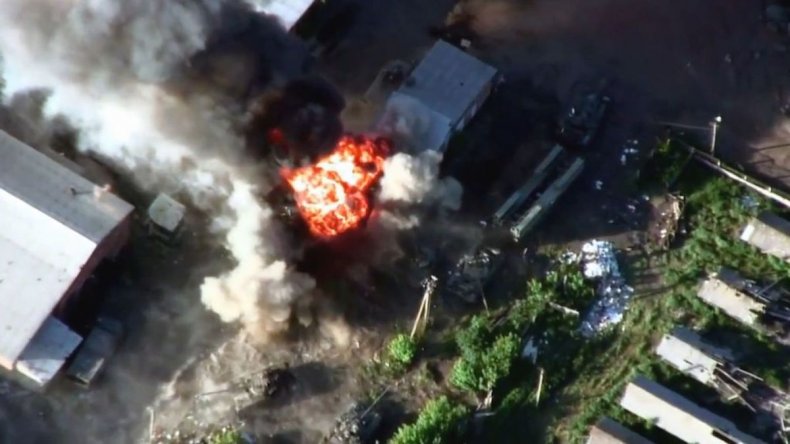 "The video shows artillery soldiers destroying the location of enemy military equipment. A dozen tanks, eight armored vehicles, four units of engineering equipment, and about three dozen cars were burned that day.
"We continue to fight and destroy the enemies of our Ukraine! Every occupier will be punished! Glory to Ukraine!"
Russian troops invaded Ukraine on February 24 in what the Kremlin is still calling a "special military operation." May 23 marks the 89th day of the campaign.
From February 24 to May 23, the total combat losses of Russian troops stand at around 29,200 personnel, according to the General Staff of the Armed Forces of Ukraine.
The Ukrainian military also claims that Russia has lost 1,293 tanks, 3,166 armored fighting vehicles, 604 artillery systems, 201 multiple launch rocket systems, 93 anti-aircraft systems, 204 warplanes, 170 helicopters, 2,206 motor vehicles and fuel tankers, 13 vessels, 476 unmanned aerial vehicles, 43 units of special equipment, and 110 cruise missiles.
Meanwhile, following the fall of the port city of Mariupol, the Russian authorities plan to tear down the Azovstal metallurgical plant and turn the city into a luxury resort, according to the Institute for the Study of War.
The Kremlin also said that the Ukrainian fighters from the Azovstal plant have been taken to a former prison colony in a Russian-controlled part of Donetsk.
However, Ukrainian President Volodymyr Zelensky called Russia's invasion of Ukraine an "absolute failure" and said Russian leaders were afraid to acknowledge "that catastrophic mistakes were made at the highest military and state level."
Zelensky also said that said Ukraine is determined to reclaim control over the southern cities of Kherson, Melitopol, Berdiansk, Enerhodar, and Mariupol, now occupied by Russian forces.
This story was provided to Newsweek by Zenger News.