A Ukrainian family fleeing the war was robbed of the little money and few possessions they had at a Spanish gas station, prompting the police to raise 520 euros ($573) to help them in their quest to start a new life.
The SAP-FEPOL police union shared images of the kindhearted gesture on Twitter.
The robbery took place at a gas station near the town of Figueres in Girona province, in the northeastern Spanish region of Catalonia, in the early hours of March 19.
The Ukrainian family, fleeing Russia's invasion of their home country, had stopped at the gas station to refuel and take a break. While they were trying to get some sleep in their vehicle at the service station, the thieves arrived and started puncturing their vehicle's tires, according to local reports.
The family members woke up and were confronted by the suspects and robbed of their belongings, the police said.
The family reported the incident to the Mossos d'Esquadra (Catalan police) and, while filing the complaint, officers collected the money to help the family.
It is unclear whether the Ukrainian family has a final destination in mind, as they likely are looking to make a fresh start away from the devastating conflict in their home country.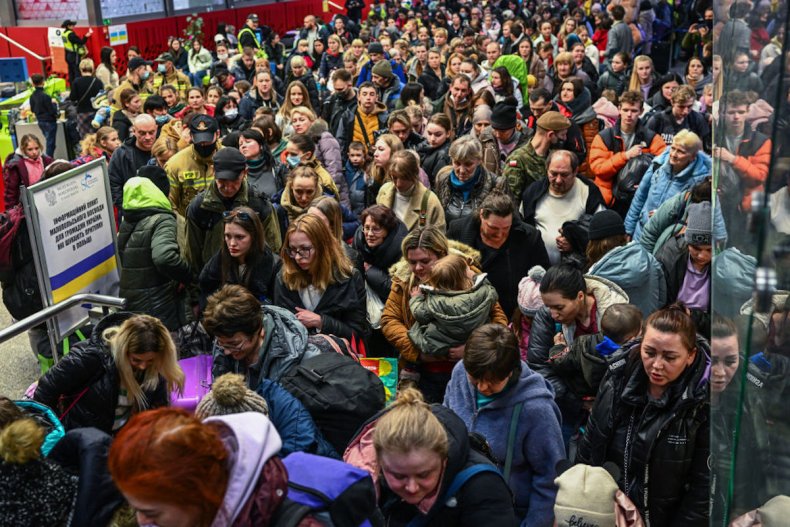 Russia invaded Ukraine on Feb. 24 in what the Kremlin is still calling a "special military operation" to "demilitarize and de-Nazify" the sovereign European state.
Nearly 3.5 million people are believed to have left Ukraine as refugees since the invasion began in what is Europe's largest refugee crisis since World War II, the United Nations refugee agency says.
About 25,000 Ukrainians had arrived in Spain since the invasion began, though only 9,000 of them had registered with the authorities, Spanish Migration Minister Jose Luis Escriva said on March 21.
The majority of the arrivals in Spain are believed to be staying with relatives or friends, he said, according to Reuters news agency.
"We have expanded the granting of residence permits to include all people who lived in Ukraine at the time of the invasion, not just Ukrainians," Escriva was reported to have said in an interview with Spanish public news channel TVE.
Before the Russian invasion of Ukraine, there were an estimated 105,573 Ukrainian nationals living in Spain as of July 2021, according to data from Spain's National Statistics Institute.
The majority of refugees have escaped to Poland, Romania, Moldova, Hungary and Slovakia.
About 90 percent of those who have fled are women and children, according to the United Nations refugee agency. Ukrainian men aged 18 to 60 are eligible for being called up for military service and cannot legally leave the country while it is at war.
This story was provided to Newsweek by Zenger News.