Ukrainian Father Greeted by Family in Emotional Return From War: Video
A viral video appears to show a Ukrainian father's tearful reunion with his family days after he fought for the successful liberation of Irpin.
The video was posted in Reddit's "Made Me Smile" forum, where it has been upvoted over 51,000 times as viewers got another apparent glimpse into life in Ukraine amid the ongoing war with Russia.
At the start of the video, the man is seen holding his hand over a door peephole, intending to surprise his family. A younger boy answered the door and immediately hugged his father.
Once the father walked into the home, he was embraced by two females. The trio stayed in the embrace for 20 seconds as the father kissed them on the head while smiling at the enormity of the moment.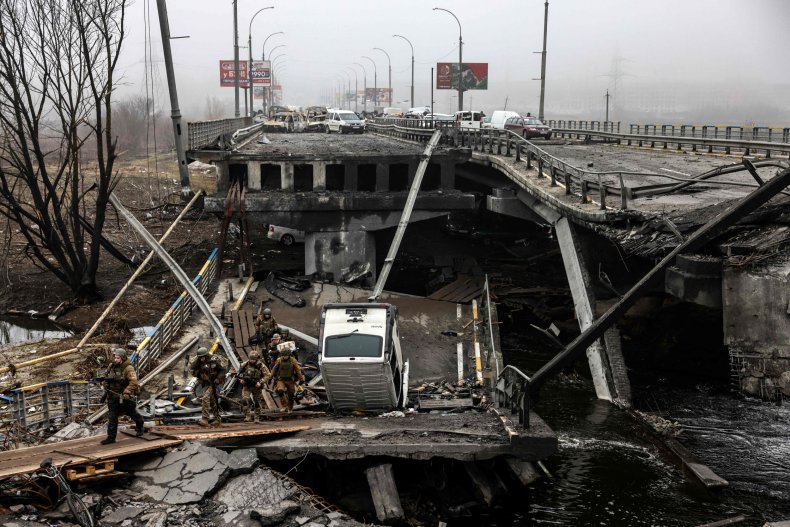 Newsweek could not confirm the origin of the video or whether the man fought in Irpin.
"Man, that's a whole lot of emotion," one Redditor commented. "Clearly a loved and loving father. It's such a shame what harm one man is inflicting on so many."
"I feel like The best thing he could do is get his kids out of Ukraine right now," another user said. "After seeing what happened in Bucha, I am utterly terrified for my parents' friends/relatives who are refusing to leave Ukraine (elderly people and children)."
As many Redditors noted, not all families will experience this kind of elation.
In a March 28 Facebook video, Irpin Mayor Oleksandr Markushyn wrote that Ukrainian forces successfully battled Russian forces to retake Irpin – a suburban city near the national capital of Kyiv.
"Our Irpin has been released from Moscow filth!!!" said Markushyn, who added that Ukrainian forces would likely look to free the Ukrainian cities of Bucha, Vorzel and Hostomel. "Glory to Ukraine! Glory to her defenders! Eternal memory to the fallen heroes!"
The city was reportedly "in ruins" by the time Ukrainian forces successfully combated the enemy.
The Ministry of Foreign Affairs of Ukraine referenced Markushyn in an April 1 tweet about the deaths of "up to 300 civilians and 50 defenders" in Irpin during the Russian occupation. That included approximately 50 percent of buildings and critical infrastructure being destroyed.
"Today, the head of Irpin Oleksandr Markushyn reported that he cried once in his life when Russian occupiers killed a girl, her mother and a volunteer in his eyes," Yanina Sokolova of the Kyiv Post reported today in a Facebook post. "All the people were dying in his eyes. Two hundred people died under rubbles after tortures, rapes and injuries."
Emine Dzheppar, the First Deputy Minister of Foreign Affairs of Ukraine, tweeted on Monday that "people were deliberately killed by Russian occupants without reason." Her tweet was accompanied by gruesome images of dead bodies, allegedly from Irpin and Bucha.
On Sunday, Ukrainian President Volodymyr Zelensky condemned the "concentrated evil" of the Russian military, in reference to civilians being killed in Bucha, Irpin and Hostomel.
On Monday, President Joe Biden reiterated his belief that Russian President Vladimir Putin is a war criminal.
"This guy is brutal," he told reporters this morning at the White House. "And what's happening in Bucha is outrageous, and everyone's seen it."