Ukrainian Guards Fire Warning Shots as Fleeing Evacuees Crowd Train Station
Ukrainian guards allegedly fired blank warning shots in an attempt to prevent a crowd crush from forming at Kyiv's central train station.
According to Reuters, thousands of people rushed to a train that had pulled up in the station. In an attempt to prevent injuries, the warning shots were fired, resulting in the crowd dispersing. The panic comes as the possibility of a Russian invasion of Kyiv becomes more likely due to mounting attacks.
"You can see, it's dangerous to break through the crowd with a kid," one woman with her family told Reuters. "The dog is scared. Honestly, we're exhausted."
Exhaustion appears to be common throughout those fleeing the nation into Poland and other neighboring countries. The New York Times reports that other railways have been packed with families and soldiers, with many of the nation's men deciding to stay in the country to fight against Russian forces.
"The war has been going on for more than eight years, and how much more will be, no one knows," said one anonymous Ukrainian. "But the Ukrainian people will remain free!"
Some are not sure if they will ever return to their home country.
"I won't come back in the near time unless something changes, I don't know," said another. I have faith in our army, in our guys and girls on the front lines, they are strong. It is our land and I fully believe in them. On to victory."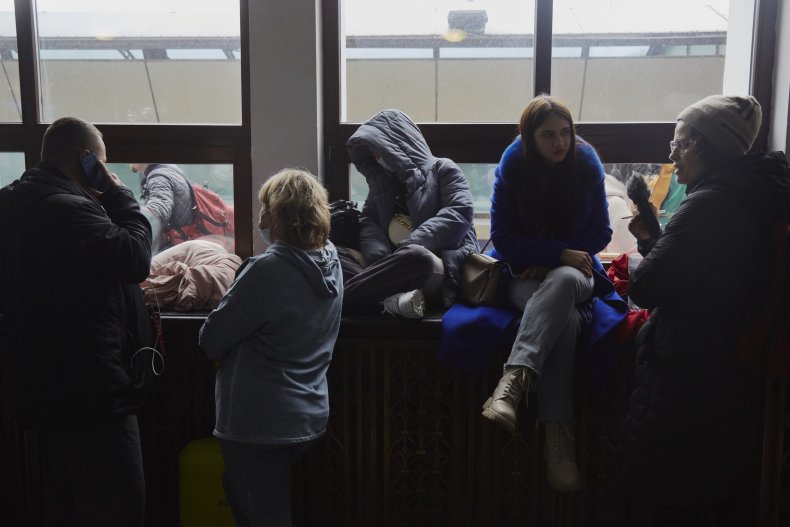 Some reports are indicating that Russian forces have already entered parts of the capital.
Bild, a German tabloid newspaper, reported Friday that there had been "heavy fighting in the northern districts of Kyiv."
Julian Röpcke, a Bild correspondent, tweeted that there appeared to be Russian paratroopers in Kyiv.
Neil Hauer, a freelance journalist in the capital, also tweeted earlier Friday that some Russian special forces had reportedly entered the city center and there was fighting near Ukraine's parliament.
In a tweet posted at about 10:30 a.m. ET, Ukraine's Ministry of Defense said that the bulk of Russian forces advancing on Kyiv were still more than 50 kilometers, about 31 miles, from the city center.
The tweet also said the ministry was monitoring reports of "sporadic clashes in the northern suburbs" of the capital.
Update at 2/25/2022 at 12:10 a.m. EST: This story has been updated with additional information.