Ukrainian National Anthem Played Before NBA Game in Historical First
The NBA's Utah Jazz showed its support for the people of Ukraine in a history-making way on Wednesday night, playing the Ukrainian national anthem prior to the team's 123-85 win over the Portland Trail Blazers.
Violinist Gabriel Gordon, who has been playing the instrument for more than 40 years, performed Ukraine's national anthem in front of the sold-out crowd in Salt Lake City. It was the first time in NBA history that a national anthem besides the United States or Canadian national anthems had been played before an NBA game, KSL-TV reported.
Gordon, who has relatives in Ukraine, told KSL that he's on a mission.
"It's all about my personal mission to be able to show solidarity to other people who are suffering in the world," he said.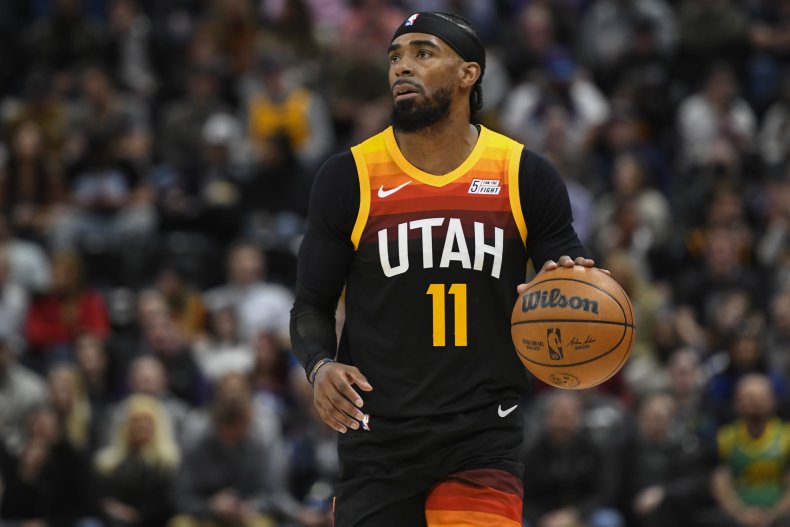 A spokesperson for the Utah Jazz said Wednesday evening's performance was just one way to honor and show respect to those suffering in Ukraine.
"With a full house of 18,000 people, it's really sort of our moment to think and remember what the refugees and people of Ukraine are facing in these extremely difficult times," Jazz spokesperson Frank Zang told KSL.
Also, before Wednesday's game, the Jazz, in another act of support for the Ukrainian people, announced that it had teamed up with Airbnb to contribute temporary lodging for over 32,000 nights of stays for Ukrainian refugees who have been displaced due to the Russian invasion.
In announcing the partnership between the two organizations, Ryan Smith, the owner of the Jazz, stressed the importance of helping the Ukrainian people.
"Connection and community have never been more important than it is today," Smith said in a statement released on Airbnb's website. "Millions of people have been forced to leave behind their entire lives in Ukraine. Airbnb.org is connecting host families with refugees in need, creating safe havens when so many communities are being torn apart."
"I cannot begin to express my thanks to the Utah Jazz Foundation for their support of Airbnb.org's work," Joe Gebbia, Airbnb co-founder and chairman of Airbnb.org, said. "This incredible commitment will play a meaningful role in helping us meet our goal of providing free, temporary housing to 100,000 refugees fleeing Ukraine – offering not only a roof over their heads, but also a safe place to gather and regroup."
Earlier this month, the NBA announced it was removing all of their business activities out of Russia following their invasion of the eastern European country, according to Sports Business Journal.
In late February, after Russia's invasion of Ukraine got underway, the NBA's only two Ukrainian-born players – Svi Mykhailiuk and Alex Len – released a statement condemning the military move against the country.
"We pray for our families, friends, relatives and all people who are in the territory of Ukraine. We hope for an end to this terrible war as soon as possible. Dear fellow Ukrainians, hold on! Our strength is unity! We are with you!" the statement said.
Newsweek reached out to the Utah Jazz for further comment but did not hear back before publication.