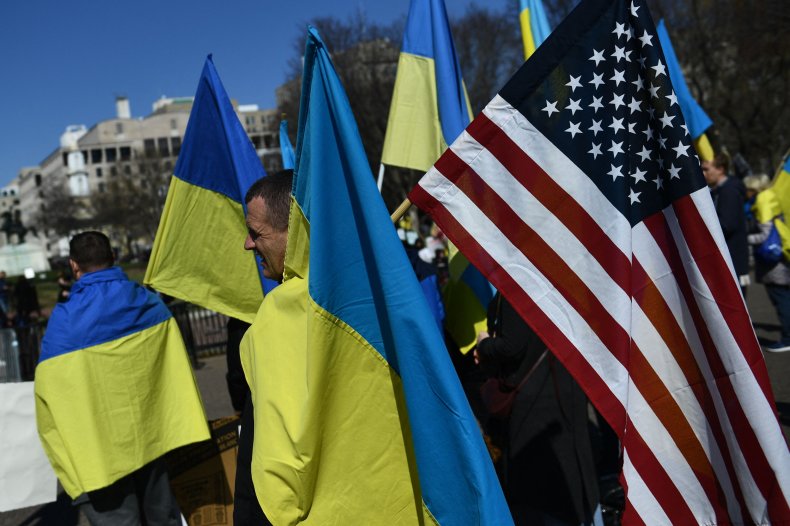 Ukrainian nationals residing in the U.S. have been given Temporary Protected Status (TPS) amid the brutal Russian assault on their home country.
The Department of Homeland Security (DHS) announced the move on Thursday as Russian forces continued to shell Ukrainian cities after more than 1 million refugees had fled the country. DHS said that immigrants may qualify for TPS when their home countries are being subjected to "ongoing armed conflict, environmental disasters, or extraordinary and temporary conditions," while citing the "humanitarian crisis" caused by the Russian attack in granting the status to Ukrainians.
"Russia's premeditated and unprovoked attack on Ukraine has resulted in an ongoing war, senseless violence, and Ukrainians forced to seek refuge in other countries," DHS Secretary Alejandro Mayorkas said in a statement. "In these extraordinary times, we will continue to offer our support and protection to Ukrainian nationals in the United States."
In a video announcement, Mayorkas said DHS was "acting in support" of Ukrainians, "not just in support of Ukrainian people in Ukraine, but also those here, present in the United States." He added, "our hearts stand with Ukrainian people who are suffering so much tragedy."
Ukrainians who are eligible for TPS will keep the status for 18 months. Those granted TPS may be able live and work in the U.S without fear of being deported, provided that they apply for the protection and pass a background check. Around 75,000 Ukrainians are expected to be eligible, according to The Washington Post.
Eligibility is limited to those who have been in the U.S. since Tuesday or earlier, with DHS specifically stating that "individuals who attempt to travel to the United States after March 1, 2022 will not be eligible." In addition to Ukrainians, those eligible include people "of no nationality who last habitually resided in Ukraine."
Two days before the announcement, a bipartisan group of 39 U.S. senators lobbied for the move in a letter sent to President Joe Biden.
"Granting TPS to the limited population of Ukrainians who are currently in the U.S. on a temporary basis will create a minimal disruption for our country, but forcing these individuals to return to a war zone would be unacceptable," the senators wrote.
While TPS will impact some Ukrainians, those hoping to enter the U.S. as refugees could face serious roadblocks. At the moment, there are no flights out of Ukraine due to civilian airspace being closed amid the war, while it is also not clear that the U.S. intends to directly offer refuge for fleeing Ukrainians.
Most of those fleeing Ukraine, overwhelmingly women and children due in part to men ages 16 to 60 being prohibited from leaving, are attempting to settle in neighboring countries. Over half of the more than 1 million Ukrainians who fled during the first week of the invasion went to Poland, while most of the others went to Hungary, Moldova, Romania and Slovakia.
Newsweek reached out to the Embassy of Ukraine in Washington, D.C., for comment.