Ukrainian Navy Recruits Practice Blowing Up Russian Tanks
Ukrainian recruits practiced blowing up enemy tanks by lying in a ditch and waiting for the armored vehicle to pass before rolling out and launching a grenade at it.
The Ukrainian Navy said Wednesday: "At the base of the 198th Training Center of the Naval Forces of the Armed Forces of Ukraine, Marine Corps School began its training. The 198th training center, the training unit of the Naval Forces of the Armed Forces of Ukraine, is designed for the mastering of naval specialties by conscripted and contracted military servicemen. Located in Mykolaiv, Ukraine.
"For over a decade, 'rolling behind tanks' has been one of the main elements of classes during the soldiers' moral and psychological training.
"It is usually held at the beginning of military service.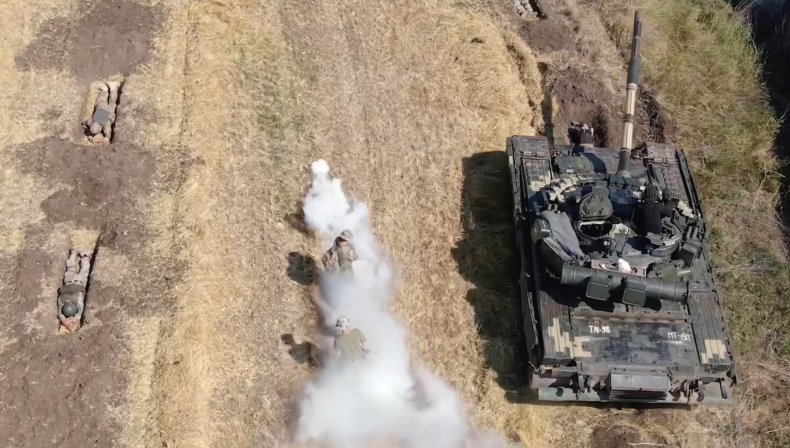 "It evokes a lot of emotions and gives confidence to yesterday's schoolchildren and beardless young men, who for the first time in their lives, roll out from under the steel mass, throw a grenade at it, and celebrate a psychological victory both over themselves and the tank!"
The Navy said they are boosting their numbers since the Russian invasion in February, and that most recruits are not actually "beardless" teenagers, but aged between 30 and 50.
The statement continued: "They have a wealth of life experience and work experience in various organizations and enterprises of state and private ownership.
"Their faces are focused and do not show any particular emotions. People are well aware of the period in which they serve, and they know their place in the ranks during the war."
Zenger News contacted the Ukrainian Navy for further comment, as well as the Russian Ministry of Defense, but had not received a reply at the time of writing.
Russia invaded Ukraine on February 24 in what the Kremlin is calling a "special military operation." Friday marks the 149th day of the invasion.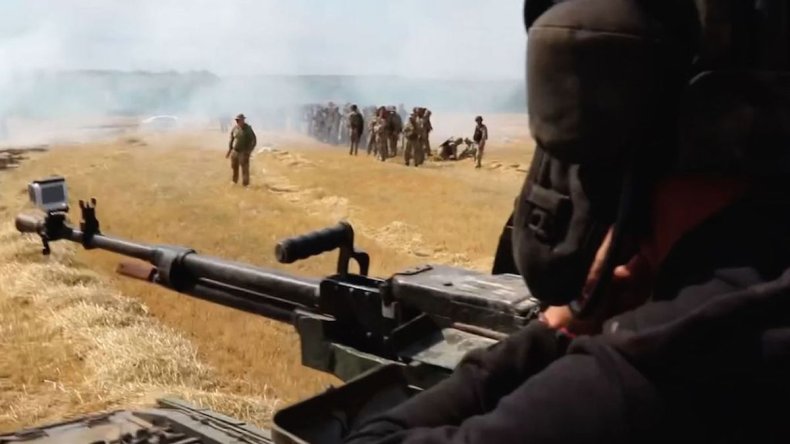 The General Staff of the Armed Forces of Ukraine reported that between February 24 and July 22, Russia had lost about 39,000 personnel, 1,704 tanks, 3,920 armored combat vehicles, 863 artillery units, 251 multiple launch rocket systems, 113 air defense systems, 221 warplanes, 188 helicopters, 713 drones, 167 cruise missiles, 15 warships, 2,781 motor vehicles and fuel tankers, and 72 units of special equipment.
In its latest report on Thursday, the Russian MoD put Ukrainian losses at "260 airplanes and 144 helicopters, 1,577 unmanned aerial vehicles, 356 air defense missile systems, 4,135 tanks and other armored combat vehicles, 762 combat vehicles equipped with MRLS, 3,174 field artillery cannons and mortars, as well as 4,413 units of special military equipment".
Other developments in the Russia-Ukraine war:
MI6 head Richard Moore said Thursday that the Russian military was likely to start an operational pause in Ukraine in the coming weeks, giving Ukrainian president Volodymyr Zelensky's forces an opportunity to strike back.
But U.K. intelligence also said Russian forces appeared to be closing in on the Vuhlehirska coal-fueled thermal power station in Svitlodarsk, Donetsk Oblast, in Moscow's push to seize critical infrastructure and take more Ukrainian territory.
Kharkiv Mayor Ihor Terekhov reported Thursday that Russia had shelled one of the most densely populated areas of Ukraine's second city, with the provincial prosecutor's office reporting three dead and 23 wounded in the strikes.
CIA director William Burns said Wednesday that Washington estimated around 15,000 Russian military fatalities in Ukraine thus far, in addition to some 45,000 wounded, with corresponding Ukrainian figures also significant.
Ukraine, Russia, Turkey and UN secretary-general Antonio Guterres will sign a deal on Friday to resume the export of grain from Ukraine's Black Sea ports, according to the office of Turkish President Recep Tayyip Erdogan.
Meanwhile, an EU proposal that member states cut gas use by 15 percent in preparation for potential supply cuts from Russia has met resistance from individual governments, casting doubt on whether the emergency plan will be approved.
This story was provided to Newsweek by Zenger News.