Ukrainian Paratroopers Destroy Russian Ammo Warehouse
Images released by Ukrainian military officials purport to show paratroopers destroying a Russian ammunition warehouse.
The video footage shows a large building on fire, with dark smoke gushing into the air as it appears to be hit multiple times by explosions.
The images were obtained from the 80th Separate Airborne Assault Brigade of the Ukrainian Army, who said that the images showed a "fire show" after the warehouse was reportedly hit with artillery.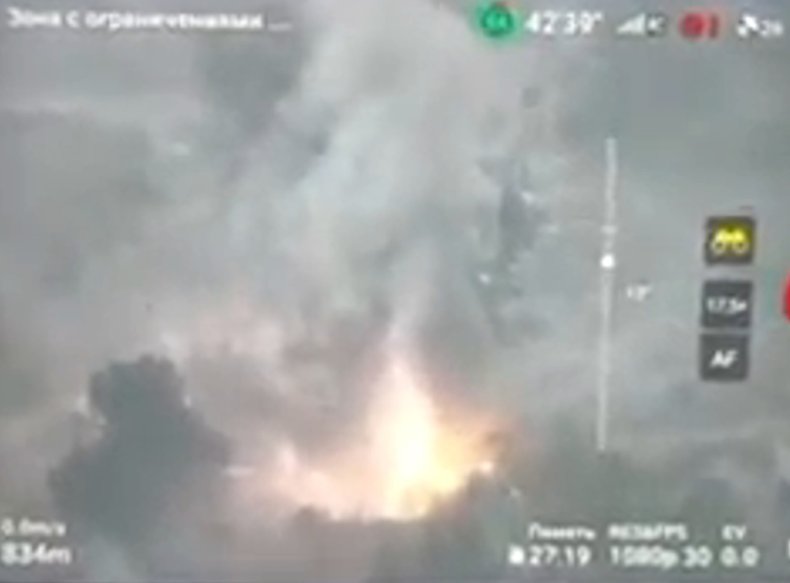 During peacetime, the 80th Separate Airborne Assault Brigade is based in the western Ukrainian city of Lviv. They have reportedly been taking part in the defense of their country near the city of Voznesensk in the Mykolaiv Oblast region in the southwestern part of Ukraine, near Odesa.
Zenger News contacted Russian and Ukrainian officials for comment but had not received a reply at the time of writing.
Russian troops invaded Ukraine on February 24 in what the Kremlin is still calling a "special military operation." June 7 marks the 104th day of the campaign.
From February 24 to June 6, the total combat losses of Russian troops stand at around 31,250 personnel, according to the General Staff of the Armed Forces of Ukraine.
The Ukrainian military also claims that Russia has lost 1,386 tanks, 3,400 armored fighting vehicles, 690 artillery systems, 207 multiple launch rocket systems, 96 anti-aircraft systems, 211 warplanes, 176 helicopters, 2,395 motor vehicles and fuel tankers, 13 vessels, 551 unmanned aerial vehicles, 53 units of special equipment, and 125 cruise missiles.
Meanwhile, the Ukrainian Center for Strategic Communications (StratCom) said Monday that Russian Major General Roman Kutuzov was killed in a battle near Popasna in the Luhansk region. Russian state media later confirmed the report.
The United Kingdom and the United States have announced that they are sending long-range missile systems to Ukraine. Russian President Vladimir Putin has warned of more attacks in Ukraine if the West sends long-range weapons.
Russian missiles struck Kyiv on Sunday in the first assault on the Ukrainian capital in weeks.
Ukraine's President Volodymyr Zelensky said Monday that Russian attacks on the cities of Severodonetsk and Lysychansk has turned them into "dead cities." He added that Ukrainian forces could still hold Severodonetsk despite being outnumbered.
Russia's ambassador to the United Nations, Vassily Nebenzia, walked out of a Security Council meeting on Monday after his country was blamed by European Council president Charles Michel for triggering a global food crisis.
This story was provided to Newsweek by Zenger News.