Ukrainian Partisans Credited With Attacks Behind Russian Line
Ukrainian partisans were reportedly involved in Tuesday's devastating attack on Russia's Saky air base in Crimea, which took place 120 miles from the current front line between Ukrainian and Russian troops.
At least 12 explosions rocked the facility, with videos showing large plumes of smoke rising from the site and at least one destroyed aircraft. While Russia insists the explosions were an accident, a U.S. government source told The Washington Post they appeared to be the work of Ukrainian forces.
A senior Ukrainian official said partisans were involved in the attack, but it's unclear if they participated directly or passed on intelligence.
If confirmed, this would be the latest blow against Russian forces from Ukraine's resistance fighters, who have been attacking the troops and local collaborators across occupied parts of southern Ukraine.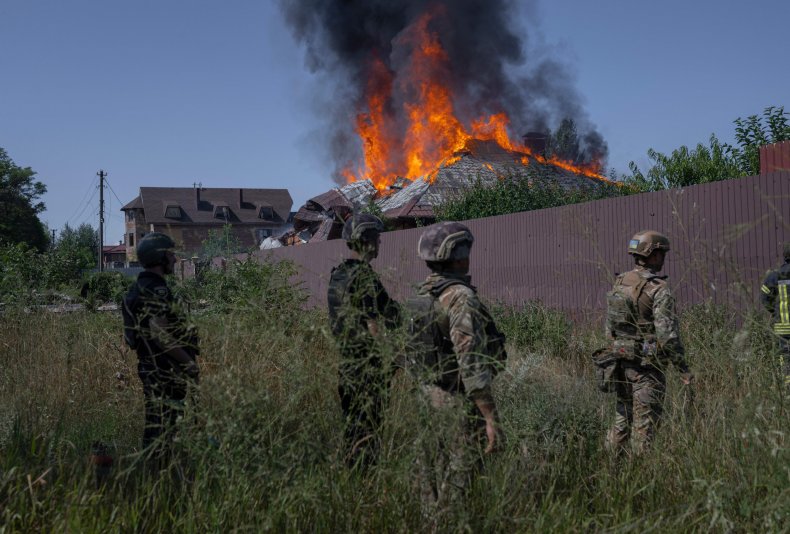 While the exact extent of this insurgency is hard to verify, Ivan Fedorov, the exiled mayor of occupied Melitopol, said in April that 100 Russian soldiers had been killed in the vicinity of his city alone.
Attacks involving explosives, sabotage and shootings have been reported across southern Ukraine, particularly around the occupied city of Kherson.
On July 27 in that city, a bomb hit a car carrying police officers who had defected to the Russians, leaving one dead and another seriously injured.
Railway tracks were blown up near the occupied city of Melitopol on the night of July 24, according to the mayor.
Dmitry Savluchenko, a Russian-appointed official in Kherson, was killed by a car bomb in Kherson on June 24. Just four days earlier, partisans opened fire on Russian soldiers outside a café in the city, killing two and injuring one.
Resistance against the Russian occupiers began shortly after President Vladimir Putin's forces burst out of Crimea on February 24 and seized Kherson and Melitopol.
On March 20, an assistant to Volodymyr Saldo, a collaborator who was later appointed governor of the Kherson Oblast by the Russian military, was shot dead in Kherson.
Exactly one month later, Valery Kuleshov, a prominent pro-Russian blogger, was shot and killed in the same city.
Speaking to the BBC, a resistance fighter from Kherson explained how his unit provides targeting information for Ukrainian long-range artillery. "The resistance is not one group, it's total resistance. Say yesterday we saw a new target. Then we send that to the military, and in a day or two it's gone," he said.
Another partisan said the people of Kherson would never accept their Russian occupiers, adding, "They can take the land, but they can't take the people. The Russians will never be safe in Kherson because the people didn't want them there. They don't like them. They won't accept them."
Last month, Russian forces in Kherson were partially cut off after Ukraine hit three Dnipro River bridges with U.S.-supplied rockets, causing serious damage.
Ukrainian troops have been making gradual progress advancing toward the city, amid warnings that the resulting conflict could be "similar to the battle for Mariupol."
Former Ukrainian President Petro Poroshenko told Newsweek his country needs more Western weapons, including F-16 fighter jets, if it is to have any hope of ending the war "before the end of the year."
Newsweek contacted the Ukrainian Ministry of Defense for comment.