Ukrainian Patriots Create a Kinder Egg Surprise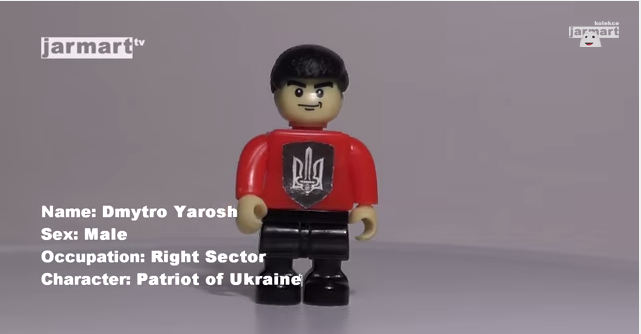 Ukrainian activism has taken on an unusual form: a children's toy in a chocolate egg.
Kinder Surprise, more commonly known as Kinder Eggs, are chocolate eggs produced by the Ferrero company that have a yellow plastic shell inside, and inside that a toy. Collectors try to track down every toy in a themed set (the company produces themed sets of about five toys, such as dolls or planes) and then they often unveil their findings on social media, most commonly through YouTube videos.
The videos have developed a cult following online and spawned a number of egg knockoffs. In some cases, Kinder Surprise lovers create their own toys and wrap them carefully in chocolate eggs and the original wrapping. This trick is commonly used by would-be grooms with engagement rings.
In one instance, a Kinder-trickster used the method to hide a Ukrainian action figure inside an egg.
YouTube user Jarmart Kolekce has an account and web store dedicated to the small toys and collectibles found in the Kinder Surprise. While most videos posted at his store have only a handful of views from potential buyers, a January video amassed almost 100,000.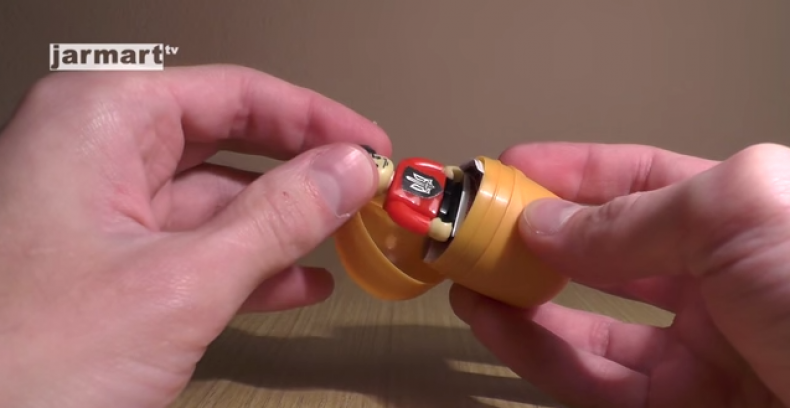 In the video, he unwraps the Lego-like toy man wearing a Ukrainian Tryzub--the coat of arms of the nation and a patriotic symbol. Kolekce named the faux Kinder toy person Dmytro Yarosh and described the character as a "patriot of Ukraine."
The toy is based on a real activist: Yarosh is an outspoken Ukrainian who helped topple the corrupt regime of former president Viktor Yanukovych. He has been investigated by the Russian government for his political views and believes Russia is the greatest threat to stability in Ukraine.
Along with the Yarosh toy, the YouTuber set up three fellow Lego-like characters and a small house, complete with Ukrainian flag and Tryzub, and posted his video to YouTube.
Ferrero employees are aware of the Ukrainian activist video, but said they have made no steps to take it down and assured Newsweek that they had nothing to do with it.