Ukrainian Peace Talks Open as Russian Paratroops Captured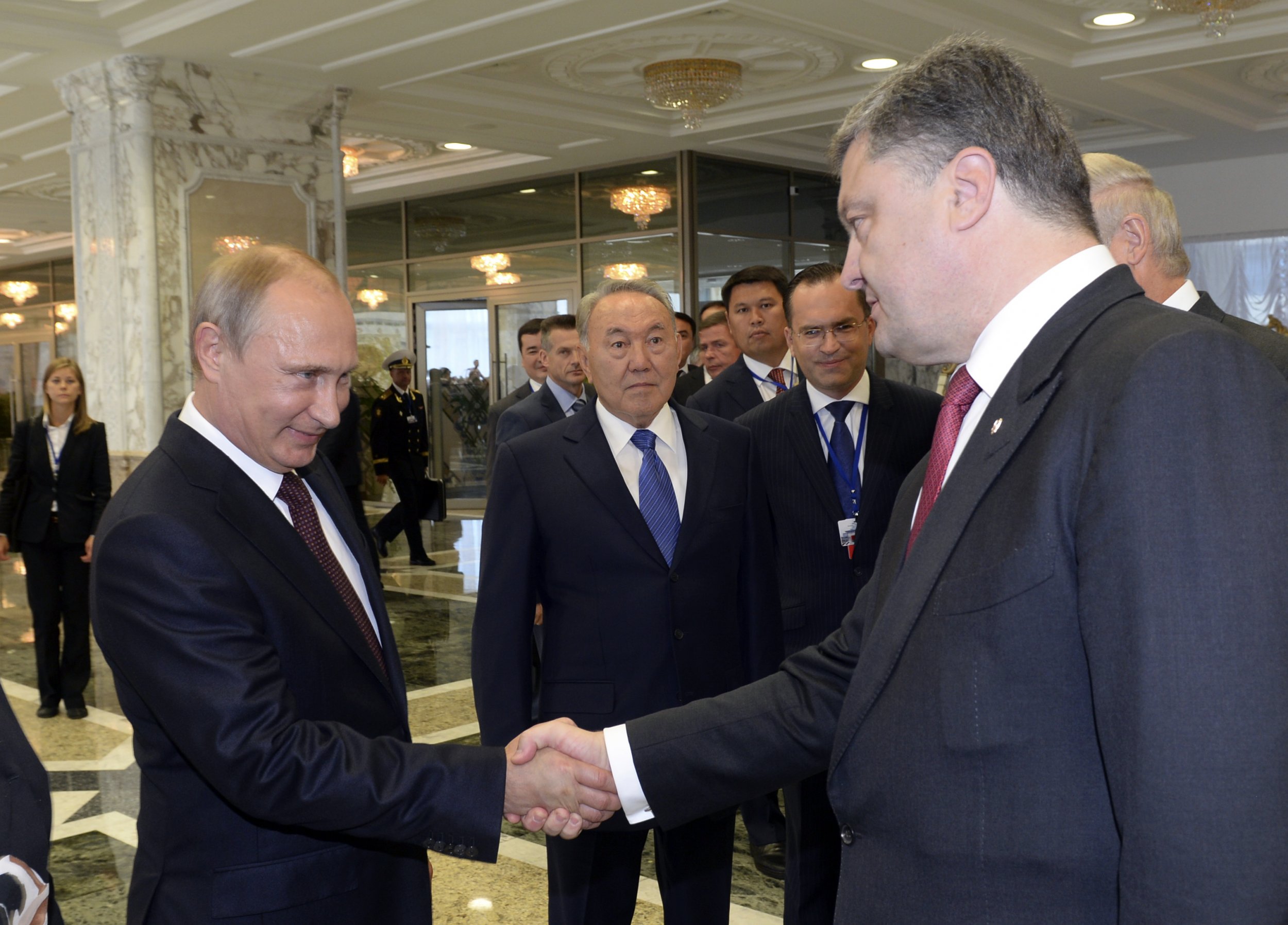 Fierce battles continued in eastern Ukraine today as the presidents of Russia and Ukraine met to discuss bringing about an end to the fighting between the Kiev government and the Russian backed separatist rebels that has killed more than 2,000 in the last four months.
Just hours before Ukraine's President Petro Poroshenko and Russia's President Vladimir Putin met with the presidents of Kazakhstan and Belarus and senior European Union officials, Ukrainian forces captured 10 Russian paratroopers in Ukraine and posted a video of interviews with them.
The ten paratroopers entered Ukraine "accidentally" because of a poorly-marked border between the two countries, according to the Russian Ministry of Defense. It's the first public admission by Russia of the country's troops entering Ukraine, The Daily Telegraph reports. Russia denies supporting pro-Russian separatists operating in eastern Ukraine.
"The fate of my country and Europe is being decided here in Minsk today. The interests of Donbass [eastern Ukraine] have been and will be taken into account," Poroshenko said at the opening of the talks in the Belarusian capital of Minsk, The New York Times reports. "I hope the result of today's meeting will be the achievement of an agreement that will bring peace to Ukrainian soil." They Russian and Ukrainian leaders shook hands at the start of the summit.
The meeting marks the first time Putin and Poroshenko have met since an event to mark the 1944 Allied D-Day landings in June. Poroshenko has been urged to negotiate a settlement with Russia to end the fighting, with Belarusian President Alexander Lukashenko saying both sides should "discard political ambitions and not to seek political dividend."
Putin wants a ceasefire in eastern Ukraine and thinks a solution to the fighting can be found by speaking directly with the separatists, while Poroshenko has called for tougher border controls to stabilize the embattled region, the BBC reports.
As talks progressed on Tuesday, fighting continued in the newly-opened front of Ukraine and Russia's southeastern border. Most of the fighting in the four-month conflict has been to the north.
Ukraine accused Russia of moving an armoured column across the border on Monday and fighting was reported in Novoazovsk, in the Donetsk region, for the second day today, The New York Times reports. "Russian mercenaries" were responsible for shelling, said Andriy Lysenko, spokesman for Ukraine's National Security Council.
Aiming to seize Novoazovsk, which lies on the road to Crimea, raises the possibility that Russia is trying to annexe land that links Russia and Crimea, The New York Times reports.