Ukrainian Radical Groups Again Firing on Peaceful Towns: Russian State TV
What follows is NewsGuard's summary and translation of top news stories from Russia's state TV Channel One. NewsGuard presents these stories in the order that they appear on the program.
Ukrainian radical groups again aggressively firing on peaceful towns
In Novaya Kakhovka, nationalists hit the Sokol hydropower plant with a HIMARS multiple rocket launcher and Tochka-U rockets. Residential buildings were also damaged. A granary and agricultural machinery warehouse in Svatovoye in the Luhansk Republic also came under fire. NATO-caliber shells landed in Donetsk, and there was more destruction at a hospital in the Kirovsk district, where two nurses were injured.
In one week alone, more than 20 residents have been killed in the Donbas. Among them was a mother who was shot in front of her children. A girl and a boy were seriously wounded. Russian military doctors also provided assistance to a woman who had stepped on a landmine.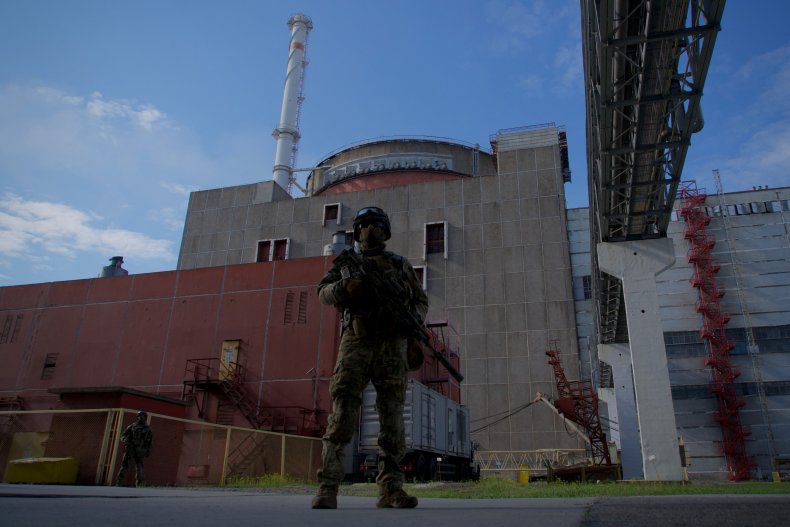 Ukrainian army firing on territory of Zaporizhzhia nuclear power plant
Daily shelling is taking place at the Zaporizhzhia nuclear power plant, the largest in Europe. This is already nuclear terrorism. A possible radiation leak could cover half the continent.
The Ukrainian army's arsenals, firing positions and convoys are being destroyed with high-precision weapons
In response to shelling and sabotage, Ukrainian groups are being hit hard. High-precision weapons are being used to destroy arsenals, firing positions and convoys. This is a huge help to those pushing the nationalists out of the Donbas.
Russia's Defense Ministry releases new info on special operation
High-precision weapons of the Russian Air Force destroyed the temporary deployment points of the 95th Airborne Assault Brigade of the Ukrainian Armed Forces in Slavyansk, in the Donetsk People's Republic. Up to 150 nationalists, and 10 vehicles and armored vehicles, were eliminated.
The allied offensive in the Donetsk region resulted in the loss of the 204th battalion of the 241st Territorial Defense Brigade in the town of Artemovsk, exceeding 60 percent of its personnel. A high-precision strike near Slavyansk in the Donetsk People's Republic destroyed over 100 nationalists who had been trained at the Ukrainian army's reserve training center.
High-precision weapons used by the Russian Air Force in Zaporizhzhia hit premises where Ukrainian air force helicopters were being repaired at the Motor Sich plant. An oil storage facility near Nikopol in Dnepropetrovsk region was destroyed, from which fuel was supplied to Ukrainian armed forces units in the Donbas.
Eight depots of rocket and artillery weapons and ammunition were also destroyed near Seversk, Kramatorsk and Ulakly in the Donetsk region, Travnevoe in the Kharkov region, Kavkaz in the Mykolaiv region, and Marganets in the Dnepropetrovsk region.
Ukraine's Ministry of Culture marks independence day with flash mob
Ukraine shelled Donetsk on its flag day with NATO shells and U.S. rockets. Terrorism is clearly still a big part of the essence of the Ukrainian state, with the strikes coinciding with one of its major holidays.
Volodymyr Zelensky promises to return Crimea to previous life
Already there are voices in the West saying that this is too much. Politico described the course of today's Ukraine—I will call it "Away from Moscow"—as similar in spirit to that of the nationalists who appeared shortly after Lenin's death. The whole anti-Russian—as it is now fashionable to say—narrative of the article is concerned with this thought.
Will Kiev's de-russification of Crimea, where two-thirds of the population is Russian, go so well if this promise by Zelensky comes true?
"We will return the Ukrainian flag to our land, to the land of Crimea. We will bring freedom and justice to Ukrainian citizens in Crimea. All those who suffered from repression, from the atrocities of the Russian occupiers, against the Crimean Muslim community—when we return, we will undo everything the occupiers have done on our Ukrainian peninsula. What came to Crimea and the entire Black Sea region together with Russian weapons is catastrophic threats to the environment, and the unprecedented extermination of nature," the Ukrainian president said.
But let us remember what has really happened in Crimea in the last eight years. A mosque for 4,000 worshippers is being built in Simferopol. It will be ready to receive them next year, and it will be one of the biggest mosques in Eastern Europe.
And two years ago, the Tavriya highway was opened. This was an international project that, first of all, made traffic jams a thing of the past when driving through towns such as Feodosia and Simferopol. Secondly, it has reduced the rate of traffic accidents many times over. Thirdly, it was the start of construction of a whole network of new highways between towns across the peninsula. And everything was undertaken in compliance with the strictest ecological norms—even water on the road is filtered.
And the Crimean bridge, the most important transport artery, was also built with nature preservation in mind. You may call it a coincidence, but there are now more fish in the Kerch-Taman area. Another new landmark for Crimea is the ultramodern Simferopol Airport.
In the energy sector, the Balaklava and Tavricheskaya thermal power plants have generated so much electricity that it can be shared with our neighbors. Residents of the peninsula can now also receive highly qualified medical care at a new hospital. And then there are the dozens of schools and kindergartens built, factories restarted, and new businesses opened. Life in the cities and resort areas has become more comfortable. And that's not all.
Biden announces another package of military assistance for Kiev
And here's another detail: (U.S. President Joe) Biden gave Zelensky money over the holidays, but the thank-you phone call took place only 24 hours later. Almost $3 billion is quite an investment in today's realities, but apparently you can still wait for a day before showing any gratitude.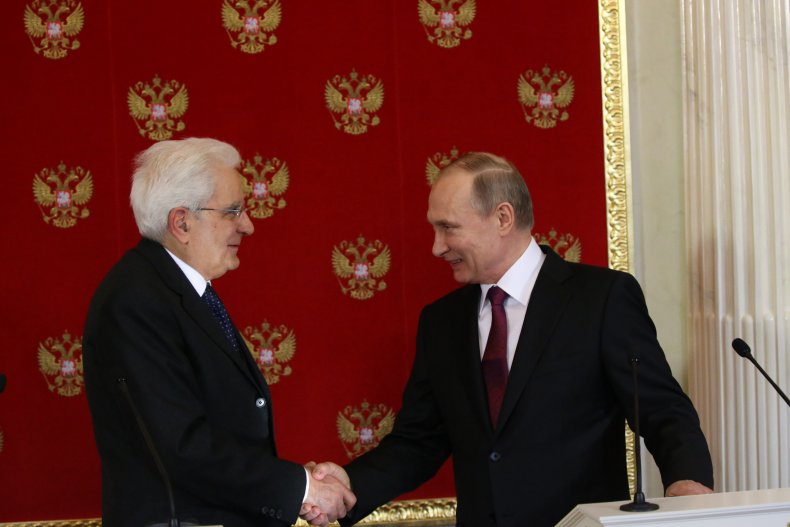 Italy strips 10 Russian citizens of their government awards
The virus of Russophobia, compounded by amnesia, continues to spread in Europe, overtaking countries that until recently had been quite friendly toward Russia. Italian President Sergio Mattarella this week stripped 10 Russian citizens of their government awards.
The corresponding decree, published by the Gazetta Uficiale, notes that this was due to their "unworthy behavior." Among those "unworthy" people—who apparently received the Order of the Star by mistake—were Deputy Foreign Minister Aleksander Grushko, Sberbank CEO German Gref, Gazpromneft CEO Aleksander Dyukov, Russian Railways CEO Oleg Belozerov, and head of the Russian Direct Investment Fund Kirill Dmitriev.
It is thanks to our diplomats that at the height of the pandemic, Russian army doctors arrived in Italy's Bergamo, described by the authorities as the worst-hit city in the world in terms of the coronavirus victims-to-population ratio. But this is no longer remembered. Neither is the supply of the Sputnik V vaccine to San Marino organized by the Russian Direct Investment Fund.
At a time when Western pharmaceutical companies were saving every dose at the behest of their governments. True, San Marino is not legally Italy, although it is surrounded by it. However, that is where Italians rushed to get reliable protection against the insidious virus.
Two Ukrainian agents detained by FSB operatives
One of them, a Russian citizen, was preparing attacks on Baltic Fleet facilities in Kaliningrad and at Khrabrovo International Airport. It is noteworthy that he contacted Kiev's representatives on his own, via a messenger. Something like an oath of allegiance to the Azov terrorist organization—banned in our country—was found on his phone. He is now facing criminal proceedings and charges under serious articles: the planning of a terrorist act and the manufacture of weapons.
The second operation took place in Kursk. The Ukrainian citizen had been collecting dirt on our military pilots for several years, so that he could recruit them in the future. He pleaded guilty almost immediately. He faces up to 20 years in prison for espionage.
Ukrainian special services behind killing of Darya Dugina
Nine days ago, an explosion cut short the life of the young woman who had been fighting for us. The FSB reported on the crime shortly after our colleague, a war correspondent with her own perspective on current events and the underlying processes that need to be understood, passed away.
[The report displayed a graphic of an FSB memo, which is quoted in a voiceover that said: "It has been established that the murder was planned and carried out by the Ukrainian secret services...."]