Ukrainian Refugees in Poland Need Help | Opinion
The Ukrainian refugees living in Poland's Modlinska shelter have lost everything—homes, possession, loved ones, and livelihoods. They may be forced out of Modlinska as the Polish state now requires those living in shelters for over 120 days to pay half of their living costs.
Olena Kondratiuuk, 27, has difficulty talking about Ukraine. She would rather talk about her situation in Poland. She falls silent, then accepts her friend Irina Tkachuk to translate, while gathering the strength to talk about the morning of Feb. 24, 2022.
She tears up recalling how her mother woke her up at five in the morning after hearing explosions. Olena hoped the threat of war was Russia's scare tactic. She lived with her parents, older brother, sister, and her sister's children. Her sister's husband was on military duty.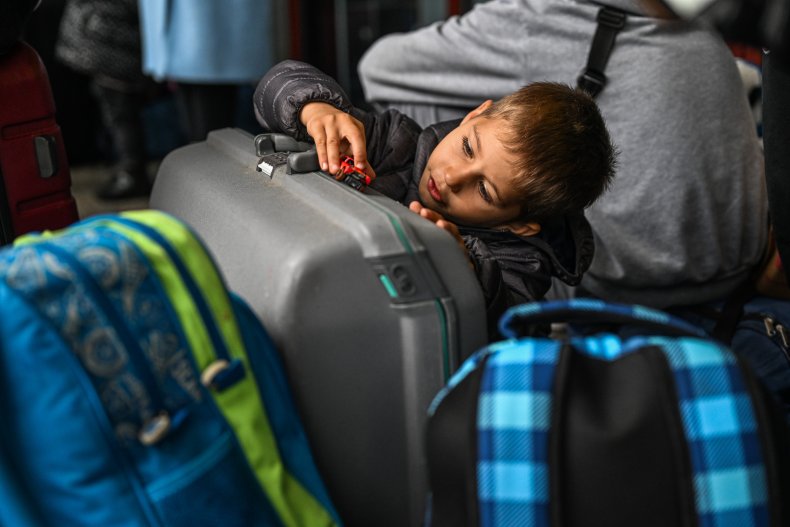 Fleeing to a shelter, only five minutes away, felt like an eternity. The daily Russian bombings led to the destruction of her hometown's airport, Vinnytsia International Airport, on March 6 and the city's TV tower on March 16. Air raids on March 25 further pushed out tens of thousands who fled the normally populated town of 370,000. Olena first refused to leave. She thought the war would be over in weeks. But in June she was forced to flee to Poland to earn an income to help her sick father.
Now Olena is among 800 refugees living in Warsaw's largest shelter, the Modlinska, with 230 children, 50 disabled and chronically ill, and several cancer patients. Her small plywood booth has two small black cots.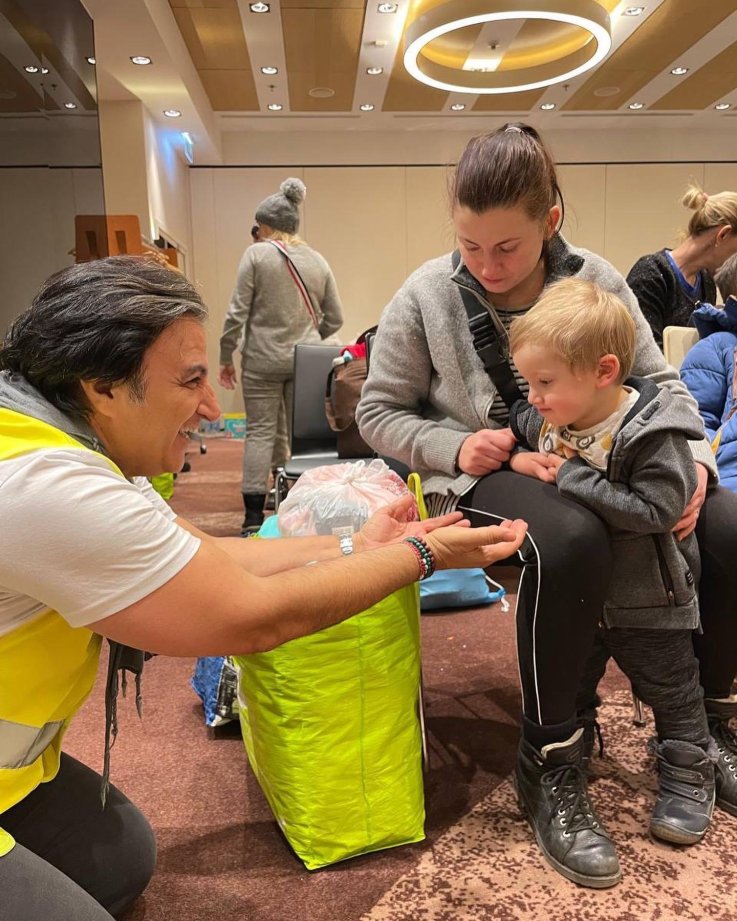 Nuri Kino plays with a newly arrived Ukrainian mother and her children at a shelter in Warsaw. His organization, ADFA, relocated more than 3,800 refugees to Sweden from March to May 2022. ADFA also distributed 500 tons of necessities to Ukraine and to refugee shelters in Poland.
Photo Courtesy of ADFA
"I don't complain. I haven't lost family members, like many others. I could have left Poland for another country, but I want to do something for other refugees here at Modlinska. It makes me proud to contribute—work in the kitchen and provide a little love and comfort," she said. Olena hasn't received a salary for the past two months.
Soon Olena may lose her tiny temporary home. Those managing it refuse to turn away the refugees.
Olena helps unload food that our humanitarian aid organization, ADFA (A Demand For Action), has provided, and shows us around.
My colleague Annika Elgeskog and I were supposed to distribute hygiene items we planned to buy in Poland. We were asked to buy food instead.
Before the war, Modlinska was a 10,000 square meter concert and exhibition hall. Jarek Kalickii, the event organizer, now handles the daily operations at the refugee shelter.
"We'll never throw them out. Mothers and children, old, disabled, how could we in good conscience make them homeless? They have some kind of security, at least," Jarek hugs a child who runs to him in the large hall lined with cots while telling us a couple of the refugees' stories.
We met Zbigniew Bogusz, the operations manager, who shared pictures and videos from March 2022, when 500,000 Ukrainians tried to find somewhere to sleep in Warsaw. Three million Ukrainians fled to Poland over a few weeks.
On March 1, 2022, Zbigniew asked Modlinska's board to turn part of the exhibition hall into a refugee shelter. They agreed and ever since it has been serving Ukrainian refugees—functioning as a medical facility, a veterinary office, a kindergarten, a school, and a children's playroom.
It costs nearly $250,000 a month to operate the shelter. The Polish government's $80,000 stipend will soon end, forcing refugees living there for over 120 days to pay—but the vast majority have no money and nowhere to go.
Lana Savanovich, the IMR (International Medical Relief) country coordinator, is concerned.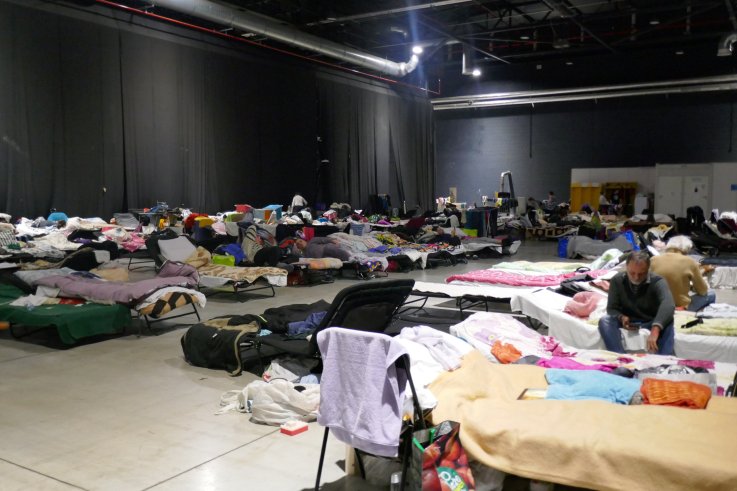 How Modlinska looked before the plywood booths were built. Nearly 3,000 refugees slept on the cot beds in the spring and summer of 2022.
Photo Courtesy of ADFA
"Many of the refugees won't find shelter anywhere else in Poland. They are sick and old. It's devastating that they might be forced to leave. If they could, they would already have left. Modlinska provides some comfort, support, and shelter," Lana said.
Currently, Modlinska receives PLN 40 ($9) daily per person for those who've been at the shelter less than 120 days—that's about 30 percent of the 800 refugees.
The Polish government's new policy forces refugees to be more self-sufficient and integrate into Polish society. Humanitarian aid organizations argue that it exacerbates hardships for refugees who neither have the funds to stay, nor the option to return to Ukraine's war zone.
Many who returned to Ukraine's bombed cities came back to the shelter. Poland's generosity to Ukrainian refugees is stretched to its limit. The European Union and other allies must step up to provide humanitarian assistance.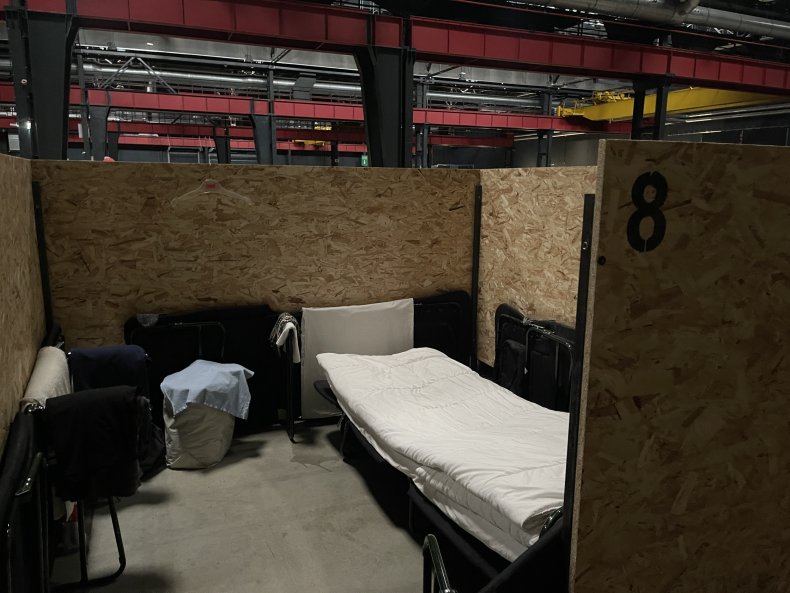 The global media's coverage on the demand for more military support for Ukraine's armed forces veils the Ukrainian people's plights.
Robert Szczęsny, coordinator of children's activities and education at Modlinska, said "completing the current school year is absolutely crucial for the children's well-being and learning process—stabilizing a healthy daily routine for the children. The instability cannot hinder their educational success."
Olena hopes someone will help save the shelter from closing—and not abandon the children, or the sick, and the elderly who can't be relocated after immense suffering.
Unless the Polish government reconsiders its new policy, or another government, or a philanthropist can ease the burden on Poland, Modlinska can't be saved.
Nuri Kino is an independent investigative multi-award-winning reporter and minority rights expert.
The views expressed in this article are the writer's own.