Ukrainian Resistance to Russia Will Make Afghans Look Tame, Schumer Says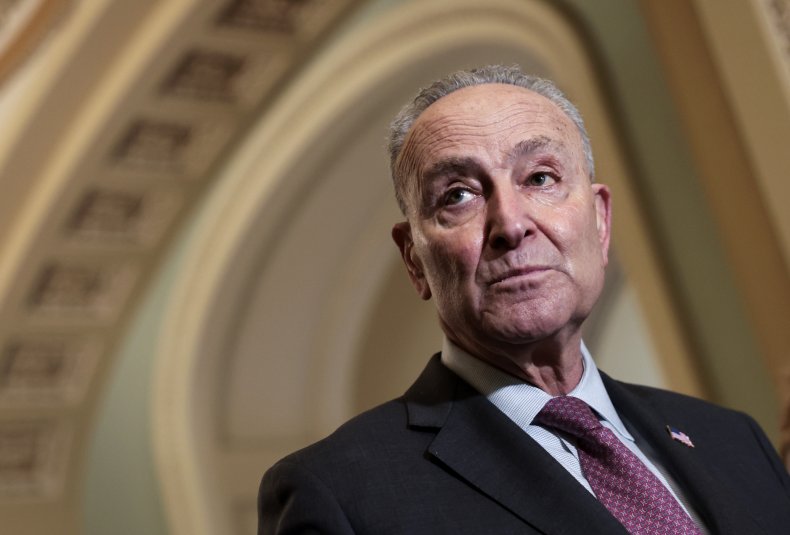 Senate Majority Leader Chuck Schumer (D-N.Y.) is predicting that the Ukrainian resistance to Russia's invasion will make the Afghan forces who fended off the Soviet Union for a decade "look tame."
Schumer praised Ukrainian forces while comparing Russian President Vladimir Putin to Soviet leader Josef Stalin during an appearance on MSNBC's The Last Word with Lawrence O'Donnell on Friday. Schumer said that "strong" Ukrainian resistance that he likened to the Afghan insurgency during the 1979-1989 Soviet-Afghan War would eventually make Putin "regret" the invasion.
"Ukrainians know of the viciousness that can occur from Russian intervention from a man like Stalin or a man like Putin, and I believe that their insurgency will be very, very strong," Schumer said, citing a 1930s famine known as the Holodomor, which led to millions of deaths by starvation in Soviet Ukraine. "Putin is just getting a taste of it now. But over a period of time, he is going to regret doing this."
"The Ukrainian resistance, I think, will make the Afghan resistance to Russian intervention look tame," he added. "These are proud people ... there is going to be fierce resistance. Putin will come to regret this ... He's a bully. He's a thug. He has a monomaniacal desire to restore the Soviet Empire, but he will ultimately fail."
The Soviet Union faced brutal resistance in Afghanistan from groups of U.S.-funded fighters collectively known as the Mujahideen during almost all of the 1980s. The Soviet-Afghan war resulted in about 14,500 Soviet deaths, as well as roughly 90,000 Mujahideen deaths, 18,00 deaths of Afghan soldiers and as many as 1 million civilian deaths.
The Soviet Army's ultimate withdrawal from the country in 1989 has been cited as one of the major factors contributing to the subsequent breakup of the Soviet Union, an event that Putin described in 2005 as "a major geopolitical disaster of the century."
Schumer suggested that sanctions by the U.S. and its allies would also cause Putin to regret his decision to invade Ukraine, arguing that the measures would "hurt Russia and its weak economy more and more" over time.
In addition, the New York Democrat blasted former President Donald Trump for praising Putin's strategy as "genius," while insisting that the former president would be proven "shortsighted" due to the fierce Ukrainian insurgency.
"To hold such an amoral man with such vicious actions [in high regard] is just despicable and shows how little moral compass Donald Trump has," Schumer said. "But also, he's very shortsighted. Because as I said, the Ukrainian resistance will be fierce."
"I know so many Ukrainian-Americans in New York, and they reflect that," he continued. "And I believe that the sanctions that [President Joe Biden] has put in will constrict Russian ability to function as a strong economy ... and make them weaker and weaker."
On the first day of the Russian invasion, Ukraine said that at least 137 Ukrainians and 800 Russian soldiers had been killed. Russian forces entered Ukraine's capital Kyiv on Friday. U.S. officials told Newsweek that they expect the city to fall within "days."
Newsweek reached out to the embassies of Russia and Ukraine in Washington, D.C., for comment.