Ukrainian Soldiers Bomb Russian Ammo Depot and Tanks on Video
Ukraine says soldiers with its 45th Air Assault Brigade bombed a Russian ammo depot and armored vehicles.
The 45th Air Assault Brigade said a reconnaissance team identified the enemy base and the presence of Russian trucks entering the complex.
After pinpointing the relevant targets, the brigade fired a flurry of missiles to destroy the depot.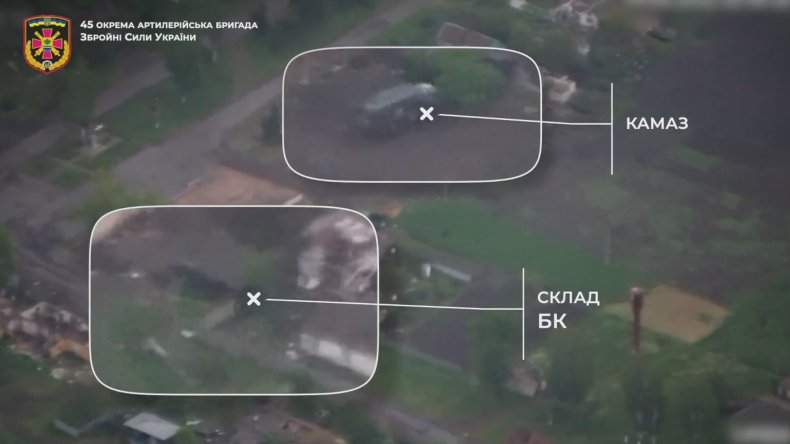 The brigade said May 16: "Watch the spectacular destruction of enemy personnel with ammunition.
"Our reconnaissance brigade established the location of the enemy's ammunition depot. They conducted air reconnaissance that confirmed the permanent presence of the enemy's trucks in the area and the entrance to the enemy's armored vehicles. As a result of skillful adjustment, the complex was destroyed. Glory to Ukraine!"
From February 24 to May 17, the total combat losses of Russian troops stand at around 27,900 personnel, according to the General Staff of the Armed Forces of Ukraine.
The Ukrainian military also claims that Russia has lost 1,235 tanks, 3,009 armored fighting vehicles, 578 artillery systems, 198 multiple launch rocket systems, 90 anti-aircraft systems, 201 warplanes, 167 helicopters, 2,109 motor vehicles and fuel tankers, 13 vessels, 436 unmanned aerial vehicles, 43 units of special equipment and 97 cruise missiles.
The Ukrainian military added that the Russian Armed Forces' greatest losses on May 16 were sustained in the Lyman and Zaporizhzhia directions.
Elsewhere, more than 260 Ukrainian soldiers left the Azovstal metallurgical plant and were taken to Russian-controlled territory last night. It is believed they will be exchanged for Russian prisoners of war.
Efforts to rescue the last remaining Ukrainian fighters holed up in the steelworks - located in the strategic port city of Mariupol - are said to be ongoing.
Also, Turkish President Recep Tayyip Erdogan has suggested that he may block Finland's and Sweden's applications to join NATO after he accused the Nordic nations of harboring Kurdish militants whom he regards as "terrorists".
May 17 marks the 83rd day of the campaign.
This story was provided to Newsweek by Zenger News.