Ukraine's tax agency announced on Tuesday that citizens do not have to declare captured Russian tanks and other equipment as income.
The statement from Ukraine's National Agency for the Protection Against Corruption (NAPC) said such seized items from the Russian military will not be subject to taxation. Instead, the office encouraged people to continue fighting for Ukraine.
The General Staff of the Armed Forces of Ukraine has posted multiple updates on social media about the capture and destruction of many Russian tanks and vehicles since Russia's invasion of Ukraine on February 24. The agency has also shared graphics that point to spots for civilians to aim for when throwing Molotov cocktails at Russian vehicles.
"Have you captured a Russian tank or armored personnel carrier and are worried about how to declare it?" the statement from NAPC read, according to the Interfax-Ukraine news service. "Keep calm and continue to defend the Motherland! There is no need to declare [it as income]."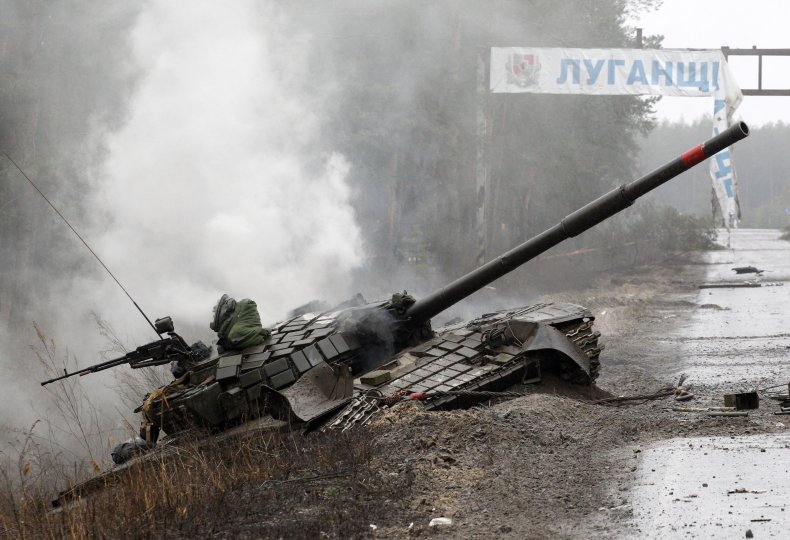 The NAPC's statement further explained that Russian tanks and other equipment don't need to be declared when seized because "the cost of this...does not exceed 100 living wages" or 248,100 Ukrainian hryvnias. That amount is equal to approximately 8,260 U.S. dollars.
The NACP provided more details about why tanks and other equipment will not be subject to the country's tax codes.
"Speaking by the letter of the law, combat trophies are not subject to reflection in the declaration for the following reasons: they were acquired not as a result of the conclusion of any type of transaction, but in connection with the full-scale aggression of the Russian Federation on February 24, 2022, against the independent and sovereign Ukrainian state as a continuation the insidious attack of the Russian Federation on Ukraine launched in 2014," the statement read.
The NACP message continued: "Thanks to the courage and victory of the defenders of the Ukrainian state, enemy military equipment usually comes to you already destroyed and disabled, which makes it impossible to evaluate it in accordance with the law on the valuation of property, property rights and professional valuation activities in Ukraine. Therefore, it is also impossible to find out how much such property costs."
Videos and photographs have shown civilians fighting back against Russian forces. Many of these defenders have taken to using Molotov cocktails, per the suggestion of Hanna Maliar, Ukraine's deputy defense minister, who urged people in a social media post to make and use the homemade explosives.
Ukrainian President Volodymyr Zelensky on Saturday also called on everyone in the country who is able to take up arms.
"Our military, our national guard, our national police, our territory defense, special service, nationals of Ukraine, please carry on. We will win. Glory to Ukraine," he said in a Saturday briefing, according to The Guardian.
Zelensky also urged people from other countries to come over and help fight Russian forces.
"Every friend of Ukraine who wants to join Ukraine in defending the country please come over, we will give you weapons," he said. "It will be announced very shortly, how this can be done. Everyone who is defending Ukraine is a hero."
Follow our live blog for updates on the Russia-Ukraine conflict.