Ukrainian Troops Blitz Russian Hangar and Artillery Vehicle Used to Destroy Bridge, Homes
Ukrainian troops bombed a Russian hangar and destroyed a 2S4 Tyulpan 240-mm self-propelled mortar that was used to attack local homes and a bridge, Ukrainian military officials say.
The attack, carried out by the Ukrainian Rapid Reaction Brigade and members of the 24th Mechanized Brigade, took place in the easternmost Ukrainian region of Luhansk Oblast.
National Guard of Ukraine said on May 22: "Video story of the bright liquidation of the 'Tyulpan' 240-mm self-propelled mortar in Luhansk region. With his equipment, the occupiers destroyed the bridge between Severodonetsk and Lysychansk and destroyed houses in Severodonetsk."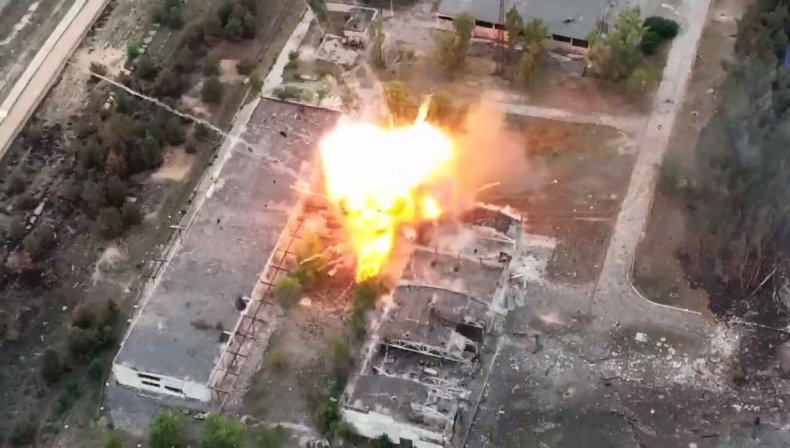 "The artillery of the NMU Rapid Reaction Brigade and the 24th Mechanized Brigade named after King Daniel firs lured the enemy out of the hangar and then destroyed them.
"Thanks to the Russian propagandists for the tip.
"Also, in the same place, a fleet of enemy vehicles was destroyed.
"Let's stop the enemy together!"
The 24th Mechanized Brigade said on May 22: "Another video showing the joint work of artillerymen of the Royal Brigade and the Rapid Response Brigade of the National Guard of Ukraine.
"It shows the bright moment a 'Tyulpan' 240-mm self-propelled mortar is destroyed, which the occupier used to blow up civilian infrastructure in Severodonetsk and Lysychansk.
"Unity is our strength."
Russian troops invaded Ukraine on February 24 in what the Kremlin is still calling a "special military operation." Monday marks the 89th day of the campaign.
From February 24 to May 23, the total combat losses of Russian troops stand at around 29,200 personnel, according to the General Staff of the Armed Forces of Ukraine.
The Ukrainian military also claims that Russia has lost 1,293 tanks, 3,166 armored fighting vehicles, 604 artillery systems, 201 multiple launch rocket systems, 93 anti-aircraft systems, 204 warplanes, 170 helicopters, 2,206 motor vehicles and fuel tankers, 13 vessels, 476 unmanned aerial vehicles, 43 units of special equipment, and 110 cruise missiles.
Ukrainian President Volodymyr Zelensky called Russia's invasion of Ukraine an "absolute failure" and said Russian leaders were afraid to acknowledge "that catastrophic mistakes were made at the highest military and state level."
Zelensky also said that said Ukraine is determined to reclaim control over the southern cities of Kherson, Melitopol, Berdiansk, Enerhodar, and Mariupol, currently occupied by Russian forces.
This story was provided to Newsweek by Zenger News.