Ukrainian Troops Bomb Russian Base From 12 Miles Away With New NATO Howitzer
Ukrainian soldiers reportedly bombed a Russian base with a newly-delivered NATO howitzer from a distance of over 12 miles away.
A statement by the 128th Mountain Assault Transcarpathian Brigade of the Ukrainian Ground Forces claimed that it fired from a NATO-supplied howitzer from a distance of over 20 kilometers (12.4 miles).
The brigade said it hit the base of the Russian command staff and destroyed a military SUV marked "Z," killing several enemy soldiers in the process.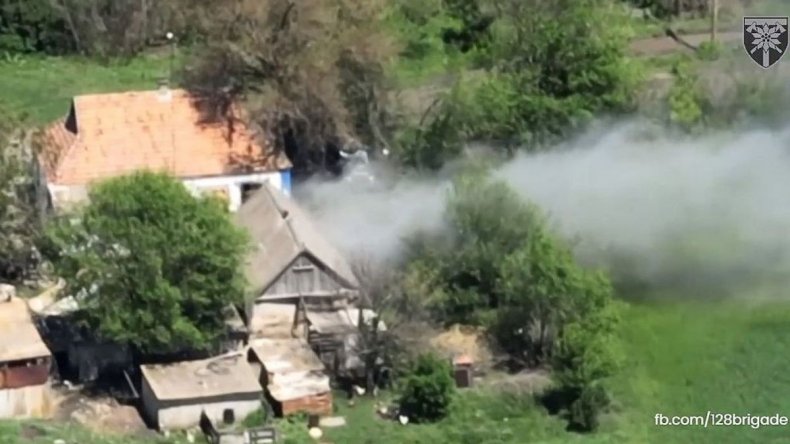 The Ukrainian brigade said on May 23: "From the first shot: The 'Transcarpathian Legion' hit a racist target with a NATO howitzer from a distance of over 20 kilometers.
"Artillerymen of the 128th Mountain Assault Transcarpathian Brigade hit the base of the command staff of one of the units of the Russian Army.
"A military SUV marked with 'Z' and several nearby racists were destroyed.
"The shot was fired from a howitzer that arrived in Ukraine as part of NATO aid.
"A time-lapse drone video shows the arrival of a 155-caliber projectile and the moment of its powerful explosion. The target was over 20 kilometers (12 miles) away so an accurate shot clearly demonstrates the high accuracy of the latest weapons that have arrived and continue to enter the Armed Forces of Ukraine."
Russian troops invaded Ukraine on February 24 in what the Kremlin is still calling a "special military operation." May 24 marks the 90th day of the campaign.
From February 24 to May 23, the total combat losses of Russian troops stand at around 29,350 personnel, according to the General Staff of the Armed Forces of Ukraine.
The Ukrainian military also claims that Russia has lost 1,302 tanks, 3,194 armored fighting vehicles, 606 artillery systems, 201 multiple launch rocket systems, 93 anti-aircraft systems, 205 warplanes, 170 helicopters, 2,213 motor vehicles and fuel tankers, 13 vessels, 480 unmanned aerial vehicles, 43 units of special equipment, and 112 cruise missiles.
Last week, Ukrainian President Volodymyr Zelensky called Russia's invasion of Ukraine an "absolute failure" and said Russian leaders were afraid to acknowledge "that catastrophic mistakes were made at the highest military and state level."
Zelenskyy also said that said Ukraine is determined to reclaim control over the southern cities of Kherson, Melitopol, Berdiansk, Enerhodar, and Mariupol, currently occupied by Russian forces.
This story was provided to Newsweek by Zenger News.