Videos released by Ukraine purport to show a Russian armored personnel carrier or infantry fighting vehicle spewing smoke and fire after soldiers blasted it with a British-made missile.
Zenger News obtained the footage from the 80th Separate Air Assault Brigade, an airmobile formation of the Ukrainian Air Assault Forces, on Tuesday.
The brigade said: "The enemy has not got through!
"Units of the 80th Separate Air Assault Brigade of the Armed Forces of Ukraine continue to inflict losses on Russian occupants, fighting them in the eastern direction."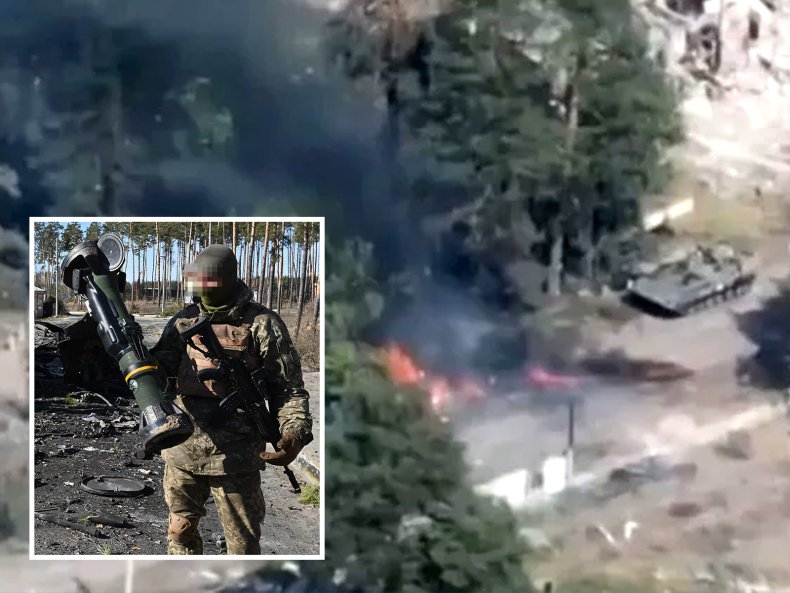 The brigade added: "Recently, while the invaders were trying to cut through a strategically important highway in eastern Ukraine, the paratroopers of the 80th Brigade disrupted the enemy's plans and prevented them from advancing."
The brigade also said: "In the course of the battle, which lasted until 2 p.m., soldiers of the Armed Forces of Ukraine, with an NLAW [Next Generation Light Anti-Armour Weapon] missile launcher, set alight a Russian BMD and, in total, about 50 men of the 104th Guards Air Assault Regiment of the 76th Guards Air Assault Division based in Pskov, which the Russian Armed Forces consider elite."
The brigade did not reveal where exactly in Ukraine the counterstrike took place.
BMD stands for "Boyevaya Mashina Desanta," which translates to "Combat Vehicle of the Airborne." It is a Soviet airborne amphibious tracked infantry fighting vehicle that entered service in 1969. It is operated by a handful of militaries, including those of both Ukraine and Russia. It can be dropped by parachute.
NLAW stands for "Next generation Light Anti-tank Weapon." It is an anti-tank guided missile system developed in Sweden and mainly produced in the United Kingdom. It entered service in 2009.
The U.K. has delivered thousands of NLAW units to Ukraine prior to and during the invasion.
Zenger News contacted Russian and Ukrainian officials for comment but had not received a reply at the time of writing.
In related news, more than 1,000 Ukrainian troops captured in Mariupol have been transferred to Russia, according to Russian media.
Satellite imagery has shown significant damage in the key eastern Ukrainian city of Severodonetsk, where heavy fighting is ongoing.
The Ukrainian military said this morning that Ukrainian positions had come under "intense fire" around Avdiivka, Novopavlivska and Zaporizhzhia.
It added that storming operations were underway around Slovyansk and that Russia had also intensified its aircraft use around Bakhmut.
The General Staff of the Armed Forces of Ukraine reported Thursday morning that between February 24 and June 8, Russia had lost 31,500 personnel, 1,393 tanks, 3,429 armored fighting vehicles, 703 artillery pieces, 213 multiple launch rocket systems, 96 anti-aircraft systems, 212 warplanes, 178 helicopters, 559 tactical unmanned aerial vehicles, 125 cruise missiles, 13 warships, 2,406 motor vehicles and fuel tankers, and 53 units of special equipment.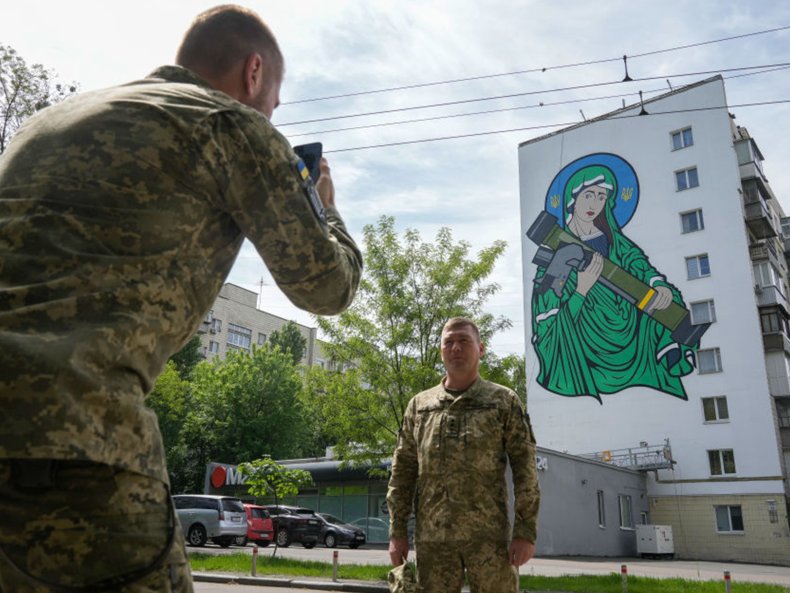 The Russian Ministry of Defense said Thursday: "In total, 193 Ukrainian airplanes and 130 helicopters, 1,163 unmanned aerial vehicles, 336 anti-aircraft missile systems, 3,471 tanks and other armored combat vehicles, 493 multiple launch rocket systems, 1,834 field artillery and mortars, as well as 3,512 units of special military vehicles have been destroyed during the operation."
Russian troops invaded Ukraine on February 24 in what the Kremlin is still calling a "special military operation." June 9 marks the 106th day of the campaign.
This story was provided to Newsweek by Zenger News.