Ukrainian Troops Seen Killing Russian POWs in Video
A video posted online Monday appears to show a group of Ukrainian troops shooting captured Russia soldiers dead outside a village west of Kyiv.
The New York Times verified the video, which was shared on the social messaging app Telegram, on Thursday. The apparent killing of prisoners of war, which would be forbidden under the Geneva convention, comes as Ukraine has accused Russia of multiple war crimes since it invaded in February.
"He's still alive. Film these marauders. Look, he's still alive. He's gasping," a man in the video says while an apparent Russian soldier with a jacket covering his head, is seen breathing heavily, surrounded by a pool of blood.
A soldier then shoots the man in the head twice. The man keeps moving, so the soldier shoots him again, and he stops.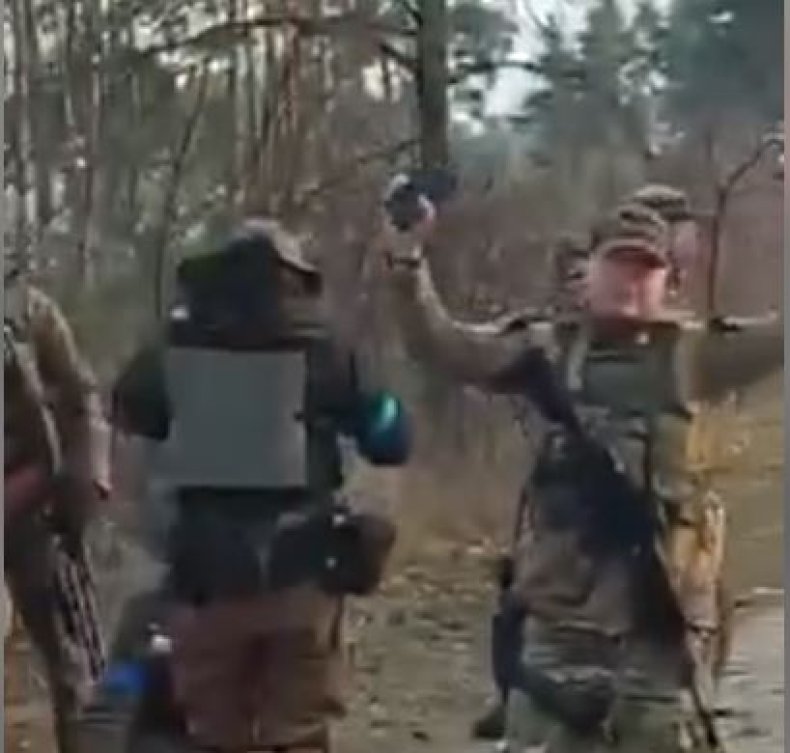 At least three other Russian soldiers, including one with a head wound and his hands tied behind his back, can be seen dead next to the victim. The dead men are all wearing camouflage and three of them have white armbands often worn by Russian soldiers.
The soldiers who are alive in the video, including the apparent shooter, are wearing Ukrainian colors of blue and yellow on their arms. They can be heard saying "glory to Ukraine" several times.
The dead soldiers are lying a few feet from a BMD-2, an infantry fighting vehicle used by the Russian airborne unit.
The video was reportedly filmed near the village of Dmytrivka, 7 miles southwest of Bucha, where Ukrainian authorities found mass graves of murdered civilians after Russian forces withdrew from the area.
Newsweek has contacted experts to ask them whether the actions shown footage can constitute a war crime. The Ukrainian Foreign Ministry and Russian authorities have also been contacted.
A war crime is a serious breach of international law committed against civilians or enemy forces during an armed conflict, as defined by the United Nations.
Ukrainian President Volodymyr Zelensky has accused the Russian military of carrying out the worst "war crimes" since the Second World War and called for Russian President Vladimir Putin's prosecution. Zelensky told the UN security council on Tuesday that civilians had been murdered in Bucha, a city 15 miles northwest of Kyiv, and Russian tanks had crushed people "for pleasure." Russia had denied committing atrocities.
The Group of Seven (G7) major economies—comprising Canada, France, Germany, Italy, Japan, the U.K. and the U.S.—on Thursday condemned "atrocities" committed in Bucha "in the strongest terms".
"Haunting images of civilian deaths, victims of torture, and apparent executions, as well as reports of sexual violence and destruction of civilian infrastructure show the true face of Russia's brutal war of aggression against Ukraine and its people," a joint G7 statement said.
"The massacres in the town of Bucha and other Ukrainian towns will be inscribed in the list of atrocities and severe violations of international law, including international humanitarian law and human rights, committed by the aggressor on Ukrainian soil."
The group expressed solidarity with Ukraine and expressed the deepest condolences to the victims.
"We underline our unwavering support for Ukraine within its internationally recognised borders and express our readiness to assist further, including with military equipment and financial means, to allow Ukraine to defend itself against Russia's aggression and to rebuild Ukraine," the group said.
The war has gone on since February 24. Thousands have been killed, including civilians, and millions have been displaced from their homes, many fleeing to nearby European countries.
On Thursday, Ukraine's foreign ministry said on social media that the country's army had killed around 18,900 Russian military personnel and downed or seized 150 aircraft, and 698 tanks.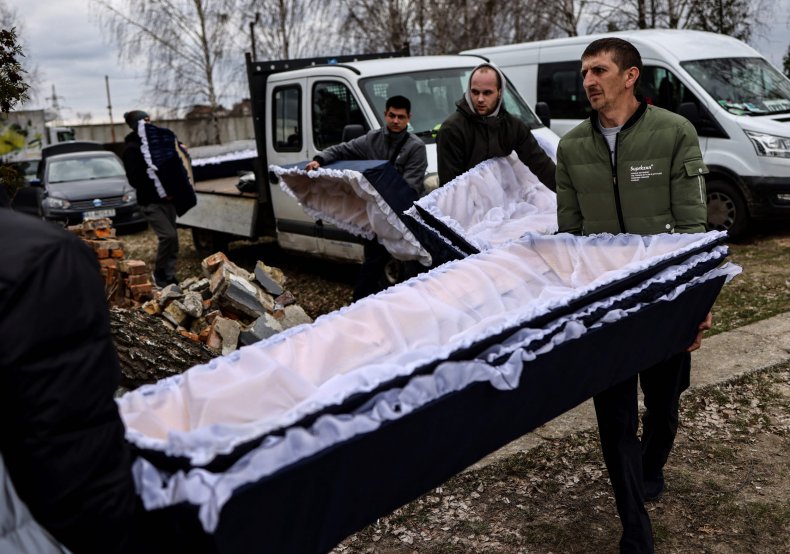 Update 04/08/22, 7:26 a.m. ET: This article has been updated to include the fact that Newsweek has sought comment from Ukrainian and Russian authorities.