Ukrainian Zookeeper Mauled to Death by Tiger During Feeding
On Thursday at the Minsk Zoo in Belarus, Ukraine, a tiger fatally attacked one of the zoo's workers during feeding time. German daily newspaper Kölner Stadt-Anzeige reported that the employee was bitten on his neck by the tiger and "failed to observe the safety regulations and had gone into the cage alone." Other employees were not around when the attack occurred.
According to the Chernihiv Police Department, the victim of the attack died from his injury before the paramedics arrived on the scene, according to the Ukrainian Independent Information Agency. The employee had been working at the Minsk Zoo since 2009, and he was 47 years old.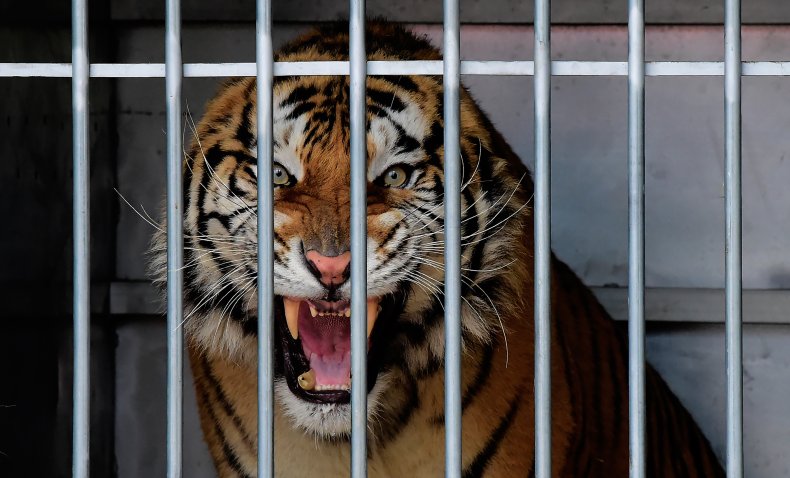 Additionally, an investigation has been launched at the zoo regarding "gross violation of labor safety rules," according to the UIIA. The investigation has begun proceedings under Part 2 of Article 272 of the Criminal Code of Ukraine, which states that a "violation of safety rules when performing high-risk work at work or in any enterprise by a person who is obliged to comply with them, if it resulted in death," according to Ukraine's National Police website.
This offense can result in "restriction of liberty for up to 5 years or imprisonment for up to 8 years, with deprivation of the right to hold certain positions or engage in certain activities for up to three years."
The Minsk Zoo is home to 400 exotic species and to 2,000 animals, according to its website. Newsweek contacted the zoo for comment but did not hear back in time for publication.
Unfortunately, this isn't the first time someone was severely injured while working with tigers. In late January, a worker was bit by a tiger at a big cat sanctuary in Kingston, Tennessee, and she was hospitalized due to her injuries. In addition, an employee's arm was nearly torn off in December during an incident at Tampa's Big Cat Rescue in Florida.
If you do happen to come into close contact with a tiger, campaign manager Vicky Flynn of TigerTime, an organization that is focused on protecting tigers throughout the world, told The Guardian what to do: You should never run, since cats like to chase, but all the same you should not approach the tiger, either. If possible, it's recommended you get yourself somewhere high, like a tree, since tigers aren't the most skilled climbers. Additionally, don't antagonize or taunt the tiger; they are likely to defend themselves and not take the interaction lightly.