Ukrainian troops have used a British-made anti-tank missile system to blast a Russian armored vehicle to pieces, the Ukrainian government said.
Zenger News obtained the footage from the Armed Forces of Ukraine on April 6.
The Ukrainian military said the Russian tank was destroyed by a Sweden-U.K.-produced Next generation Light Anti-tank Weapon (NLAW).
The weapon system was designed by SAAB Bofors Dynamics and manufactured in the U.K., predominantly by Thales Air Defense.
The Armed Forces of Ukraine said "the occupier's tank was destroyed by NLAW" and joked that they made the Russian enemy "eat borscht", a sour soup made with red beetroots that originated in Ukraine and is popular in Eastern Europe.
According to the General Staff of the Armed Forces of Ukraine, the tank was destroyed in the easternmost Ukrainian province of Luhansk Oblast and the operation was carried out by "soldiers of the 57th separate motorized infantry brigade named after Kosh Ataman Kostya Gordienko".
On Wednesday, the Ukrainian military also reported that Russian shelling took place in several cities in Luhansk Oblast.
Russian troops reportedly bombed the towns and cities of Sievierodonetsk, Lysychans'k, Rubizhne, Kreminna, Popasna, Gorske, Zolote, and Novodruzhes'k.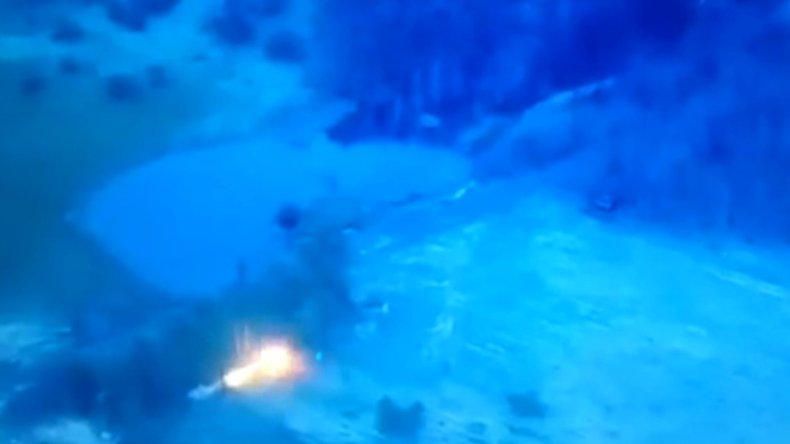 In Sievierodonetsk, the Ukrainian authorities claimed that Russia bombed a humanitarian aid center where a group of Ukrainian residents was standing in line, injuring five.
The Russian attack on Sievierodonetsk reportedly led to fires in 10 high-rise buildings in the city.
Governor of Luhansk Oblast Serhiy Haidai, 46, said: "Once again, we are experiencing the cynical shelling of residential areas in Sievierodonetsk.
"Flames have engulfed 10 high-rise buildings, a shopping mall, garages, but no strategic military facilities. Russian 'peace' is destroying our way of life in Luhansk Oblast. Rescuers are extinguishing the fires and clearing the debris."
Russian troops invaded Ukraine on February 24 in what the Kremlin is calling a "special military operation" in the sovereign European country.
Thursday marks the 43rd day of the invasion.
From February 24 to April 7, the total combat losses of Russian troops stands at nearly 19,000 personnel, according to the General Staff of the Armed Forces of Ukraine.
The Ukrainian military also claims that Russia has lost 698 main battle tanks, 1,861 combat armored vehicles, 332 artillery systems, 108 MLR systems, 55 anti-aircraft systems, 150 warplanes, 135 helicopters, 1,358 vehicles, seven vessels, 76 fuel tank trucks, 111 operational-tactical level UAVs, 25 units of special equipment, and four mobile SRBM systems.
Russia has shifted most of the focus of its invasion to eastern Ukraine, following a series of defeats near the capital, Kyiv.
This story was provided to Newsweek by Zenger News.