Ukrainians Cheer Russia's Defeats After General Told Putin They Backed War
Video footage from Ukraine appears to show residents in areas previously occupied by Russian troops cheering as they are liberated by Ukrainian soldiers.
The footage comes days after a top Russian military official claimed that Ukrainians supported Russia's occupation in Ukraine.
Ukraine is pushing to retake territory from the Russians in the Kherson and Kharkiv regions. According to CNN, Ukrainian President Volodymyr Zelensky said Thursday that Ukrainian troops have taken back 1,000 square kilometers amid their efforts to regain territory in the regions.
CNN also reported that a spokesperson for Ukraine's military in the south of the country said on television Friday that troops have "advanced on the enemy's positions from two to tens of kilometers in various areas. But we are not yet announcing the names of settlements and the directions in which we are successful."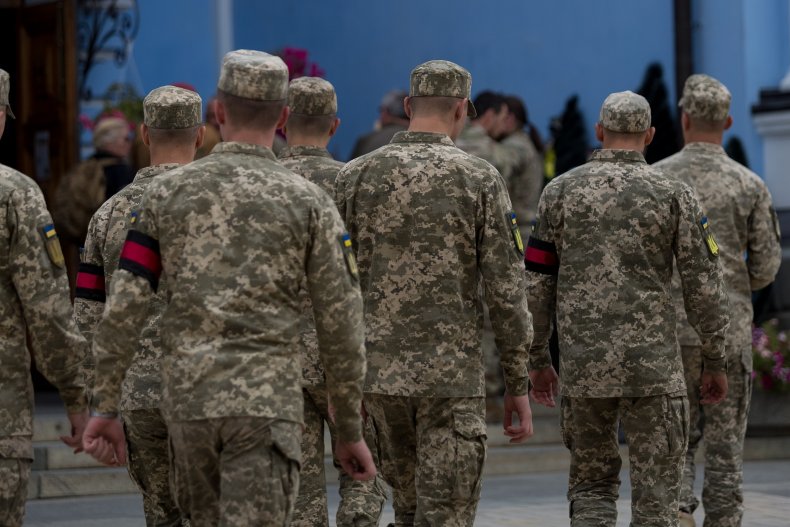 One video posted on Twitter by journalist Maksym Eristavi reportedly shows dozens of Ukrainian citizens cheering on Ukrainian troops as they advance in the Kherson region.
Another video on Twitter, posted by Visegrád 24, which curates news about central and Eastern Europe, reportedly shows an elderly woman embracing a Ukrainian soldier as an area is liberated.
"Heartwarming footage from Ukraine. An elderly woman freezes when she sees a soldier by her house as she thinks he's from the Russian Army," the account wrote on Twitter.
"The Ukrainian soldier says 'it's our guys coming' and she gives him a long hug. This is how liberation after 6 months looks like," it added.
Newsweek could not independently verify the authenticity of the videos.
"My Twitter thread is filled with videos of Ukrainian warriors liberating their land and welcomed by cheering crowds. Too early to be too joyous, but momentum right now clearly on Ukraine's side," Michael McFaul, a former U.S. ambassador to Russia, tweeted Friday.
The footage comes after the Daily Beast reported in late August that the director of Russia's National Guard told Russian President Vladimir Putin that Ukrainian citizens back the Russian military's efforts.
"I would like to emphasize that we can feel that the population of the liberated areas is supporting us. They realize that we are defending their right to a peaceful life and their children's happiness," said the military official, Viktor Zolotov, according to the Daily Beast.
Newsweek has reached out to the Russian and Ukrainian defense ministries for comment.
Earlier this week, Ukrainian military officials said that Russian troops were suffering "significant losses" as Ukraine's offensive in Kherson pressed on.
A 26-year veteran of U.S. special forces who is currently training Ukrainian forces told Newsweek this week that he expected Ukraine's push in Kherson will be "very bloody" and costly for both sides.