Ukrainians Face Packed Train Stations, Traffic Jams to Flee Putin Attacks
Ukrainian hopes that warnings of war were hyped up claims made by western media were shattered early Thursday morning when Russian President Vladimir Putin invaded the country, prompting thousands of people to try to flee west.
After declaring war on Ukraine in a pre-dawn address, Putin quickly moved troops into the country from multiple directions and launched missiles at some of its most populated cities. As air raid sirens wailed, thousands of Ukrainians got into their cars to leave the area, causing hours-long traffic jams, and crammed into bus and railway stations.
On a four-lane main road to Lviv, a western Ukrainian city about 60 miles from the Poland border, a line of cars stretched for dozens of kilometers, according to Reuters. The influx in people trying to leave eastern parts of the country forced traffic to come to a standstill.
"I'm going away because a war has started, Putin attacked us," Oxana, a woman stuck in the traffic jam, told Reuters. "We're afraid of bombardments."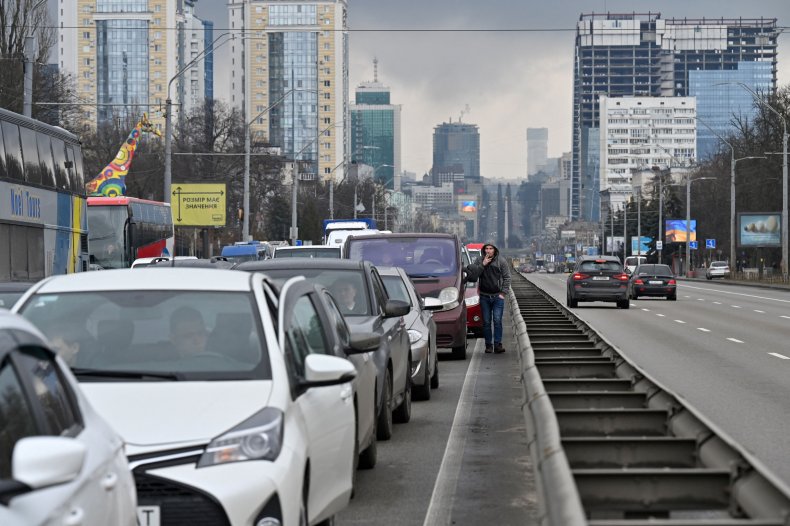 Russian missiles struck targets in Kyiv, the capital city of Ukraine, and Kharkiv, Ukraine's second largest city. Matthew Cassel, a correspondent for Vice News, posted images of packed bus and train stations in Kyiv, noting that "thousands" of people were trying to get out of the city.
Sara Cincurova, a freelance human rights journalist, had a similar experience at a Kharkiv train station. She posted on Twitter that there were "hundreds" of people lining up to buy tickets and "flee eastern Ukraine."
Liudmila Gireyeva, a 64-year-old woman in Kyiv, told the Associated Press that she plans to flee the city and wants to try to join her daughter in Poland. She believes that Putin "will be damned by history, and Ukrainians are damning him."
Poland is preparing for an influx of refugees coming across the border from Ukraine, setting up reception centers and hospitals. Deputy Internal Affairs Minister Pawel Szefernaker said on Thursday morning that the next 24 hours will be "key" and Poland has to be ready to deal with people seeking shelter. They'll have to provide food and medical help.
American troops are preparing to help people fleeing Ukraine at Poland's border and have been working with Polish forces to ready processing centers.
Several people complained about the confusion regarding what they should do in the situation, although Ukrainian President Voldomyr Zelenskyy advised people not to panic. One woman, who planned to fly to Baku, Azerbaijan, told Reuters her flight was canceled and no one is communicating "what will happen to our flight" or "where to go."
"We have no place to go," the woman said. "No one is responding to us."