Ukrainians Mourn Holodomor With Memorial Ceremonies Around the World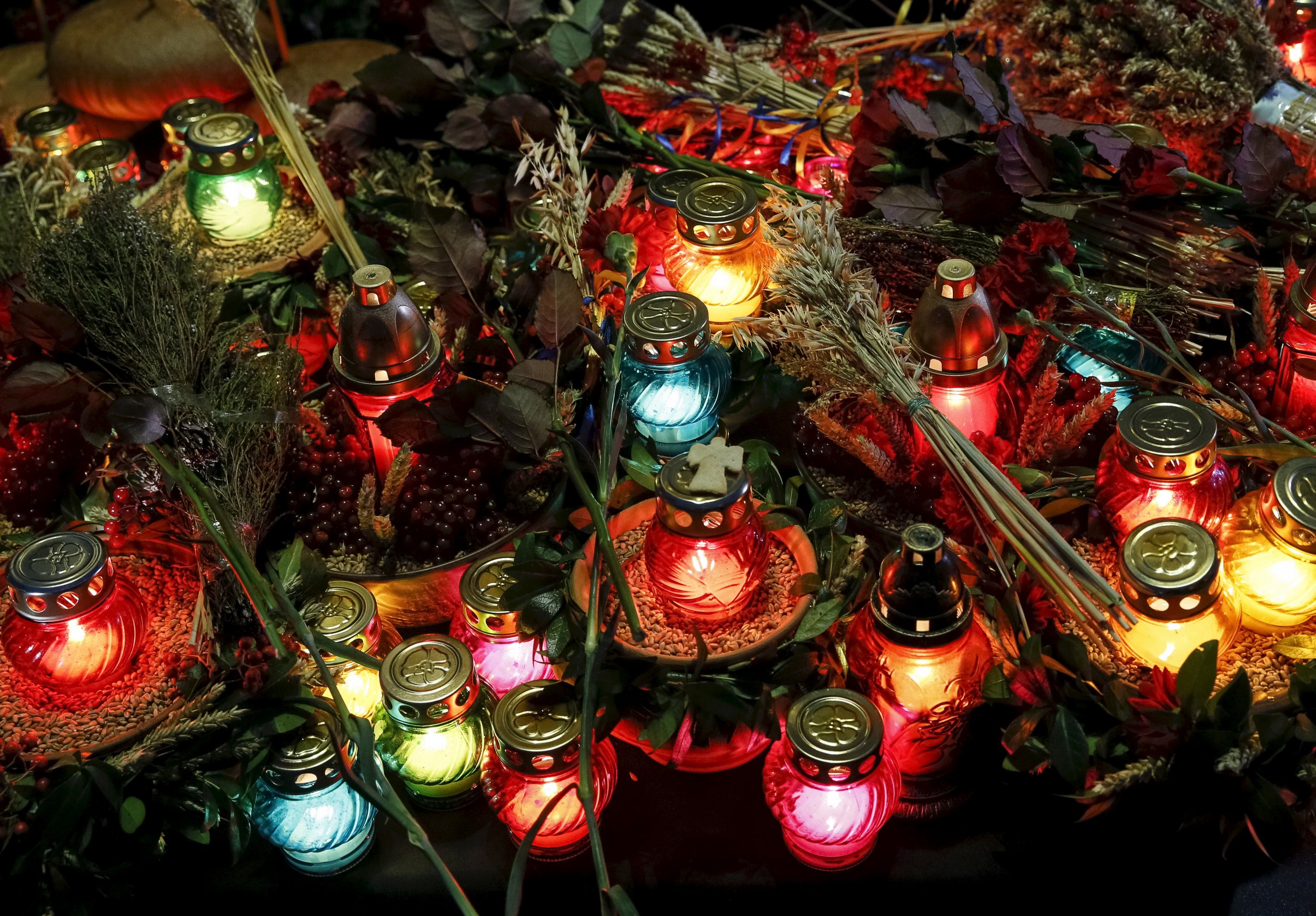 In a series of memorials on Saturday, Ukrainians around the world mourned Holodomor, a famine that killed millions of people under Josef Stalin's Soviet rule in the early 1930s.
Holodomor, which translates to death by hunger, represents the time in Ukraine's history when Stalin officials took food from the Ukrainian people, starving to death at least three million people; some experts believe it could be as many as 10 million.
Ukrainian President Petro Poroshenko has described the famine as "war waged by Russia against Ukraine." The famine wiped out entire villages, killing one in six people in the affected areas.
"The government did everything it could to prevent peasants from entering other regions and looking for bread," Oleksandra Monetova, an employee of Kiev's Holodomor Memorial Museum, told the BBC. "The officials' intentions were clear. To me it's a genocide. I have no doubt."
The general Ukrainian public agrees with Monetova's description, with about 80 percent regarding the famine as a genocide, according to a report by AFP. Despite this widespread characterization, the BBC reported in 2013 that Russian officials said describing the famine as a genocide was simply "nationalistic interpretation."
"As millions of Ukrainians were dying, grain they had farmed was sold abroad or remained stockpiled under heavy guard, in plain sight of the starving. Soviet authorities adamantly denied any existence of famine and refused all outside offers of assistance," writes the United States Committee for Ukrainian Holodomor Genocide Awareness on its website. "Starvation was not allowed to be recorded as a cause of death in official records. Any mention of this Famine in official documents or even in works of fiction was banned for the next several decades in the Soviet Union."
Memorial ceremonies for Holodomor are held on the fourth weekend of every November, though some come slightly sooner and others the following weekend. In Canada, the Ukrainian Canadian Congress hosts a weeklong Holodomor Awareness Week, featuring a memorial for the victims, commemorative programs and a film screening on the subject.
Melanie Joly, Canada's minister of heritage, offered this statement:
This week Canadians commemorate one of the greatest tragedies of the last century: the deaths of millions of Ukrainians who perished as victims of a man-made famine under Stalin from 1932 to 1933. This famine is among the worst crimes against humanity ever perpetrated by a dictatorship.

In 2008, Canada became the first nation to recognize the Ukrainian famine of 1932-33 as an act of genocide. Parliament unanimously passed a bill establishing the fourth Saturday in November as Ukrainian Famine and Genocide ("Holodomor") Memorial Day.

Remembering the Holodomor also pays tribute to the Ukrainian-Canadian community, the third-largest Ukrainian population in the world. Canadians of Ukrainian origin have made invaluable contributions to our country's development for more than a century.

As Minister of Canadian Heritage, I stand with the Ukrainian community and with all Canadians in commemorating the Ukrainian Famine and Genocide of 1932-33.
In Washington, D.C., a formidable memorial to Holodomor now stands. Dozens of candles and a Ukrainian flag were brought to the memorial, as religious leaders made remarks on Saturday evening.
Valeriy Chaly, the Ambassador of Ukraine in the United States, attended a Holodomor ceremony in Los Angeles, where amemorial has stood since 1986.
A memorial will be held next weekend in Minnesota on behalf of both the Holodomor victims and those killed in the Euromaidan protests. The 2013-2014 protests set off a revolution in Ukraine, ousting a corrupt regime and kicking off a war between Ukrainians and pro-Russian separatists in Eastern Ukraine. Thousands have been killed in the conflict, despite several cease fire attempts.
On November 21, St. Patrick Cathederal in New York City was flooded with hundreds of Ukrainians commemorating the famine.
Poland's president, Andrzej Duda, offered his words of memorial on social media:
In Ukraine, President Poroshenko was accompanied by his family and fellow national officials in attending the Holodomor memorial in Kiev.
They laid wheat wrapped in Ukrainians flags to remember those killed. Others lit candles, leaving them at the memorial.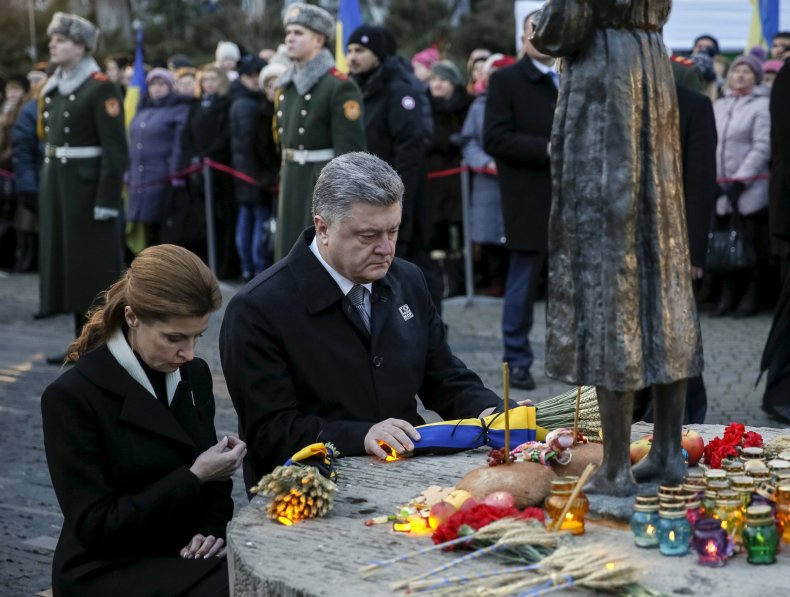 People in Portugal also remembered the famine:
As did Germans:
The White House offered this statement on Holodomor earlier this month:
Despite decades of totalitarian rule, Ukrainians refused to abandon their drive for freedom and independence. And as the Ukrainian people face new threats to their territory and well-being, they have once again demonstrated their resolute commitment to human dignity. Ukraine's modern struggle for freedom and democracy is a testament to the unbreakable spirit of its people and honors the memory of the many who perished under Stalin's brutal rule.

It is incumbent upon us to remember the horrors of the past as we renew our commitment to the prevention of future atrocities. Through the tireless efforts of the Ukrainian-American community and friends of the Ukrainian people, a memorial now stands in the heart of our nation's capital, allowing Americans to share in the somber memory of the Holodomor and reflect upon our shared determination to build a better world.
Despite international support on the day of remembrance, many countries do not recognize Holodomor as an act of genocide: