Ukrainians Paint Embroidery Day Messages On Missiles
Ukrainian soldiers painted flowers and warm messages on their missiles for World Embroidery Day before launching a volley of them at their Russian foes.
World Embroidery Day, known locally as Vyshyvanka, takes place in Ukraine on May 21. The holiday promotes the tradition of creating and wearing embroidered Ukrainian clothes known as vyshyvanka.
The Command of the Assault Troops of the Armed Forces of Ukraine said on May 18: "Soldiers of the Assault Troops of the Armed Forces of Ukraine send 'warm wishes' to the Russian occupiers for World Embroidery Day!
"Death to the Russian occupiers! DShV - Always First! Glory to Ukraine!"
Meanwhile, the 81st Airmobile Brigade of the Ukrainian Air Assault Forces explained: "World Embroidery Day is an international holiday, which is designed to preserve the ancient folk traditions of creating and wearing ethnic embroidered Ukrainian clothes.
"On the occasion of the holiday, our artillerymen prepared unusual gifts for the Russian occupiers, dressed in red and black embroidered shirts."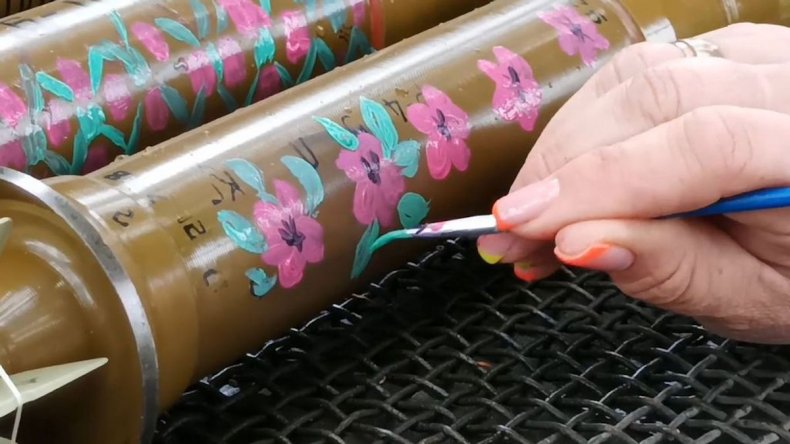 The brigade added: "Together to victory."
Meanwhile, the Russian military has claimed a strategic victory following the fall of the port city of Mariupol.
Russian authorities plan to tear down the Azovstal metallurgical plant and turn Mariupol into a "resort city," according to the Institute for the Study of War.
The Kremlin also says that more than 900 Ukrainian fighters from the Azovstal plant have been taken to a former prison colony in a Russian-controlled part of Donetsk.
Russia's defense ministry said 771 Ukrainian fighters from the steelworks had surrendered since May 18, taking the total to 1,730, and 80 of the fighters were wounded.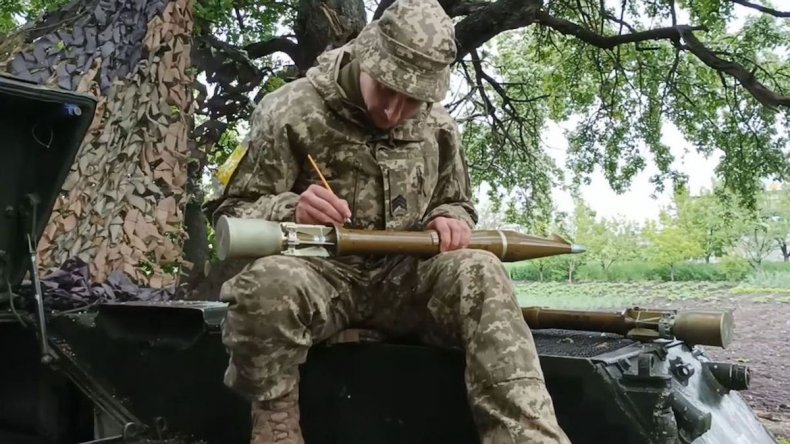 However, Ukrainian President Volodymyr Zelensky called Russia's invasion of Ukraine an "absolute failure" and said Russian leaders were afraid to acknowledge "that catastrophic mistakes were made at the highest military and state level."
Zelensky also said that Ukraine is determined to reclaim control over the southern cities of Kherson, Melitopol, Berdiansk, Enerhodar, and Mariupol, all occupied by Russian troops.
On the ground, Ukrainian forces have retaken villages around the northeastern city of Kharkiv, but Russian forces have advanced slowly in the east of the country.
The Ukrainian Armed Forces claim to have killed about 28,500 Russian soldiers since the Russian invasion of Ukraine began on February 24.
They also say that between February 24 and May 19, the enemy lost 1,254 tanks, 3,063 armored fighting vehicles, 595 artillery systems, 199 multiple launch rocket systems, 93 anti-aircraft warfare systems, 203 aircraft, 167 helicopters, 2,157 motor vehicles and fuel tankers, 13 ships/boats, 455 unmanned aerial vehicles, 43 pieces of special units and 103 cruise missiles.
This story was provided to Newsweek by Zenger News.