'My Fiancée is Ukrainian, I'm American. We Can't Live In Either Country'
I was on a work trip to Ukraine in 2019 when I first met Olya Arkhipova. She was working for the same company as me and I delivered a special musical performance at our annual holiday party in Kyiv. That night we hit it off. I live in Miami and she lives just outside Kyiv, but even with that remarkable distance, we gave it a shot and entered into a long distance relationship.
The pandemic made it even more challenging, but we managed to spend a couple of weeks together every few months, on my work trips or on vacations we took together. Saying goodbye became harder and harder each time. Then, in the summer of 2021, during a trip to Montenegro, we both came to the realization that we are perfect for each other. I proposed, and she said yes. It felt like something out of a movie. It was exciting and beautiful; a love story that I'm sure we'll be telling our kids someday.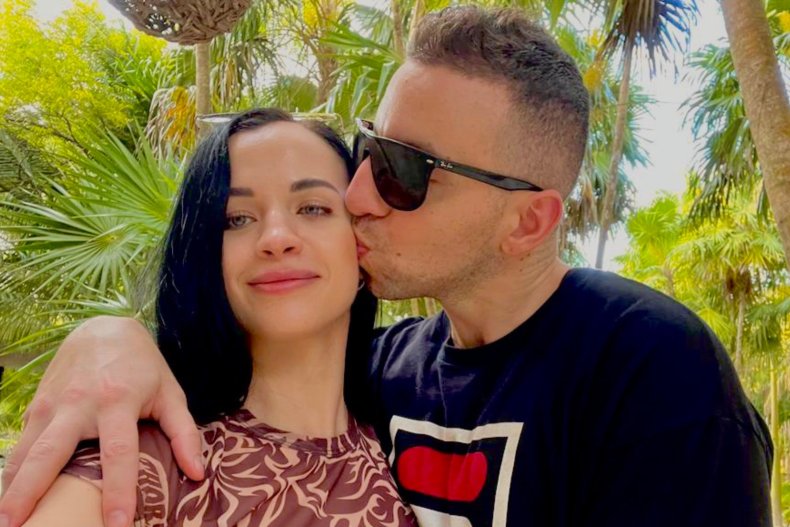 We were planning a future together in Florida. But earlier this year, I began to notice reports of Russia's military build up around Ukraine and started to read warnings from the Biden administration that Russia was poised to attack. In early February 2022, I urged Olya to evacuate Ukraine before the situation escalated. She was nervous about the possibility of leaving her entire life behind at short notice, not knowing when she'd be able to return, or what might happen to her beloved country.
Many people we knew in Ukraine did not expect Russia to launch a full-scale invasion, but, fearful that it would happen, I pleaded for Olya to leave. Thank God, she agreed.
We had applied for a K-1 visa for fianc(é)es in October, but had not yet received a response from the U.S. Citizenship and Immigration Services. Our attorney told us that applying for a tourist visa to the United States—which can be very difficult to get—could slow down the K-1 process. So on February 6, Olya and I met in Mexico, which allowed us tourist visas for up to six months.
Arriving in Mexico was bittersweet for Olya. She felt relieved to be thousands of miles away from the mounting pressure of a military escalation, but guilty knowing what might ultimately happen to her country. She told me she felt awful going to the beach knowing that Ukraine was on the brink of a humanitarian catastrophe.
Then, U.S. intelligence warnings turned out to be accurate. Just a couple of weeks after Olya arrived in Mexico, Russia attacked Ukraine. Amid the devastation and horror, an estimated 10million Ukrainians have fled their homes. About a third of those have left the country.
As a result, U.S. visa offices are overwhelmed. The Biden administration is working to welcome up to 100,000 Ukrainian refugees, but how long things will take remains unclear. It will surely depend on how long the war lasts and how it finally ends.
We're very fortunate that Olya was able to escape in time. But her parents are still in Uman, a Ukrainian town hit by a missile strike at the start of Russia's invasion. They're among the many residents who have retreated to underground shelters. Olya speaks to her parents every morning via FaceTime. Her father is 55, which makes him ineligible to leave the country under Ukrainian law requiring men aged 18-60 to stay. Her parents plan to continue weathering out the storm, hoping the artillery shelling doesn't escalate in their town.
Here in Mexico, meanwhile, many Ukrainians have been arriving since the war began. By one recent count, they were the third most common nationality among arrivals. Russians have been flocking here as well.
Some are taking their chances at the border. In Tijuana, there are reports of Ukrainian refugees entering the United States and saying U.S. officials are allowing them in without fear of deportation for a year, but Olya and I are far from the U.S. border. We're currently living in Playa del Carmen along the Yucatán Peninsula as we await word on her visa. Our immigration attorney has requested that her visa application be expedited, but there are no guarantees.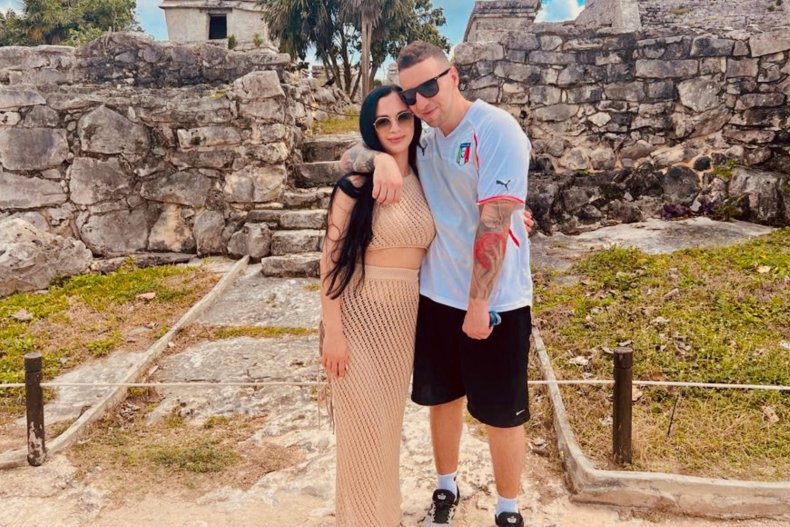 So this limbo has become our life. I'm still paying for my empty apartment in Miami, with a lease set to expire and my rent jumping a whopping 40 percent—part of a nationwide spike led by Miami. Olya does not have to pay rent for her place in Kyiv due to the circumstances. But she, just like so many others who fled, is worried about looting, particularly by Russian soldiers. She is currently living out of the one suitcase she brought with her.
We are grateful for our safety and security here in Mexico. But our day-to-day life isn't exactly margaritas and relaxing on the beach. Olya wakes up at 7am daily to work from our tiny hotel room, while I've settled for overcrowded coffee shops with poor Wi-Fi.
It's difficult to focus. The updates from Ukraine just keep getting worse, with reports of devastating attacks on civilians and graphic images of dead bodies, including children, on the streets.
But we know we are fortunate to be here, and in an advantageous position by comparison to so many other people. We're also able to remain employed, working remotely. I'm grateful that my employer is being so supportive.
At this point, we don't know when we'll be able to live together in the U.S. and start the life we envision as a couple. Our minds are far more focused on Olya's parents and the other people of Ukraine suffering from Russia's unjustified aggression.
In the meantime, we'll be looking at other countries where we can at least stay together if our Mexican tourist visas expire. We'll find small places we can afford to live in.
Olya misses the simple things, like getting a slice of cheesecake at her favorite coffee shop in Kyiv. I miss playing my guitar and making music. We both miss our families, but we'll get by—and keep hoping for an end to this nightmare in Ukraine.
Gaetano DiNardi is a growth marketer and advisor to the world's fastest growing tech companies. He works for Aura, which has a mission of creating a safer internet for everyone.

All views expressed in this article are the author's own.