Ultimate Movie Guide: 'Carnage,' 'Shame,' 'Young Adult'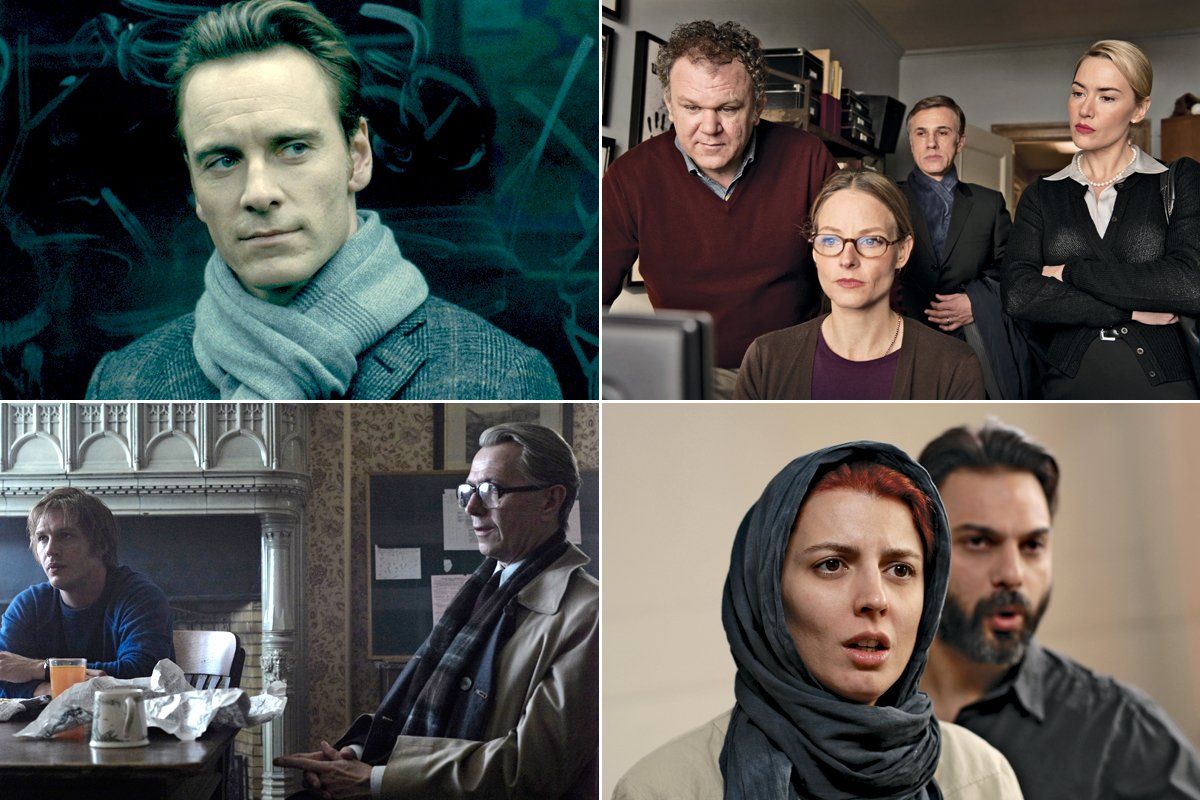 In theaters Dec. 16
Two respectable, WELL-HEELED New York couples, whose sons have engaged in a nasty and disfiguring playground fight, meet in the tasteful Brooklyn apartment of the victim's parents to have a "civilized" discussion of the incident. Surely these decent people can work out their problems with no bad feelings. By the end of Carnage, Roman Polanski's mordantly funny and doggedly faithful adaptation of Yasmina Reza's Tony-winning God of Carnage, all pretense of civility lies in tatters. Scotch has been downed, insults hurled, vomit spewed, and humanity's baser instincts exposed. To anyone versed in Albee and Strindberg, Reza's stratagems may elicit déjà vu. Still, there's good, nasty fun to be had watching an enraged Jodie Foster and a boorish John C. Reilly (the victim's parents), a cynical Christoph Waltz and a tightly coiled Kate Winslet (the tonier parents of the victimizing boy) gleefully chewing the scenery, and each other. Polanski, a master of enclosed spaces and inner demons, is right at home. This won't go down as one of his classics, but he choreographs the bourgeois battle royale with old-pro finesse.
In theaters Dec. 30
"A detective story without a detective" is how writer-director Asghar Farhadi describes A Separation, but that just scratches the surface of this wonderfully rich Iranian movie. A middle-class couple separates when the husband, Nader, refuses to leave Iran with his wife and daughter, needing to stay to tend to his Alzheimer's-stricken father. When he hires a devout lower-class maid to help him care for his dad, bigger troubles begin. It's astonishing how much life Farhadi crams into two fleet, revealing hours: class, religion, law, gender, marriage, a murder charge, the lies one relies on to survive. This domestic thriller is one of the most vibrant, ethically complex, and superbly acted films of the year.
In theaters Dec. 23
After the death of his wife, danger-loving journalist Benjamin Mee (Matt Damon) impulsively buys a run-down zoo in the California countryside, hoping this new home will delight his children--and take his thoughts off the woman he loved. A heavily fictionalized adaptation of Mee's nonfiction book, Cameron Crowe's movie follows the rules of the Dead Mommy/Single Dad subgenre to a T. At its weakest, Zoo force-feeds the uplift. At its best, it taps into some real, messy feeling, thanks to the rock-solid Damon and Colin Ford's sensitive portrait of a teenager. Scarlett Johansson provides a hint of future romance. There's just enough wit and humanity to stir fond memories of the savvy charmer who made Jerry Maguire and Almost Famous.
In theaters now
the NC-17 Shame depicts in grim, graphic detail the downward spiral of Manhattan sex ad-dict Brandon (Michael Fassbender). He's terrified of intimacy, and his inability to feel extends to his sister Sissy (Carey Mulligan), a needy, suicidal lounge singer. Director Steve McQueen doesn't explain Brandon's pathology: the film is as deliberately devoid of psychology as it is of actual eroticism. McQueen knows how to create bold, memorable images, but the ideas behind them are punitive and banal. Solemnly portentous, Shame asks us to take this hollow man's joyless pursuit of sex as a trenchant metaphor for our soulless, de-racinated modern world. That's a lot of heaviness to hang on one sad, sketchily conceived sex addict.
In theaters Dec. 28
Up close and personal, Dee Rees's lovely coming-of-age drama Pariah takes us deep inside the world of 17-year-old black lesbian Alike (Adepero Oduye). She tags along to a gay bar with her butch, experienced friend, then dutifully and joylessly ditches her baseball cap and puts on earrings on the way home, where she faces a stern, shrill mother and a loving but philandering father. Rees's accomplished first feature flirts with the generic in the family scenes-they feel a bit movie-ish-but there's nothing ordinary about the luminous Oduye's performance. She takes us on Alike's emotional roller coaster, from hope to heartbreak, panic to pride, without a false step. Like the best screen actors, she tricks us into believing she's not acting at all.
In theaters Dec. 9
Director Jason Reitman and writer Diablo Cody, who made the huggable hit Juno, have reunited. Do not expect more of same: This is a far more daring and prickly affair. Its narcissistic anti-heroine, Mavis Gary (Charlize Theron), sets off on a desperate mission to her hick hometown to win back her now-married high-school sweetheart, Buddy (Patrick Wilson). The movie's darkly funny heart, however, resides in the unexpected bond she forms with the wry, damaged nerd she looked down on in high school (Patton Oswalt). Theron, performing with whiplash bravura, has never been better or, paradoxically, more likable. You may think Mavis is headed toward redemption. To their great credit, Reitman and Cody have more subversive things in mind.
In theaters Dec. 9
You can almost smell the cigarette smoke and cold sweat that pervade Tomas Alfredson's atmospheric adap-tation of John le Carré's novel. No two-hour-plus movie could preserve all the riches of le Carré's espionage masterpiece--the brilliant BBC miniseries needed more than five hours. The biggest loss in Bridget O'Connor and Peter Straughan's smart, twisty screenplay is the short shrift given three of the suspected traitors. But the gifted Swede Alfredson (Let the Right One In) makes this story of personal and political betrayal his own. His great cast, which includes Colin Firth, Mark Strong, and Tom Hardy, is a who's who of hot British actors, but what's striking is how un-English this tense, brooding Tinker, Tailor feels. The dank chill that courses through the movie is hauntingly Nordic.
Ultimate Movie Guide: 'Carnage,' 'Shame,' 'Young Adult' | Culture