The Ultimate Drinking Game: GOP Debate Bingo
Updated | On Thursday evening, Fox Business will host two Republican presidential candidate debates. The first, referred to not-so-kindly by some as the "kiddie table" debate, will feature the GOP candidates with the lowest poll numbers. Later, the main event will feature those candidates who rank highest in the polls. With two batches of candidates taking the stage, debate watchers are in for a long night.
The first debate, at 6 p.m., will include Carly Fiorina, Mike Huckabee and Rick Santorum. Though Rand Paul also qualified for the undercard, he's opting to sit out the debate entirely. He did appear on The Daily Show on Wednesday evening, an appearance billed as "GOP Debate: Singles Night."
The main debate, at 9 p.m., will include Jeb Bush, Ben Carson, Chris Christie, Ted Cruz, John Kasich, Marco Rubio and Donald Trump. Trump maintains a lead in the polls, though many will be watching Cruz, who has experienced a recent surge.
At Newsweek , we like to make the debate-watching experience as painless as possible, so we'll be livetweeting, keeping track of the most crucial moments and participating in some drinking games. Grab three friends, pick your poison and indulge in a game of drunken GOP bingo.
(If you're under the age of 21 or abstaining, we suggest playing with bottles of water, Marco Rubio-style.)
Every time one of these subjects, names or quotes are uttered, fill in the square. Here are your boards:
Newsweek Republican Presidential Debate 12.15 by Newsweek
You can download the boards and print them here: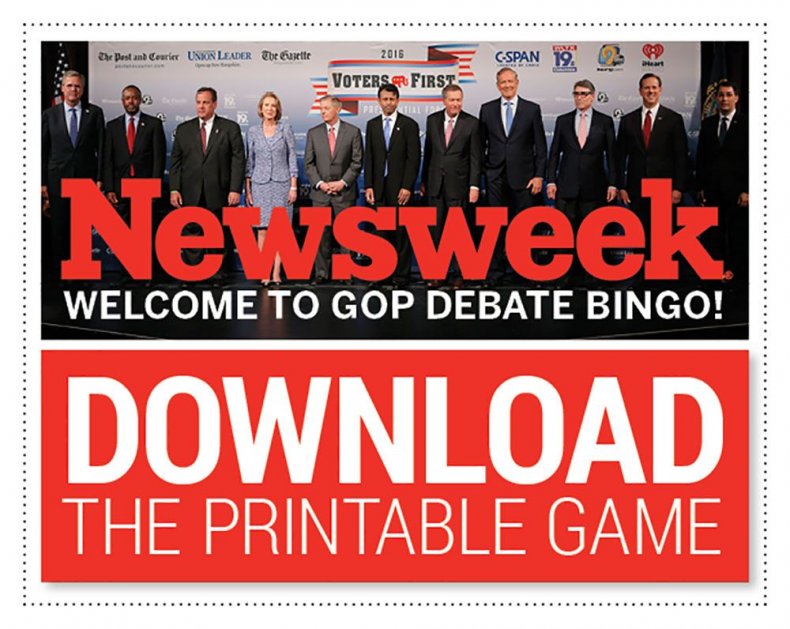 This story has been updated to reflect information about the most recent GOP debate.