The Ultimate Super Bowl XLIX Travel Guide: It's Always Sunny in Phoenix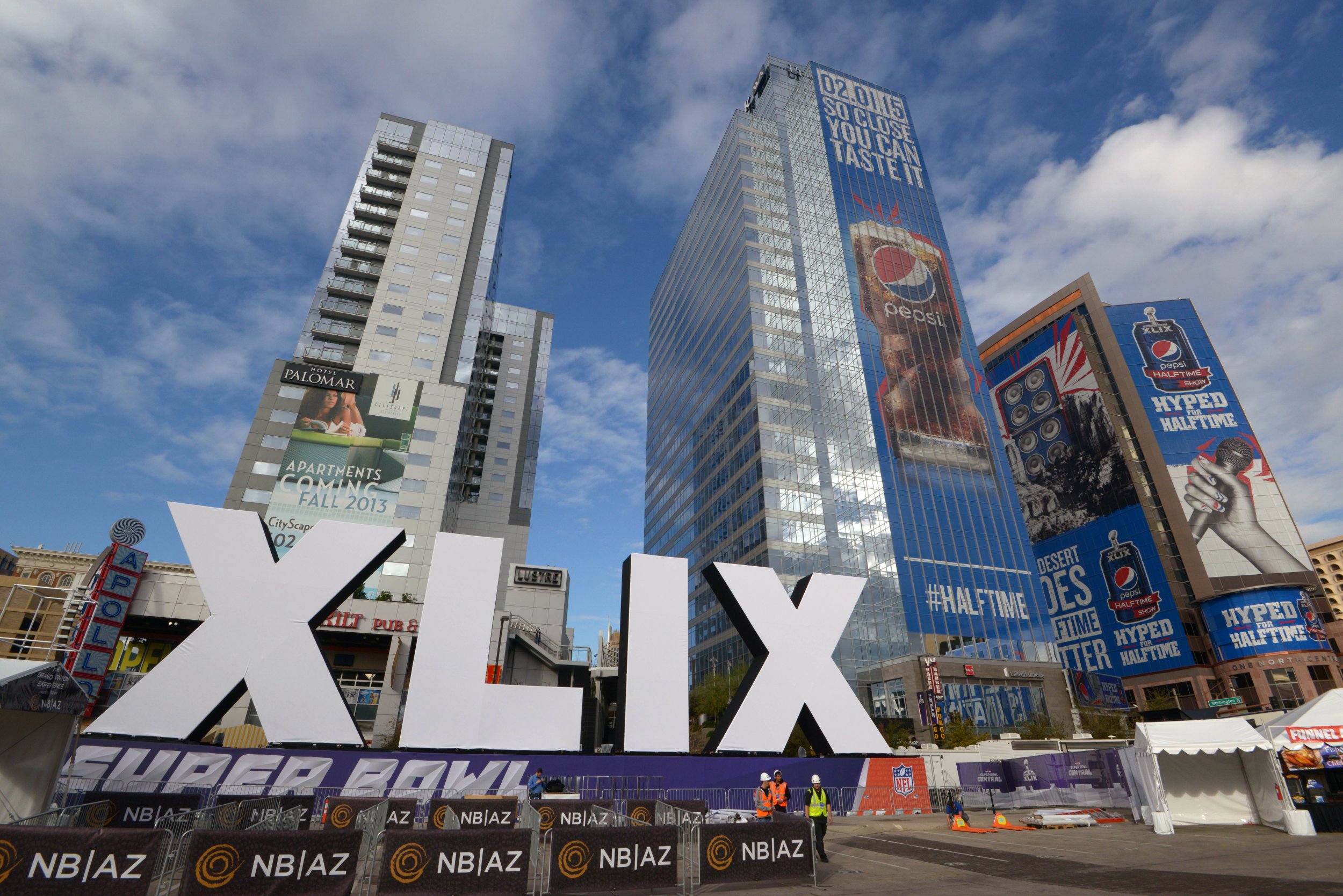 With the 49th Super Bowl set to be played in the 48th state, allow us to enumerate 47 things for visitors to do in the Valley of the Sun. The University of Phoenix Stadium, located in the western suburb of Glendale, will not only host Super Bowl XLIX between the New England Patriots and Seattle Seahawks, but also the 2016 college football National Championship Game and the 2017 Men's Final Four. That'll be the first Men's Final Four held west of the Rockies since 1995.
With outlying towns boasting names such as Carefree and Paradise Valley, this Sonoran desert city is the ideal oasis from… winter. After all, it was 78 degrees and sunny on Sunday (but then every day here is a sun day). And how many feet of snow is your town shoveling out from under this week?
With a few exceptions, the Valley's top attractions are all located at least 10 miles east of the football venue. If you don't have tickets to the game (if only scalper prices deflated by 15%), you may never venture near it. That's okay: from outdoor activities to outstanding cuisine, Phoenix is hopping like a jackrabbit. It may be situated in a desert, but it is far from a cultural one.
1 Camelback Mountain, Phoenix/Paradise Valley
Arguably the city's signature landmark, Camelback may be ascended from either of two trails. Cholla Trail begins at the mountain's eastern edge and is the easier of the two. Echo Canyon Trail, which recently reopened after being closed an entire year for maintenance (it is literally a comeback trail) is the more arduous. Both are popular with locals and tourists alike.
Give yourself at least two hours to get up and down the tallest peak (2,706 feet) in the Valley, and bring water (perhaps you could tote it in a CamelBak). It's okay to step to the side and snap a photo, but talking on your cell while hiking is a major party foul.
2. Bottled Blonde, Old Town Scottsdale
We could have named any one of a dozen or so nightspots within projectile-vomiting distance of one another here (American Junkie Cake, Dakota Bar, Dierks Bentley's Whiskey Row, El Hefe, Majerle's Sports Grill, Hi-Fi, Maya. Mint, etc.). Put Usher's "Yeah" on 11 and picture a scene that would leave even Vincent Chase and his crew slack-jawed and you have this bazaar of bottle-service-and beyond establishments. More NBA games have probably been lost here on the eve of tip-off than during the games themselves. Arizona's epicenter of off-the-hook. 7340 East Indian Plaza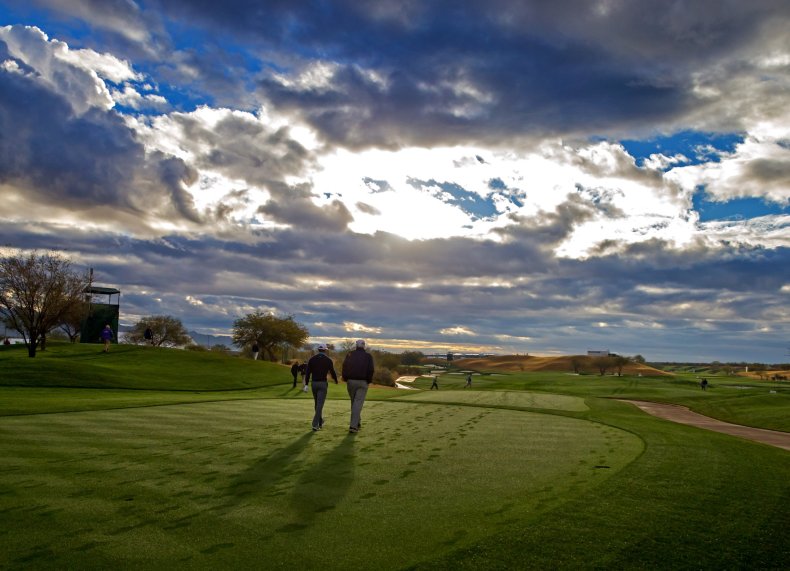 3. Waste Management Phoenix Open, Scottsdale
The rowdiest hole in all of golf – the 16th here at the TPC Scottsdale – welcomes back Tiger Woods after a 14-year absence. Tickets are $30 for general admission and patrons aged 17 years and under get in free. Thursday through Sunday. Corner of Bell and Hayden Roads
4. Steak 44, Phoenix
They could serve cow pies at this, the trendiest of Valley steakhouses, and you'd still be wowed by the bold, futuristic interior. They just happen to serve up magically marbled ribeye and T-bones, too. 5101 North 44th Street
5. Arizona Biltmore, Phoenix
The Valley of the Sun does resorts really, really, really well. For decades, before a surge in properties came about in the Nineties, the Biltmore was the crown jewel of Phoenix resorts. Opened in 1929, it still possesses a stately charm. Find that turquoise bolo tie that is hiding in your drawer and head to the lobby for a drink. 2400 East Missouri Ave
6. Fan Fest at Scottsdale Fashion Square, Scottsdale
Unofficially, the crossroads of Scottsdale is the intersection of Camelback and Scottsdale Roads, and here is where ESPN and the NFL will set up shop all week. It's quite the cultural --and climatic--shift from Times Square, home of last year's Fan Fest, and Fashion Square. Corner of Camelback and Scottsdale Roads
7. Sip Coffee and Beer House, Scottsdale
No need to overthink this one: the name says it all. Go from caffeinated to inebriated (or vice versa) at this Old Town Scottsdale spot whose decor looks like an independent filmmaker's celluloid dream. 3617 North Goldwater Boulevard
8. The Heard Museum, Phoenix
The state's, if not the entire Southwest's, premier showcase for Native American art and history. Currently the Heard is running an exhibit titled "Beautiful Games: American Indian Sport and Art." This Friday night at 7 p.m., as part of the exhibit, the Heard will host a symposium on "Indigenous Stereotypes in Sports" that will ask, "Why is there broad acceptance and tolerance of American Indian stereotypes in modern society and in the sports world?" Should I save a seat for you down front, Daniel Snyder? 2301 N. Central Ave
9. Greasewood Flat, Scottsdale
Located in the foothills of the Mcdowell Mountain preserve in northeast Scottsdale, this outdoor saloon is located in and around a bunkhouse that dates back to the 1880s. Open fire pits, first-rate burgers and a killer view for sunsets make it worth the trek. 27375 North Alma School Parkway
10. Los Dos Molinos, Phoenix
The quality of a Mexican restaurant, it is hereby proposed, is inversely proportional to that of the surrounding neighborhood and the eatery's decor. Visit the original location in South Phoenix for an authentic experience. 8646 South Central Ave.
11. Kelly's at SouthBridge, Scottsdale
When your watering hole is voted by a local magazine as the "Best Place to People Watch" in Scottsdale, well, game over. That's like being voted the shark with the sharpest teeth. Mouth-watering food and an amped-up atmosphere, too. 7117 East Sixth Avenue
12. Scottsdale Quarter, Scottsdale
One of four upscale shopping centers in town (along with Scottsdale Fashion Square, Biltmore Fashion Park and, across Scottsdale Road, Kierland Commons), SQ is plush with high-end retail outlets (Nike Store, Apple Store, etc) and bistros (e.g., Dominick's Steakhouse, True Food Kitchen). Even if your credit card never leaves your wallet, you could cast three seasons of MILF Island in just one hour of strolling the grounds. 15037 North Scottsdale Road
13. Little MIss BBQ, Tempe
Patrons who wait in line for Scott and Bekke Holmes' Central Texas-style barbecue refer to the couple's smoked meats as "a life-altering experience." The best barbecue in town. 4301 East University Drive
14. Crescent Ballroom, Phoenix
The city's most popular live music venue is also a lounge that boasts a kitchen. While there are no nationally known live acts on stage during Super Bowl week (someone find them a new booker!), it's still worth a visit. 308 North Second Avenue
15. South Mountain Park, Phoenix
The largest municipal park in the United States at 17,000 acres is home to coyotes and a few other critters you may not want to happen upon unawares, but its 56 miles of rugged running/hiking/mountain biking trails are popular with locals. Elite runners abound here.
16. Top Golf, Scottsdale
Of course, you should try and reserve a tee time at Troon North or the Arizona Biltmore, but this driving range-cum-party place makes golf accessible to everyone. Depending on your handicap, this place is utopia or anathema. 9500 East Indian Bend Road
17. Rita's Kitchen, Paradise Valley
Located on the grounds of one of the area's most beloved resorts, the Camelback Inn, Rita's provides distinctive Southwest flair with killer happy hour views of Mummy Mountain. Walk through the same lobby that movie stars Marilyn Monroe and John Wayne once did. 5402 East Lincoln Drive
18. Harkins Camelview 5, Scottsdale
Specializing in films where things do not blow up, the Camelview is an oasis of quality cinema tucked behind the Scottsdale Fashion Square Mall. Currently showing: The Imitation Game and A Most Violent Year, among others. 7001 East Highland, Scottsdale
19. Frank and Lupe's, Scottsdale
This hole-in-the-wall family-owned Mexican restaurant will have you dreaming of a siesta afterward. An Old Town Scottsdale favorite for more than a quarter-century. 4121 North Marshall Way
20. The Vig, Phoenix
That upscale tavern with the feel of a neighborhood joint, The Vig is also a trendy spot to take a date. Smart decor and stylish clientele, but you always feel welcome. Fire pits and televisions outside. 4041 North 40th Street
21. Matt's Big Breakfast, Phoenix
You are going to wake up for breakfast? God bless you! Matt's, located in downtown Phoenix, believes in keeping it simple (notice the menu) and delicious. Honorable mentions include Scramble in North Scottsdale and Mrs. White's Golden Rule Cafe, a Valley staple since the 1960s, also in downtown Phoenix. 825 North First Street
22, Piestewa Peak and the Phoenix Mountain Preserve
Formerly known as Squaw Peak, this is the second-tallest summit in the area (2,608 feet) and arguably a more challenging climb than Camelback Mountain. Enter East Squaw Peak Drive off Lincoln Drive
23. Chicago Bulls at Phoenix Suns, Friday, 8:30 p.m.
The Suns (26-20) are a band of brothers, boasting twins Markieff and Marcus Morris as well as Slovenian siblings Goran and Zoran Dragic. Chicago's Pau Gasol was named as a starter for next month's All-Star Game, a contest in which his brother, Marc (Memphis Grizzlies), will start for the West. U.S. Airways Arena, Phoenix
23-A. The Real McCoy
Anyone who has lived in Phoenix the past 40 years reveres and recognizes the voice of Al McCoy, the longest-tenured broadcaster for one professional sports team this side of Vin Scully. McCoy, 81, made his debut in 1972 with the Suns and is as much a part of the local fabric as the magnificent sunsets. Listen to him on KTAR (620 AM) radio. "It's a wham, bam, SLAM!"
24. Jade Bar at Sanctuary, Paradise Valley
Located partially up the backside of Camelback Mountain, Sanctuary is the resort James Bond would find lodging if 007 ever had business in the Valley. You can bet the mixologists at the swank Jade Bar would know how Mr. Bond prefers his martini. 5700 East McDonald Drive
25. RnR Restaurant and Bar, Scottsdale
Yet another Old Town Scottsdale joint that is jumping, this two-story gastropub specializing in southwestern fare often appears to be overflowing with humanity. Prime location, too. 3737 North Scottsdale Road
26. Four Peaks Brewery, Tempe
Highly popular with Arizona State students, as it is located closer to most dormitories than the more tourist-friendly Mill Avenue bars, Four Peaks brews its eight mainstays on-site. Another popular homegrown Tempe product, musician Roger Clyne, is known to frequent the spot. 1340 East 8th Street
27. The Henry, Phoenix
A phenomenal neighborhood restaurant in what is perhaps the Valley's most esteemed authentic neighborhood: Arcadia. The Henry is a breakfast joint and a coffee bar by day, a sexy eatery after sundown. If you are not here, you feel as if you are missing out on something. 4455 East Camelback Road
28. El Chorro, Paradise Valley
An Arizona landmark that has been around since the late 1930s and was a favorite of screen legends such as Clark Gable and John Wayne (who must have loved it down here), El Chorro has surrendered some of its charm since a recent renovation. Still, if you venture inside to the famed Classroom Bar, pull up a stool and order a shot of whiskey, you may just channel the spirit of the Duke himself. 5550 East Lincoln Drive
29. Carefree
Whenever you have the opportunity to put yourself on the corner of Ho-Hum Road and Easy Street, you take it. This secluded town (pop.,4,000) due north of Scottsdale has more going for it than just its happy-go-lucky sobriquet: the hemisphere's third-largest sun dial is located here. Just past the city limits, in neighboring Cave Creek, you'll find The Hideaway Grill where you, your Harley and your leather vest are more than welcome. If you prefer a dining experience where sleeves are encouraged, we highly recommend Binkley's.
30. Second Story Liquor Bar, Scottsdale
No, that isn't Don Draper and Roger Sterling in the booth behind you, but it may as well be. A high-end cocktail bar and eatery that mixes swag with swank. 4166 North Scottsdale Road
31. Cactus Aquatic Center, Scottsdale
Finding it difficult, or just a tad chilly, to swim laps in your resort pool? Hit this north Scottsdale natation nirvana that features two heated 25-meter pools boasting approximately 20 lanes. Cost? $3 per session. 7202 E. Cactus Road
32. The Madison, Tempe
Full name: The Madison Improvement Club. This Tempe sweatshop offers yoga and also peddles a "Party on a Bike" program with neon lights, a DJ and bass-thumping music (not mentioned: ASU coeds). A first-timer class is just $10. 149 South Farmer Avenue
33. Culinary Dropout, Tempe
Also known as "The Yard," this gastropub and acoustic music setting (which is associated with the aforementioned Madison) aims to be the perfect understated undergrad hangout. That group project in Marketing class is due tomorrow? Meet here. Ping-pong tables and cornhole boards are located on the patio. 149 South Farmer Avenue
34. Orange Sky at Talking Stick Resort, Scottsdale
I'll be blunt: this casino has fewer oxygen tanks-per-patron than the other reservation casinos around the Valley, according to my informal poll. Double down on the sunset vistas at the penthouse-level Orange Sky restaurant, located 15 floors above the Pima Indian Reservation grounds. 9800 East Indian Bend Road
35. San Tan Flat, Queen Creek
Located on the far southeastern edge of the Valley, this outdoor grill and saloon promises "all the fun of camping without having to sleep on the ground." Two languages are spoken here: country and western. 6185 West Hunt Highway
36. Tempe Corona del Sol at Tempe Mountain Pointe, Friday, 7 p.m.
Six-foot-ten freshman Marvin Bagley III achieved virality with this dunk in his home debut. Corona del Sol has won three straight state Division I basketball titles and those who have seen Bagley say he has the potential to be the best prep hoopster the state has ever produced. Bagwell's grandfather, "Jumpin'" Joe Caldwell, was an All-Star in both the NBA and ABA, as well as an Arizona State legend. 4201 E. Knox Road
37. O.H.S.O. Eatery and nanoBrewery, Phoenix
Tucked between Indian School Road and the Arizona Canal in the historic Arcadia neighborhood, this indoor/outdoor saloon is more comfy than your favorite pair of cargo shorts. Dogs are welcome and the bar even provides locks for your bicycle. Try the brisket sandwich. 4900 East Indian School Road
38. Scottsdale Gun Club, Scottsdale
You are in Arizona, after all, home of the O.K. Corral. The SCG offers lessons as well as rentals on handguns, rifles and even machine guns. So if you feel at home on the range… 14860 N. Northsight Blvd
39. Mill Avenue, Tempe
What State Street is to the University of Wisconsin or 6th Street is to the University of Texas, Mill Avenue is to Arizona State. A bevy of bars and street urchins await you. Too many of both to mention here and we prefer not to play favorites.
40. XTERRA Trail Run--McDowell Mountain
Before embarking on a sybaritic Super Bowl Sunday, why not get in a serious workout? The XTERRA offers two trail races in the scenic McDowell Mountains on the morning of Sunday, February 1st: a 15-miler that begins at 8 a.m. and a 7K (4.34 miles) that starts at 9 a.m. Entry fees are $55 and $45, respectively.
41. The Chuckbox, Tempe
Located in the heart of ASU's Tempe campus, this cash-only burger joint has been tempting Sun Devils to skip that 12:05 Econ class for 35 years. The very definition of rustic, the Chuckbox features mesquite-grilled burgers that are not to be missed. 202 East University Drive
42. The HI-Liter, Phoenix
Dig it, we are not actually suggesting you step inside the Valley's most popular gentlemen's club. We are just saying that if you are avidly seeking autographs from professional athletes, the parking lot here may be a better spot to stake out than Fan Fest (p.s. steak and lobster, all day, Thursdays, $11). 4716 North 12th Street
43. The Wigwam Resort, Litchfield Park
One of the few, if not the only, attractions in the Valley west of the site of Super Bowl XLIX, the Wigwam is steeped in history – it opened on Thanksgiving Day, 1929 -- and an appreciation for golf. The resort boasts three championship-level 18-hole golf courses, two of which were designed by Robert Trent Jones, Sr. 300 East Wigwam Blvd
44. Musical Instrument Museum, Phoenix
Housing more than 6,000 instruments from approximately 200 countries, MIM is the largest museum of its type on the planet. An Artist's Gallery features instruments that have been played by everyone from John Lennon to Taylor Swift, while the Experience Gallery invites visitors to make some noise. Oh, and they've heard every variation of the "One time at band camp…" joke. 4725 East Mayo Boulevard
45. Portillo's Hot Dogs, Tempe
Chicago may be known as the Second City, but many Windy City folk consider Phoenix their second city. Which helps to explain the cult-like popularity of this Chicago-style wieneria. 65 South McClintock Drive
46. Butterfly Wonderland, Scottsdale
Not to be confused with "Boogie Wonderland." A 10,000-square foot atrium, the largest of its type in North America, hosts numerous species of butterflies that number in the thousands. Why should Buffalo Bill have all the fun, right, Clarice? 9600 East Via de Ventura
47. Tent City, Phoenix
Actually, we strongly advocate that you never spend an hour within Maricopa County Sheriff Joe Arpaio's al fresco jail, but this is a real thing. Prepare to spend at least an evening "camping out" if you are stopped and cited for DUI, and do not for a moment underestimate the zeal of Phoenix and/or Scottsdale police. Local sports legends Tom Chambers, Mark Grace and Diana Taurasi can all vouch for that. 2939 W. Durango St.