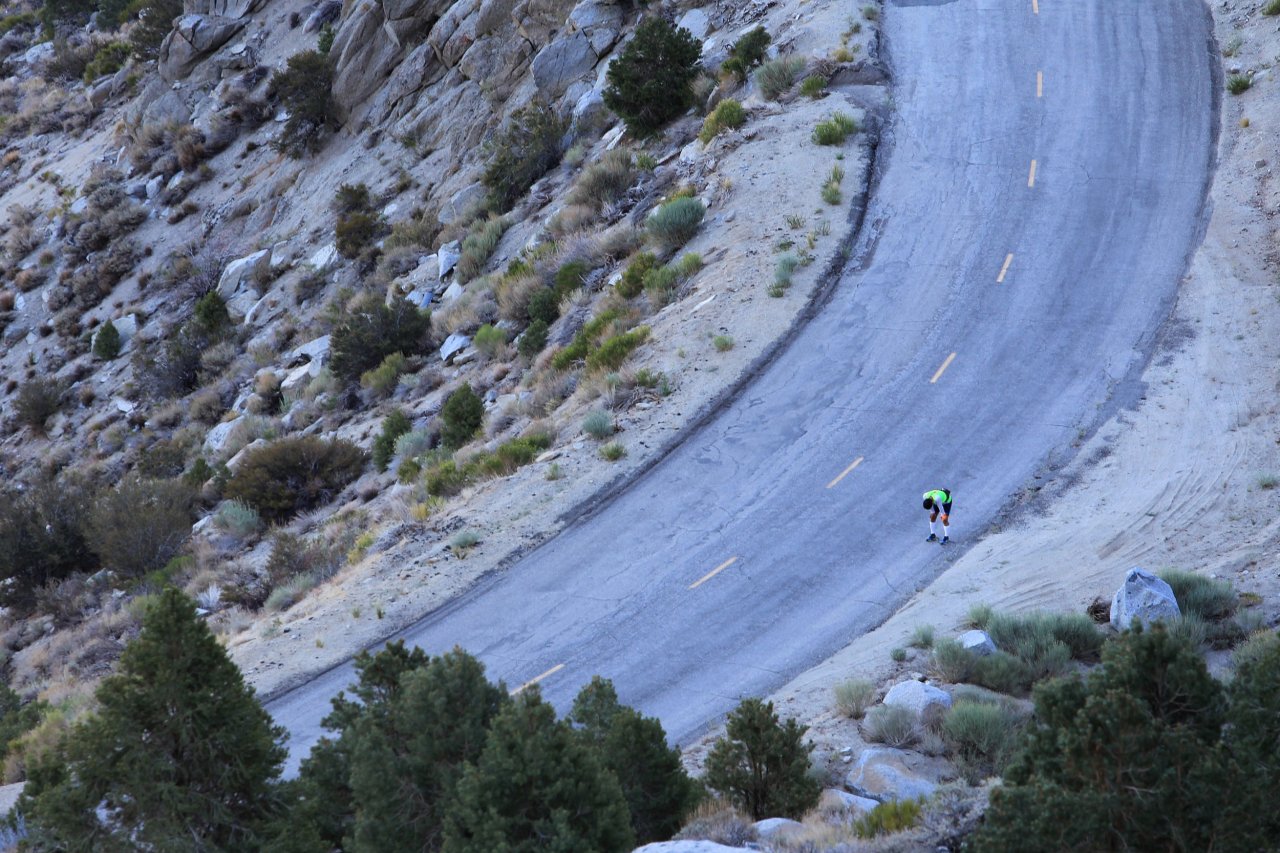 When, or if, the Summer Olympics commence in Rio de Janeiro in August, a worldwide audience will be reminded that the Olympic motto is "Citius, altius, fortius," Latin for "Faster, higher, stronger." There is no longius ("longer") in the Olympic charter, but someday there may be. Events involving endurance have become an indelible part of the summer sports landscape, particularly in the United States.
Marathons? Bah! Longer. Much longer. On June 25, Andrew Miller, a 20-year-old sophomore at Northern Arizona University, won the Western States 100-Mile Endurance Run in Northern California. Two days earlier, Pierre Bischoff of Germany, after pedaling coast to coast (3,069 miles), cruised across the finish line in Annapolis, Maryland, to win the 35th annual Race Across America.
Coming later this summer is the now-iconic Badwater Ultra, a 135-mile footrace through Death Valley, California, where surface temperatures often rise above 120 degrees. In August comes the legendary Leadville Trail 100, a footrace that takes place almost entirely above 10,000 feet in Colorado and where fewer than half the altitude-addled runners who start the race finish within the 30-hour time limit.
For those athletes seeking less adventure yet more mental masochism, there is the Sri Chinmoy Self-Transcendence 3100 Mile Race. This mind- and leg-numbing spectacle of stamina happens in Queens, New York, around a half-mile course for 18 hours per day, each day, from June 19 to August 9. As Lloyd Braun once told Queens native George Costanza on Seinfeld: "Serenity now, insanity later."
There's more: You may not think of no-limit Texas Hold 'em as an endurance sport, but beginning July 9 more than 6,000 participants will convene in Las Vegas for the World Series of Poker Main Event, playing upward of 12 hours daily until the field is winnowed down to a final table of nine. That should take at least one week, or as many as 500 hands for the lucky few who retain their chips. It is only the Main Event that ESPN deigns to televise annually.
Ultras are nothing new in the U.S.—Madison Square Garden used to hold six-day bicycle races as early as the 1890s where, as The New York Times explained, "participants 'go queer' in their heads, and strain their powers until their faces become hideous with the tortures that rack them." In the past four decades, however, ultras have blossomed. That time period coincides with the running boom of the early '70s, but experts say the growing popularity of extreme racing—as opposed to mere jogging—perhaps speaks to a void in our everyday lives where danger, or at least physical risk, once resided. "This year, there was a 37 percent increase in applications from the year prior," says Craig Thornley, race director of the Western States, the granddaddy of 100-milers. "We had 3,500 people vying for just 270 spots."
The race, which winds mostly through backcountry trails in the Sierra Nevada range not far from where the Donner Party met their demise, is certainly demanding. But now almost midway through its fifth decade, it has become a lot like Harvard: The hardest part is getting in.
It was not always that way.
'Taking a Chance With My Life'
"I've never been a great runner," says Gordon Ainsleigh, the Neil Armstrong of 100-mile endurance runs. "The only reason we have the Western States is because I didn't have a horse."
In 1955, Wendell Robie, a prominent lumberman from Auburn, California, rode the Western States Trail from Tahoe City to his hometown on horseback, proving, as the Western States website says, "horses could still cover 100 miles in one day." Sixteen years later, Ainsleigh, at age 24, first took part in what had become an annual ride and revealed his ignorance. "I rode bareback and without stirrups," he says. "A friend advised me to drink milk and honey for energy, and I vomited for 6 miles straight."
Against the expectations of his fellow riders, Ainsleigh completed the 100-mile ride on his horse, Rebel, though both man and beast would spend the next 10 days largely incapacitated. Three years later, in 1974, Ainsleigh showed up for the ride sans steed. He decided to traverse the 100 miles on foot instead. "I slept in my friends' horse trailer," Ainsleigh recalls. "I thought my girlfriend would drive me to the start, but she told me that she'd be going to the jalopy races instead. You know, it was a good lesson on women."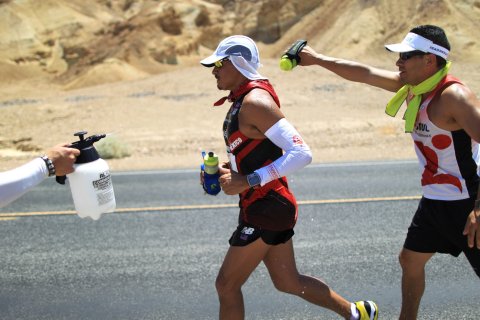 Ainsleigh had run one cross-country race in college at the University of California, Santa Barbara, but quit midway through because "I was so far behind the last guy in the pack." Now he was trying to become the first known man to run 100 miles without being chased by either man or beast. "About halfway through, I came upon a horse that was in bad shape in a river," Ainsleigh recalls. "A rider called me over to help him pull the horse into the shallows. I looked at the horse, at its eyes rolling up in its head [the horse would later die]. As I headed up the canyon, I realized for the first time that I was taking a chance with my life."
Later, in a moment of extreme self-doubt, his body spent and depleted of salt, Ainsleigh felt there was no way he could make it 16 miles to the next aid station. "I thought to myself, Can I do it? No way. What can I do? I can at least take one more step." Ainsleigh persevered, and because it was 1974, a friend arrived about 20 miles later wearing no shirt and plaid polyester bell-bottoms to pace him for a bit.
Shortly before 5 a.m. the following day, Ainsleigh became the first horseless man to complete the Western States trail ride, finishing in 23 hours and 41 minutes. An endurance sport was born. He has since completed the race 21 more times. "For most of us, it's just about enduring," says Thornley, who has run Western States a number of times. "It's about pushing through the darkest moments. Once you do a 100-miler, it translates to many things you do in life."
'A Lot of Mangled Assholes'
So too does the Race Across America. Since 1982, when four cyclists climbed atop their bikes at the Santa Monica Pier and pedaled east to the Empire State Building, the race has taken place each June and is a testament to endurance and sleep deprivation. Riders either compete solo, the fastest finishing in eight or nine days, or in teams of up to eight members. There are no stages—riders sleep at their own discretion, averaging one to two hours per night—and there are no weather stoppages unless law enforcement closes down roadways.
"They're extremists," says the race's media director, Jeric Wilhelmsen. "A lot of them seem very humble, but it's an ego thing. They're out to prove that they can do what no one else can do."
Running 100 miles is arduous enough. Cycling 30 times that distance welcomes hardships few can even imagine. "Saddle sores are a big problem," says Wilhelmsen. "I've seen support crews sew steaks into a rider's pants to provide more cushion."
But even 8-ounce filets are often ill-suited to combat the effects of 200 hours on a bike in 10 days. "I've seen, well, a lot of mangled assholes," Wilhelmsen says. "In how many sports do you have support team members literally wiping the butt of their riders?"
There is a little-used aphorism that serves as a rebuttal to extreme endurance events and their acolytes, and it goes like this: "No pain, no pain." But as our daily lives become more plush and pampered (McDonald's now delivers in New York City), many of us yearn to stimulate our survival instinct, lest it fall dormant. Game of Thrones cannot be our only existential release from a life of monotonous comfort.
"Endurance sports are consistent with a counterculture motif," says Yale lecturer Angela Gleason, who teaches a seminar on sports history. "They have an appeal for athletes who don't necessarily gravitate toward team sports. In team sports, the question is, Will we win? In endurance sports, the question becomes, Can I do this?"
Besides, endurance events favor, as any reader of fables well knows, the tortoise over the hare. At the most recent Western States, 26-year-old Jim Walmsley was not only in the lead after 90 miles but was on pace to set a course record. "He was really hammering," says Thornley. "I can't really relate to how fast he was running."
Then, at mile 91, Walmsley took a wrong turn. He went more than a mile in the wrong direction before realizing his error and backtracking. "We spotted Jim on Highway 49 heading back to the course," says Thornley. "He just looked like a lost dog."
Walmsley, 9 miles shy of a course record, finished 20th. Meanwhile, Andrew Miller, 20, who has never competed on a high school or college cross-country or track squad—and who has never even run a marathon—crossed the finish line in 15 hours and 39 minutes; he is the youngest winner in the history of the world's oldest, most prestigious 100-miler. "If it was a mile-long race, honestly, I would not be in the top 10," says Miller, who credits long hikes in the woods with his family while growing up in Oregon for his success. "I just kept telling myself that it's another run, and I've learned that you can't put limits on yourself."
At an early age, Miller has already discovered that the distance, the hours and the mode of transport are all secondary. Leave citius, altius and fortius to the greatest athletes. Endurance events are a microcosm of a greater, more inclusive crucible: the human race.