'Umbrella Academy' Cast on How Viktor's Transition Was 'Handled With Love'
In March it was revealed that Elliot Page's The Umbrella Academy character would transition in Season 3, and would be henceforth known as Viktor.
The character, who is also known as Number Seven, comes out to his family as a transgender man in the new episodes, and the cast shared with Newsweek how much they appreciated the way Viktor's transition was "handled with love."
'The Umbrella Academy' Cast on How Viktor's Transition Was 'Handled With Love'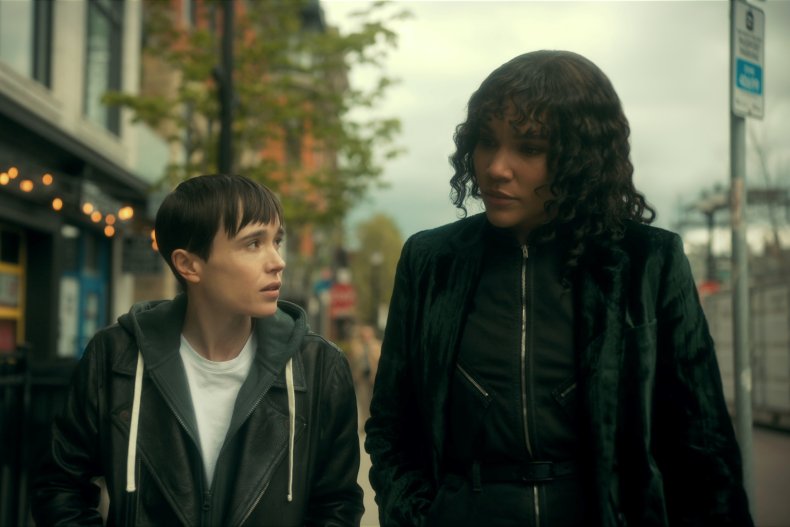 Tom Hopper, who portrays Viktor's sibling Luther, said the storyline was dealt with in a "lovely way" as he told Newsweek: "It's really handled with love, you know, and it should be like that, I think, when you look at the reality of the way [a person's transition] should be dealt with in a family scenario like that, or any scenario really.
"But I think if you love the person that's transitioning, and they tell you that's what's happening, there should be a very quick acceptance of that, and that's the way it's handled.
"I think, out of all the characters, Luther probably struggles but he's like, 'we should do something, there's surely something, we need to make some kind of occasion out of it,' and it's like, no, it's not like that, it just is what it is.
"And I think all those bits being part of it, it not only addresses Victor's story there but how family members might deal with that and I think it's handled in a really lovely way."
Emmy Raver-Lampman, who plays Allison, added how much she loved being able to support Page both on and off screen, saying: "I adore Elliot, he's one of my closest friends and I always love working with him, I have for the past five years, and [...] I always look forward to the days on set that we get to work together."
Allison, like her other siblings, is supportive of Viktor when he comes out, but the brother and sister end up at odds for other reasons, reasons that put a strain on their once close relationship.
Raver-Lampman reflected on the pair's relationship in Season 3, continuing: "So being able to, one, have a different dynamic between these two characters, I think, was really exciting to play.
"I think Allison and Viktor are always in the same corner for the most part, and it was really, really fun to play the opposite end of that, which was really hard for us personally because we get on like a house on fire—to go to work and pretend like we hated each other for so long.
"But also just to be the character that, you know, Viktor feels the safest with, to kind of be the first person to explain where he is and what he's going through, and, you know, transitioning into the version of himself that he feels like on the inside.
"And so I just felt so honoured to, one, be Elliot's friend as me going through that with him. But then also as Allison to go through that with Viktor. I think it was really, really lovely, and I'm just so grateful and also just so unbelievably proud of him."
David Castañeda, who plays Diego, added that it felt the way Viktor transition is accepted by the Hargreeves family in Season 3 is "very seamless."
"It's like life imitating art because when I was told that Elliot [is transgender], actually he was one that told me and said, 'Hey, I'm Elliot,' I felt very honoured, you know, for him to confide in me [and] say this to me," Castañeda reflected.
"And so once we did the scene there was just a sense of like, 'wow, there's gonna be a lot of people that watch this and it's gonna resonate so loudly to people and, I think, in such a beautiful way that I just [felt...] a sense of pride. That's all that was happening, especially the day we shot that scene where he says, 'I'm Viktor.'"
Aidan Gallagher, who portrays Five, also added: "It was lovely to see the amount of significance and how it was treated, both in terms of dialogue, and sort of how the scene was meant to feel, [it] was really heart-warming to see that onscreen. I thought it was done really well."
'The Umbrella Academy' Creator Worked With Elliot Page to Make Viktor's Transition 'Authentic'
Creator and showrunner Steve Blackman previously told Newsweek that he worked closely with Page, GLAAD Vice President Nick Adams, and transgender writer Thomas Page Mcbee on making the story as authentic as possible.
Of Viktor's coming out journey, and the way it mirror's Page's own, Blackman said: "I'm very proud to have a cast led by one of the most prominent trans actors of his generation, Elliot Page. It's always an honour to work alongside him to tell this story that is, to me, so relatable, and so personal to so many.
"I think the story we told was very honest, I was lucky enough to be able to consult with Nick Adams at GLAAD who helped me enlist a writer named Thomas Page Mcbee who was really my guide, [and] had a lot of expertise about the trans community and transitioning.
"And of course, I have Elliot to ensure the storyline was really authentic and the right sensitivity. It was really an incredibly collaborative process, but I think it's a very honest story and the fans will appreciate how we dealt with it."
The Umbrella Academy Season 3 is out on Netflix now.