'The Umbrella Academy' Star Emmy Raver-Lampman Loves Being Season 3 Villain
Emmy Raver-Lampman loved the grittier storyline given to her character Allison Hargreeves in The Umbrella Academy Season 3, which made her the "villain of the family" in the new episodes.
Warning: This article contains some spoilers for 'The Umbrella Academy' Season 3
Allison struggles with the impact of losing not one but two of her loved ones, as she left husband Raymond Chestnut (Yusuf Gatewood) in 1960s Dallas to reunite with her daughter Claire, only to realize she is no longer alive in the present day because of the way in which the Umbrella Academy messed with the timeline.
The loss is too much for Allison to bear and she becomes consumed by her negative thoughts, taking out her pain on her siblings and starting to use alcohol as a coping mechanism.
'The Umbrella Academy' star Emmy Raver-Lampman Loves Being Season 3 Villain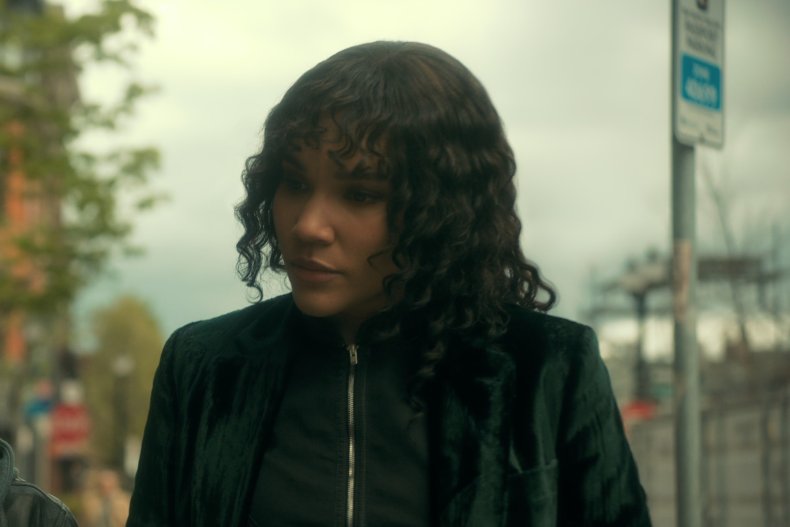 For Raver-Lampman this made Allison all the more interesting to play in Season 3, because it was fun to be the character "tearing [things] apart" for once.
Of getting to explore a darker side to Allison, the actor told Newsweek: "I loved it, I think I really wanted to find as many layers and levels to her grief and to her trauma, and to her anger and to, you know, just her emotional states of kind of unrest.
"And I enjoyed it. I loved kind of, you know, I've been saying that I, kind of, in a weird way was the villain of the family this season and I really enjoyed it.
"I really enjoyed kind of not always having to be upbeat and the one that's, you know, herding all the cats and getting everybody together and [saying] 'for the family!'
"It was nice to kind of be the one that was like tearing it apart for the first time."
Allison's pain over losing Claire and Ray results in her fighting with brother Viktor (Elliot Page) because she feels he is the reason her daughter vanished, and she even makes a deal to work with Reginald Hargreeves (Colm Feore) to betray the Umbrella Academy for a brief time.
Discussing this storyline Allison is given, Raver-Lampman continued: "I was so excited by it and I also thought it was really important.
"I think everything that Allison went through, and experienced, and lived through, and quite frankly survived, being, you know, a Black woman that was thrust into the '60s in Dallas, Texas, in the middle of the Civil Rights Movement, I think that's gonna leave a lot of trauma and a lot of lifelong, lingering effects.
"And so I felt like we were going to be doing her a massive disservice if we didn't address that and kind of go with her on that journey and put that on screen too, because Allison is always very put together and... she's very good at putting up a wall and putting on her acting mask, and kind of covering and hiding, and keeping how she's really feeling from everyone.
"I think we just couldn't... we couldn't do that with her this season. I think we have to kind of watch the [impact of these events], you know, start to pull on the one piece of yarn from the sweater and kind of watch it all unravel."
The Umbrella Academy is out on Netflix now.