'The Umbrella Academy' Season 2: Come For the Action, Stay For the Dancing
Explosions, knife fights and assassins—these are just splashes of the violence the Hargreeves siblings will encounter when The Umbrella Academy returns to Netflix with Season 2 on Friday. And that's all before they have to deal with the next apocalypse on the way.
Similar to the debut season of the series, based on the Gerard Way comics of the same name, The Umbrella Academy's second season is bursting with action, blood and gore—seriously, the first five minutes of the show is mildly reminiscent of the Hiroshima bombing.
Reuniting cast members Tom Hopper, David Castañeda, Emmy Raver-Lampman, Robert Sheehan, Aidan Gallagher and Ellen Page as the notable Number One, Number Two, Number Three, Number Four, Number Five and Number Seven, respectively, the former child superheroes—who are now full-fledged adults, albeit incredibly dysfunctional ones—will once again find themselves in the crosshairs of worldwide devastation. Number Six, otherwise known as the ghost of the troupe's brother Ben (Justin H. Min), will also be there, lurking in the shadows wherever his clairvoyant medium brother Klaus (aka Number Four) goes.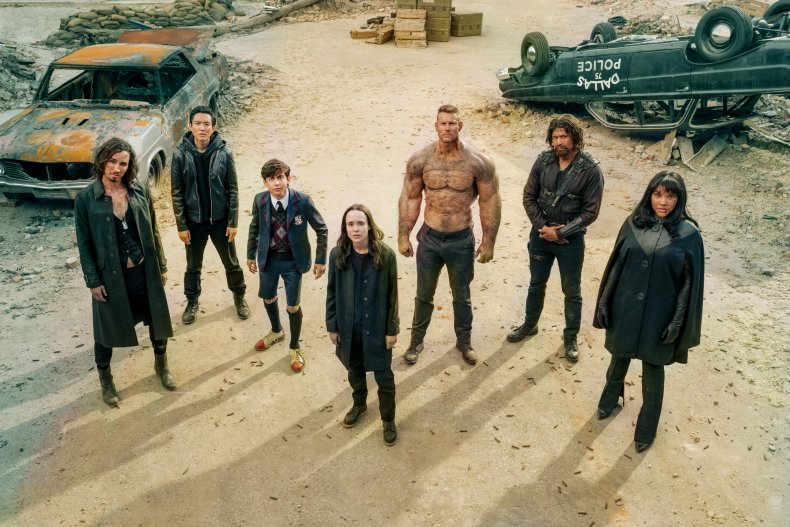 The series picks up with the Hargreeves siblings popping up in Texas one-by-one as a result of their attempts to stop Vanya (Number Seven) from destroying the Earth back in Season 1. That issue is out of the way, but there's an even more harrowing one waiting for them on the other side of 1963—the year they've somehow time-jumped to in their prevention to stop the world from ending in 2019. Now, the group has yet another apocalypse on their hands, and it may have something to do with the assassination of President John F. Kennedy and the Soviet Union.
But before they can get that all sorted out, they have various other problems to solve, starting with finding each other. Five, whose superpower involves jumping through time and teleportation, has to round up his displaced brothers and sisters again but that won't come easy being as The Commission, his former place of employment, still has a hit out on him. The former assassins hunting him down, Cha-Cha (Mary J. Blige) and Hazel (Cameron Britton) are gone, but there are three new agents—a trio of oddly silent Swedish brothers—who are hoping to hand Five's head on a stick over to the agency. And they'll go after anyone in their way, including his family.
Just as anyone would expect to see when six siblings and their dead brother get together—when the Hargreeves kids finally do reconnect, it's pure chaos.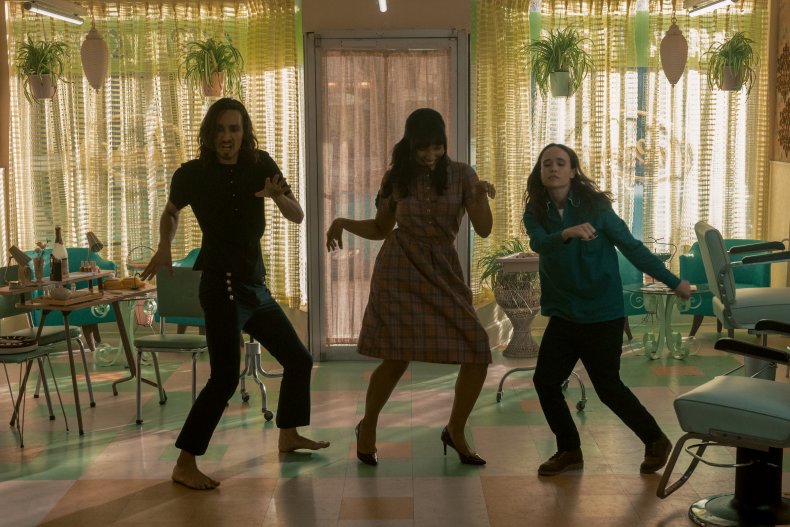 As a newly minted cult leader, Klaus has a legion of impressionable followers he needs to provide for. Luther (Number One), with his superhuman strength, is playing bodyguard for one of America's most notorious gangsters of the 1960s. The knife-wielding Diego (Number Two) is trapped in a psych ward and Allison (Number Three)—who can convince anyone to do whatever she says just by saying, "I heard a rumor"—is leading the charge towards civil rights. Meanwhile, Vanya, who can quite literally destroy anything and everything when she's angry, has somehow found peace with life on a farm.
There are a few sweet moments the Hargreeves get to enjoy when they aren't fighting amongst each other or with the Swedish assassins and every other bad thing in the world. Allison, Klaus and Vanya break out their best dance moves in a super groovy scene when they finally reunite, and just about everyone—except maybe Five—has been bitten by the love bug. And the siblings get to indulge in a memorable family dinner with the most unlikely person.
The second season of The Umbrella Academy releases on Netflix on Friday at 3 a.m. ET.