All the Songs Featured in 'Umbrella Academy' Season 2
The Umbrella Academy Season 2 is streaming on Netflix now, and the new season has as many surprising soundtrack selections as the first set of episodes. Though the show is based on a comic book by My Chemical Romance's Gerard Way, the songs in the show are very different from the type of music he makes, with a lot of hits from the 1950s and 1960s included. Alongside those songs, however, are some very strange covers of more modern songs, like a pop-punk cover of Billie Eilish's "Bad Guy" and a Swedish cover of Adele's "Hello."
All the songs in The Umbrella Academy Season 2 soundtrack
Episode 1, "Right Back Where We Started"
Bobby Darin - "Beyond the Sea": Klaus arrives in 1960.
Maxine Nightingale - "Right Back Where We Started": Allison, Luther, Diego, Vanya and Number Five arrive in the 1960s.
Frank Sinatra - "My Way": The Umbrella Academy fights in the lead-up to the (second) apocalypse.
Richard Myhill - "You Must Be An Angel": Diego and Lila do arts and crafts.
Fran Powers - "Trying": The Coopers have dinner.
Jeremiah Burnham - "Forever and a Day": Klaus and Ben go driving.
Glenn Snow - "I Wonder What the Future Holds For Me": Klaus enters the bar with Ben.
DJ Shadow feat. De La Soul - "Rocket Fuel": Luther fights in a match.
Fern Jones - "Be Thankful You're You": Vanya smokes in the barn with Sissy.
Daniela Andrade - "Crazy": Diego wakes up in the asylum.
Mel Tormé - "Comin' Home Baby": Diego escapes the asylum with Lila.
Jim Boyd - "You Only Want Me When You're Lonely" - Luther and Five meet.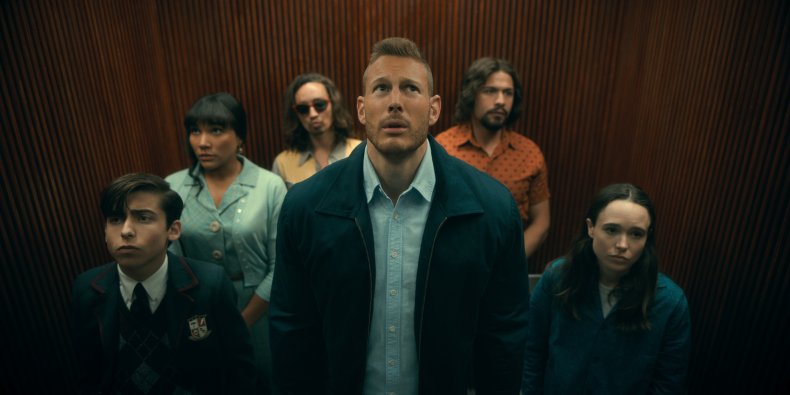 Episode 2, "The Frankel Footage"
Perry Como - "Bibbidi-Bobbidi-Boo (The Magic Song)" - Opening.
Stuart Crombie - "Jive Me Baby": Luther sees Vanya.
The Genies - "Who's That Knockin'": Diego and Luna go to the Dallas Book Depository.
The Spencer Davis Group - "I'm A Man": Diego fights.
Episode 3, "The Swedish Job"
Bill Martin and Phil Coulter - "I Gotta Get the World Off My Back": Opening.
Boney M - "Sunny": Klaus emerges as a cult leader.
Mack & Gwen with the Country Playboys - "I Don't Care What They Say About You": Vanya goes driving.
Joe Tex - "I'll Never Do You Wrong": Luther visits Allison.
The Stranglers - "Golden Brown": The true identity of Lila is revealed.
Episode 4, "The Majestic 12"
Marty Robbins - "Love is Blue": Opening.
Helen Wilson - "Have You Ever Been Hurt": Luther eats barbeque food.
Styx - "Renegade": Klaus buys liquor.
Chilo Escobedo - "Mirage": Diego and Lila go to Reginald Hargreeves' party.
Audio Network - "Mariachi Tipico": Five gets a glass of champagne.
Mariachi la Estrella - "La Costilla": Lila and Diego dance.
Marva Whitney - "Unwind Yourself": Luther and Elliott talk.
Kiss - "I Was Made For Lovin' You" - Diego, Lila, and Five battle the Swedish assassins.
Episode 5, "Valhalla"
Peter Schilling - "Major Tom - Coming Home": Opening.
John Stokes - "Love in the City": Vanya and Sissy lie in bed.
Four Holidays - "He Can't Love You": Luther visits his father's house.
Andrea and Ervin Litkei - "Hey Da Da": Allison, Klaud, and Vanya meet in the salon.
The Interrupters - "Bad Guy": Five and Lila fight.
Sam Cooke - "Twistin' the Night Away": Klaus, Vanya, and Allison dance.
Joe Hunter and Four Holidays - "He Can't Love You" - Luther visits his father again.
My Kullsvik - "Hello": The Swedish assassin funeral.
Episode 6, "A Light Supper"
Aretha Franklin - "Won't Be Long": Plays in the hair salon.
Jack Huddle - "An Old Fashioned Christmas": Allison closes the salon.
Sam & Dave - "Hold On, I'm Comin'": Ray and Allison go shopping for suits.
Bob Cox - "I Live Alone": The Handler and Lila play bingo.
Public Image Ltd. - "The Order of Death": The Umbrella Academy has dinner with their father.
The Dead South - "In Hell I'll Be in Good Company": Elliott is found by Luther and Diego.
Episode 7, "Öga for Öga"
Petra Bechfelberger - "Pfiffikus Polka": Opening.
Tony Joe White - "Polk Salad Annie": Five tries to get something out of the vending machine.
Zoe Muth - "Give Me a Reason to Stay": Sissy listens to the radio.
Baio - "Sister of Pearl": Ben possesses Klaus.
Backstreet Boys - "Everybody (Backstreet's Back)": Allison battles the Swedish assassins.
Episode 8, "The Seven Stages"
Butthole Surfers - "Pepper": Vanya is tortured.
Buzz Buddies - "Old Pal's Jigs": Luther and Five talk in the bar.
Austin Ince and Frankie Hepburn - "Paddy's Leather Breeches": Old Five returns from the restroom.
Episode 9, "743"
Generation X - "Dancing with Myself": Old and young Five fight.
Hilary Hahn - "Bach's Violin Partita No. 2 in D Minor, BWV 1004: V. Ciaccona": Ben searches for Vanya.
Gerard Way and Judith Hill - "Here Comes the End": The Handler makes a call.
Episode 10, "The End of Something"
Parra for Cuva feat. Anna Naklab - "Wicked Game": Plays at the end as the Hargreeves leave the '60s.
The Umbrella Academy Season 2 is streaming now on Netflix.