'Umbrella Academy' Cast Talk Luther's Marriage, Diego Being a Dad, and More
The Umbrella Academy Season 3 had many surprising moments in store for not only their characters but also the audience.
From the get go there were big moments like Diego (David Castañeda) learning he was a father with Lila Pitts (Ritu Arya), and Luther (Tom Hopper) falling madly in love with Sparrow Academy member Sloane (Genesis Rodriguez).
The cast spoke to Newsweek about the various shocking events that occurred in their character's lives.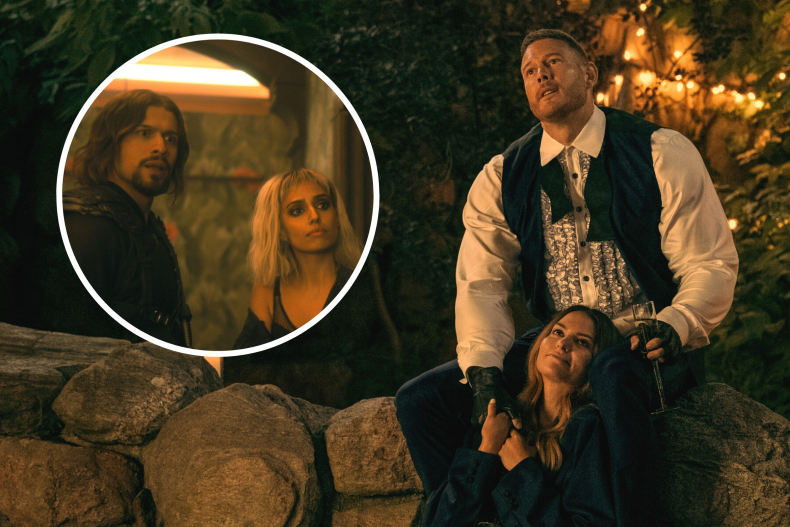 Tom Hopper on Luther's Marriage to Sloane
When Luther meets Sloane at the start of Season 3 he is instantly smitten with her, and the superhero is just as interested in him.
Despite the rivalry between the Umbrella and Sparrow Academies the pair gravitate towards each other, so much so that Luther proposes to Sloane and the pair hold a wedding ceremony as the universe collapses around them as a result of the Kugelblitz.
Hopper loved the storyline, particularly how it had a similar feel to William Shakespeare's Romeo and Juliet, as he told Newsweek: "It was great. You know, when Steve [Blackman, the showrunner] first told me that I was getting a love story it was like, 'Ah, okay, that's cool.'
"And he said it's [got] like a real kind of Romeo and Juliet aspect to it, but he said the biggest thing is that it's going to be really fun and he wasn't wrong. We had so much fun during those scenes.
"I think it was the whole kind of the whole hiding element, but they both connect on so many levels, Sloane and Luther. They're both kind of that person in their own families so they have so much in common, and never feeling like they truly belong, I think.
"So, it was lovely and I think I just had so much fun this year, playing all those scenes with Gen, she was a great partner, and we had huge amounts of trust with each other, it worked out well I think."
David Castañeda and Ritu Arya on Diego Being Thrust Into Fatherhood
For Diego, meeting the Sparrow Academy seems to be his and his siblings' most difficult challenge yet, that is until Lila drops Stanley (Javon Walton) at his door and informs him that he's their 10-year-old son.
Of course, in the end Lila reveals that Stanley is actually her friend's son and that they were playing a prank on him, but it was because she wanted to see what he'd be like as a father because she is pregnant.
For Castañeda it felt right to give Diego the challenge of fatherhood so suddenly in the new season, particularly because it meant he had to address his problems with his own adoptive father Reginald Hargreeves (Colm Feore), or at least the version of him that appears in the new timeline.
"I thought it was fitting because you want to throw the biggest conflict at your characters and see how they react to it, you know," Castañeda said of Diego's new responsibility.
"Always never give them what they want and figure out how they're going to get it and so, to me, that was like the funniest part, especially [given] his own daddy issues.
"Obviously, being around dad now that he's alive was a very kind of contradictory way of [looking at] how he feels about his other dad and obviously there's a new dad, so even in episode eight where he gets to talk to [his] dad it's a very subtle scene, it's small words [but] he kind of acknowledges that he could have been a good father.
"And so that was, I think, a nice closing argument to 'Can Diego really be a father, you know? Which he struggles with."
Arya was delighted when she learned that Lila had chosen to drop the news on Diego in the way she did, adding: "I loved that. I thought it was really a mischievous move and a great layer because she's doing it for her own [benefit].
"She's trying to figure out 'actually, could I be [a mom]? Could this work with this man, could I have a family with this man? I'm going to test this guy.'
"But, actually, she's just scared. She's really afraid, and so it was really nice to have this sort of extra depth with this character, who's always sort of pretending you know, she's got her s**t together but she has not."
Aidan Gallagher Already Knows What's Next for 'The Umbrella Academy'
Aidan Gallagher, meanwhile, confirmed that he knows where the show is heading after its third season, something showrunner Steve Blackman also spoke to Newsweek about.
While Gallagher said he couldn't reveal anything about his character post-Season 3, which sees the universe get reset and the Umbrella Academy lose their powers, he shared what he hopes the show will draw from Gerard Way and Gabriel Bá's comics.
"I know but I can't say. I know briefly what [comes next]," he said, joking that Five would go to Hawaii for his much needed retirement now he doesn't have powers.
"I would just love to see even more parallels to the comic books, I love the second graphic novel, [it's] been my favorite and especially that scene with him at the horse races and then getting ambushed and seeing his true potential as just a vicious killer.
"It's hard to do that type of stuff without the powers because obviously that, same for the comic books, is so extreme. But yeah, I'd love to see even more of that. That type of stuff makes me happy."
The Umbrella Academy Season 3 is available to stream on Netflix now.