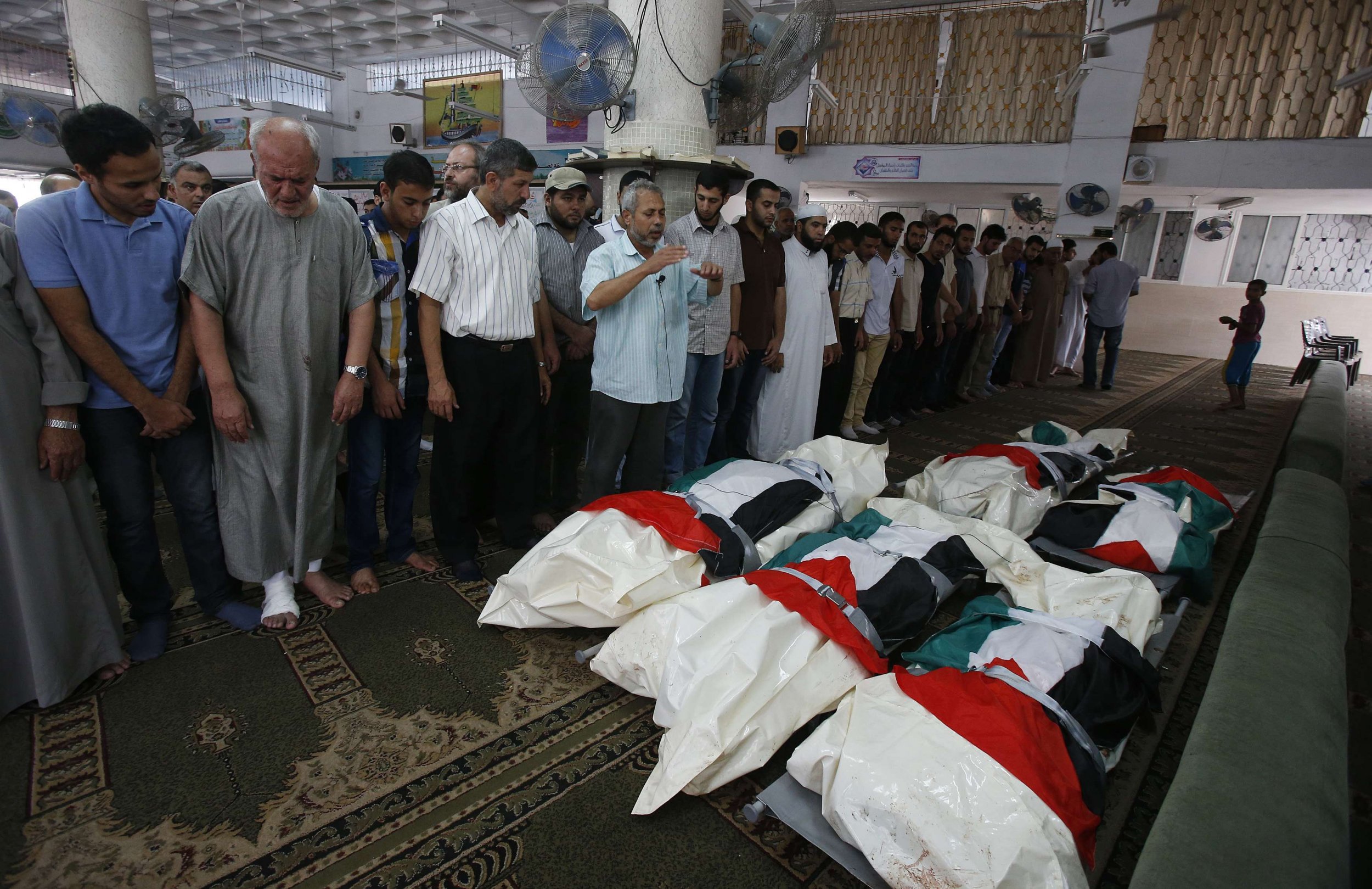 GAZA/JERUSALEM (Reuters) - Israeli forces killed at least 10 Palestinian militants on Monday after they crossed the border from Gaza through two tunnels, the military said, as the death toll from the two-week conflict passed 500.
With the U.N. Security Council calling for an immediate ceasefire, Israeli jets and tanks continued to pound the Gaza Strip through the night.
The Israeli barrage killed 25 people from one family near Gaza's southern border with Egypt, while 10 from another died in the nearby Khan Younis after shells hit their home and struck again as they tried to flee, hospital officials said.
The overnight raids lifted the Palestinian death toll to 484, mostly civilians, since fighting started on July 8. Israel says 18 of its soldiers have also died along with two civilians.
In New York, the Security Council called for a truce after an emergency meeting on Sunday. The 15-member Council "expressed serious concern about the growing number of casualties (and)... called for an immediate cessation of hostilities," Rwanda's U.N. Ambassador Eugene Gasana told reporters. Two groups of Palestinian fighters slipped into southern Israel in the early morning, with the Israeli army ordering a lockdown in local communities as they tracked them down.
Aircraft targeted one of the squads and soldiers opened fire on the other, killing at least 10 militants, a military spokeswoman said. The military had no immediate comment on media reports of casualties amongst Israeli forces. Fighters from the Hamas Islamist group, which runs Gaza, and its allies, have repeatedly tried to enterIsrael over the past week through a vast network of hidden tunnels, looking to attack villages and armyencampments that dot the border area.
Israeli Prime Minister Benjamin Netanyahu order his ground forces into Gaza on Thursday, promising to destroy the tunnels and put an end to incessant missile fire out of the populous Mediterranean enclave.
Setting off celebrations around Gaza, Hamas's military wing announced on Sunday that it had captured an Israeli soldier during fighting. It named the man as Shaul Aron and showed his ID papers, but showed no picture of him in their hands.
Although Israel's ambassador to the United Nations denied the claim, Israel's military said it was still investigating.
"We still cannot rule it out," military spokesman Lieutenant-Colonel Peter Lerner said on Monday.
If confirmed, Aron would be the first Israeli soldier held captive in Gaza since 2011, when Israel released more than 1,000 Palestinian prisoners to free Gilad Shalit, a soldier who was held for more than five years after his capture in a raid.
DIPLOMATIC EFFORTS
Lerner told reporters that the main focus of fighting remained the Shejaia district, east of Gaza City, where some 72 Palestinians, many of them civilians, were killed in fierce shelling on Sunday.
In its push against militants in Shejaia, Israel also suffered its worst losses in the offensive, with 13 soldiers killed - the army's heaviest one-day loss in battle since 2006.
Israel's army said it had been targeting militants from Gaza's dominant Hamas group, charging that they fired rockets from Shejaia and built tunnels and command centres there. The army said it had warned civilians to leave two days earlier.
As international efforts to seek a truce were stepped up, U.S. Secretary of State John Kerry was to travel to Cairoon Monday to meet Egyptian officials about the crisis, spokeswoman Jen Psaki said in a statement, adding the United States was deeply concerned about the risk of further escalation. Earlier on Sunday, Kerry had said he supported Israel's efforts to destroy tunnels it says Gaza militants use for infiltration attempts and to hide weapons.
Lerner said that since start of Israeli ground operations, the army had uncovered 43 access points to 16 different tunnels.
Egypt, Qatar, France have also been pushing, with little sign of progress, for a permanent ceasefire in the worst surge of Israeli-Palestinian fighting in more than five years.
Qatar was due to host a meeting between Palestinian President Mahmoud Abbas and U.N. Secretary-GeneralBan Ki-moon on Sunday, and also with Hamas leader Khaled Meshaal, a senior Qatari source told Reuters.
Ban, in Doha, described the fighting in Gaza as an "open wound" and urged, "We must stop the bleeding now." He was due to travel to Kuwait, Egypt, Israel, the Palestinian Territories and Jordan during the week, a U.N. statement said.
The Israeli military said 87 rockets were launched from Gaza at Israel on Sunday, and 16 were harmlessly shot down by an Iron Dome interceptor system. The numbers of such shootings have topped 100 on previous days of the offensive.
Israel would press on with its campaign with the goals of "restoring quiet" to its southern cities and the Tel Avivbusiness area, Netanyahu told a news conference on Sunday.
Israel also sought to "significantly" damage Hamas and other militant groups' infrastructure in Gaza, he said, adding: "We shall continue the operation as long as is required."