UN Chief Warns 'Wider War' is Coming Out of Russia-Ukraine Fighting
Antonio Guterres, Secretary-General of the United Nations (UN), warned on Monday that the Russia-Ukraine conflict could lead to broader world conflict.
Guterres, a high-ranking politician and diplomat, addressed UN member nations in a speech on Monday morning about the state of the world in 2023. During this, he touched upon the "Doomsday Clock," a symbolic measurement used since 1947 to show how close humanity is to a global catastrophe, represented by the amount of time a clock is from striking midnight.
This year, citing factors like the Russian invasion of Ukraine, spiraling climate change, and persistent nuclear threats undermining global societal norms, Guterres explained that the Clock now sits at 90 seconds to midnight as of the start of this year, 10 seconds closer than it was since January 2020, and the closest it has ever been.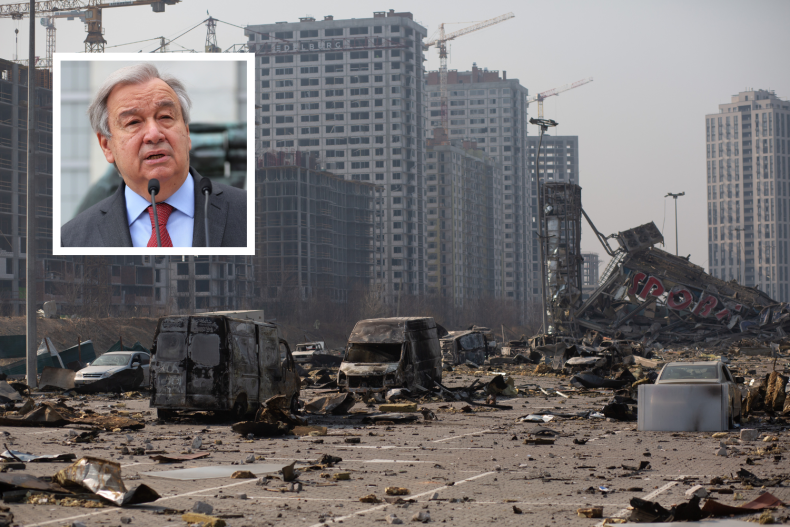 In discussing these threats to global stability, Guterres touched on his fears of continuing escalation in the Russian invasion of Ukraine, warning that it could bring the rest of the world into a much broader global conflict.
"The Russian invasion of Ukraine is inflicting end-all suffering on the Ukrainian people with profound global implications," Guterres said. "The prospects for peace keep diminishing. The chances of further escalation and bloodshed keep growing. I fear the world is not sleepwalking into a wider war. I fear it's doing so with its eyes wide open."
In a statement to Newsweek, political scientist and European conflict expert Rajan Menon said that Guterres's warnings were nothing new to the discourse surrounding the war in Ukraine. However, he also stressed that a broader conflict remained a possibility, even if it is impossible to predict at this stage.
"There is nothing new here, even if it's the UN Sec Gen is the one worrying about this prospect," Menon said. "The fact is we have no reliable evidence to make credible forecasts about the probability of the war spreading beyond Ukraine or escalating to a nuclear conflict. My point is not to rule out such outcomes, only to say that such statements are made all the time with no evidentiary basis. What's worrisome is that we are in the classic fog of war and do not, and cannot, know where things are headed. That alone is cause for concern."
The invasion of Ukraine, launched by Russian President Vladimir Putin, is nearing the one-year mark as the fighting drags on and shows some signs of escalation. What Russian leaders initially planned as a quick operation to take control of key points in Ukraine has since devolved into an intense battle for the control of breakaway regions in the east.
While allies like the U.S., the United Kingdom, and Germany have continued to provide military aid to Ukraine, western allies have been careful to avoid steps that would potentially lead to a broader global conflict, including the institution of no-fly zones.
Putin and other Russian leaders have also consistently threatened nuclear retaliation against Ukraine and the allies supporting it, though it remains unclear at what point he might actually order nuclear strikes. Earlier this week, former Russian President Dmitry Medvedev warned that Ukraine would be met with nuclear "retaliation strikes" in response to any sort of attacks on the Crimean peninsula, which Russia annexed in 2014.
"There will be no negotiations in this case, there will only be retaliation strikes," Medvedev said on Saturday. "The whole of Ukraine, which remained under the rule of Kyiv, will burn."
Newsweek reached out to foreign policy experts for comment.
Update 02/06/23 12:25 p.m. ET: This article was updated with more information.
Update 02/06/23 6:20 p.m. ET: This article was updated with expert comment.