U.N. Condemns Killing of George Floyd, Urges 'Serious Action' to Stop U.S. Police Slaying Unarmed Black People
The United Nations' top human rights official has condemned the killing of George Floyd during an encounter with the Minneapolis Police Department and called for urgent measures to stop U.S. authorities from slaying other unarmed black people.
U.N. High Commissioner for Human Rights Michelle Bachelet issued the appeal Thursday, saying she was "dismayed to have to add George Floyd's name to that of Breonna Taylor, Eric Garner, Michael Brown and many other unarmed African Americans who have died over the years at the hands of the police—as well as people such as Ahmaud Arbery and Trayvon Martin who were killed by armed members of the public."
"This is the latest in a long line of killings of unarmed African Americans by U.S. police officers and members of the public," Bachelet said.
"The U.S .authorities must take serious action to stop such killings, and to ensure justice is done when they do occur," she added. "Procedures must change, prevention systems must be put in place, and above all police officers who resort to excessive use of force should be charged and convicted for the crimes committed."
She said she welcomed the Federal Bureau of Investigation's intervention but warned that "in too many cases in the past, such investigations have led to killings being deemed justified on questionable grounds, or only being addressed by administrative measures."
"The role that entrenched and pervasive racial discrimination plays in such deaths must also be fully examined, properly recognized and dealt with," she added.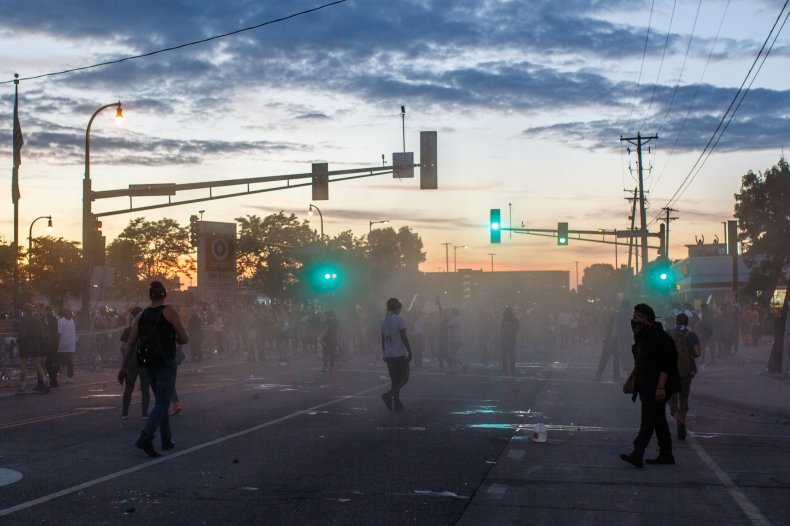 Floyd, 46, died Monday after he was arrested for matching the profile of an individual accused of using a counterfeit $20 bill at a nearby deli. Police initially claimed in their statement that Floyd resisted arrest but surveillance appeared to show him complying after he was handcuffed.
In a bystander video, officer Derek Chauvin, who is white, can be seen kneeling on Floyd's neck for several minutes as the detained man repeatedly screamed "I can't breathe."
Other police officers can be heard mocking Floyd, who lost consciousness, prompting onlookers to urge police to check his pulse. An ambulance arrived and transported Floyd to Hennepin County Medical Center, where he was pronounced dead.
A day after the incident, Minneapolis Mayor Jacob Frey announced that the Minneapolis Police Department had fired Chauvin and that three other officers involved in the incident—Thomas Lane, Tou Thao, and J Alexander Kueng—would be fired. Frey has called on Hennepin County prosecutor Mike Freeman to press charges against the four men, although a decision has yet to be announced.
Floyd's death, the latest in a series of police-related killings and other high-profile incidents that show apparent acts of discrimination against black people, and a perceived lack of action on the part of officials have prompted violent demonstrations in the streets of Minneapolis. In her statement, Bachelet said she understood the protesters' anger, but urged for calm on the part of both civilians and police to allow justice to prevail.
"Violence and destruction of property won't solve the problem of police brutality and enshrined discrimination," she said. "I urge protestors to express their demands for justice peacefully, and I urge the police to take utmost care not enflame the current situation even more with any further use of excessive force."
President Donald Trump called the killing a "very sad event" Wednesday and vowed on Twitter that "Justice will be served!" On Thursday, the president said he urged the FBI and Attorney General to "take a very strong look and see what went on," though he declined to comment on whether or not he felt the officers involved should face charges.
The FBI and Minneapolis Police Department did not immediately respond to Newsweek's request for comment.
The Trump administration announced in 2018 that it was pulling the U.S. out of the U.N. Human Rights Council, accusing the international body of giving a platform to human rights abusers while too readily condemning Israel, a close U.S. ally.