United Nations Condemns U.S. Embargo of Cuba as Cold War Tensions Return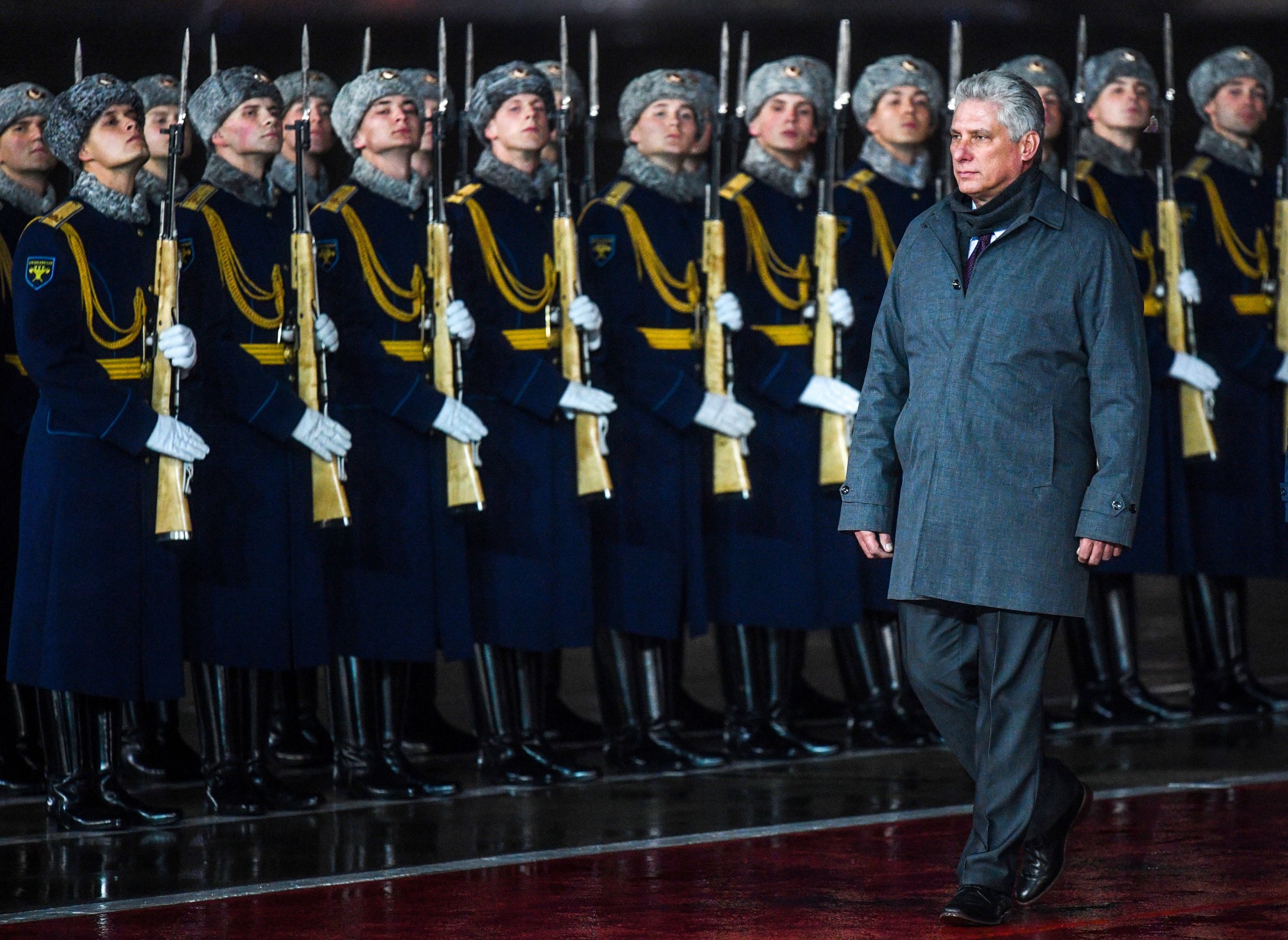 The U.N. General Assembly has overwhelmingly moved to condemn the U.S.'s half-century-long embargo of Cuba, a Cold War-era foe just 90 miles off the coast of Florida.
In a landslide 189-2 vote with zero abstentions, a Cuba-sponsored resolution passed to condemn the near-total U.S. economic embargo enacted in the early 1960s in response to revolutionary Fidel Castro's nationalization of Cuban industries. Despite former President Barack Obama's move to normalize ties in 2014, President Donald Trump's administration has sought to reverse course and continue decades-long U.S. hostility toward the island nation.
"Our #Cuba's victory. The #US suffers 10 defeats in one. The people of the world voted #Cuba because they know that our cause is truly just. #Cuba is to be respected. For #Fidel, for #Raúl and for the #Revolución and for the Cuban people," Cuban President Miguel Díaz-Canel, who succeeded 86-year-old Raúl Castro in April, tweeted in response to the vote.
The tweet came as Díaz-Canel arrived in Moscow for talks with Russian President Vladimir Putin. The Cuban leader noted, "We will never forget that it was his people who first helped us to resist the blockade." As old alliances and old feuds appeared to resurge, the relationship between Havana, Moscow and Washington was once again in the international spotlight.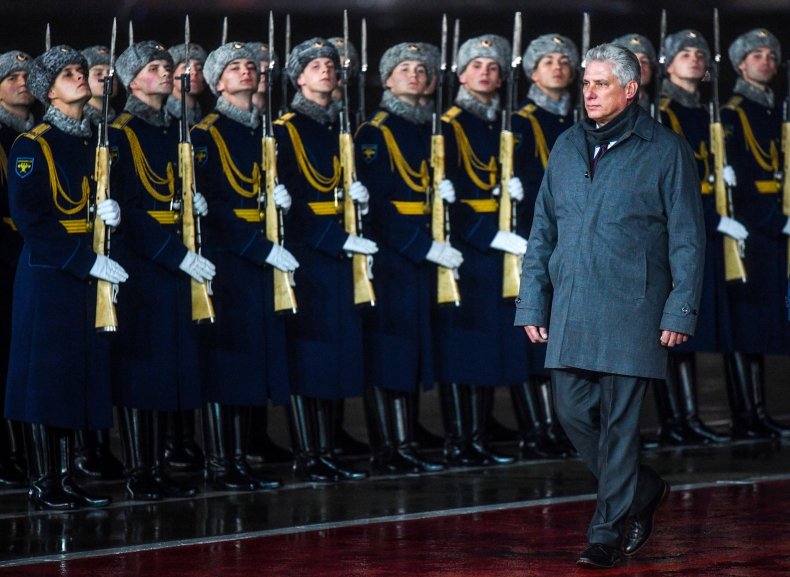 Washington severed ties with Havana shortly after the 1959 revolution that overthrew U.S.-backed leader Fulgencio Batista. Castro embraced assistance from the Soviet Union and the U.S. attempted to oust the new government with a failed CIA-sponsored invasion in 1961. The following year, the discovery of Soviet medium-range missile sites in on the island fueled what became known as the Cuban Missile Crisis, while the U.S. established a blockade to confront incoming Soviet warships.
The crisis was settled after Moscow agreed to withdraw its weapons in exchange for a pullout of U.S. missile sites in Turkey, but the economic embargo has endured to this present day, long after the Cold War ended. While Trump took office early last year voicing support for a mend in broken U.S.-Russia ties, he has also backed efforts that would undo some of the most comprehensive arms control treaties forged between the two superpowers decades ago.
With Trump announcing his intention to quit the 1987 Intermediate-Range Nuclear Forces (INF) Treaty—a landmark deal banning nuclear and conventional land-based missiles with ranges from 310 to 3,420 miles—talks in Moscow of establishing military positions in Cuba have resurfaced. This proposal, along with a reported $50 million state loan for Cuba to buy Russian weapons, has been slated as potential points for Díaz-Canel's meeting with Putin.
After his stop in Russia, the Cuban leader will go on to visit the world's four other communist countries—China, North Korea, Vietnam and Laos. While these nations have varying degrees of relations with the U.S., they have all portrayed themselves as vanguards against Western imperialism and *their* growing ties with Havana have only inspired the Trump administration to embrace Washington's historical enmity *toward* left-wing movements around the world and especially in Latin America, where U.S.-backed anti-communist actions in the 1980s helped set the deteriorating socioeconomic conditions from which a U.S.-bound caravan of migrants is fleeing.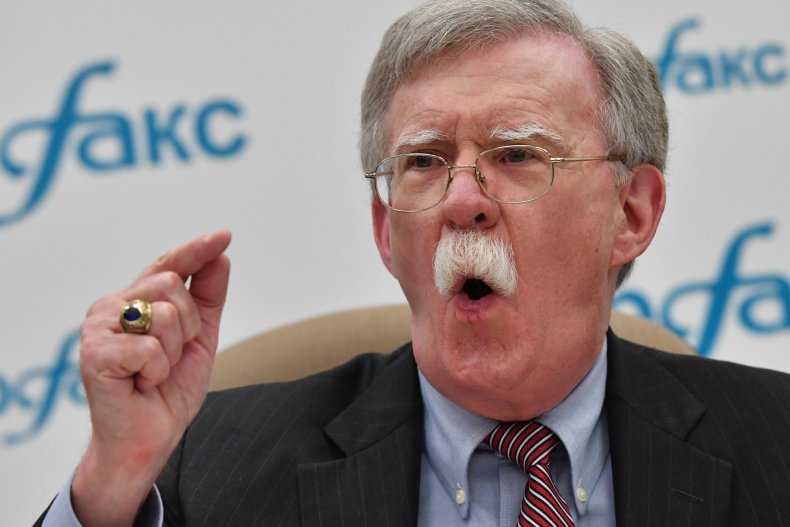 Trump's national security adviser John Bolton dubbed fellow Latin American socialist states Cuba, Venezuela and Nicaragua a "troika of tyranny" during a speech Thursday in Miami, a hotspot for anti-Castro activism. Bolton, seen as a hawkish and influential voice within Trump's inner circle, has also been credited with pushing the president to abandon the INF as the former ambassador convinced President George W. Bush to leave the Anti-Ballistic Missile (ABM) treaty in 2002. In March, Putin told NBC News that "an arms race began exactly at that point."
Bolton also targeted Cuba while serving the Bush administration, expanding the former Republican leader's so-called "Axis of Evil" of Iran, Iraq and North Korea to include Cuba, Libya and Syria, as well. On Thursday, these countries—along with every other U.N. member with the exception of Israel, which also voted "no," and Moldova and Ukraine, which did not vote—defied outgoing U.S. Ambassador to the U.N. Nikki Haley's characterization of condemning the U.S. embargo on Cuba as "a waste of time."
In response to Thursday's vote, Venezuelan President Nicolas Maduro's office released a statement reading, "The President congratulates Cuba on behalf of the Venezuelan peoples and government on the indisputable and overwhelming victory of the Cuban people today at the UNGA, which voted against the illegal economic blockade imposed by the U.S. for 56 years."
United Nations Condemns U.S. Embargo of Cuba as Cold War Tensions Return | World