Gunfire reportedly broke out at the funeral for Jovenel Moïse, the assassinated president of Haiti, on Friday. The U.S. and United Nations delegations quickly left the scene as a result.
Sounds that were believed to be gunshots were heard soon after the funeral began at around 10 a.m., and the U.S. delegation, led by Ambassador Linda Thomas Greenfield, exited immediately. Helen La Lime, the United Nations special representative to Haiti, and her entourage also fled the services.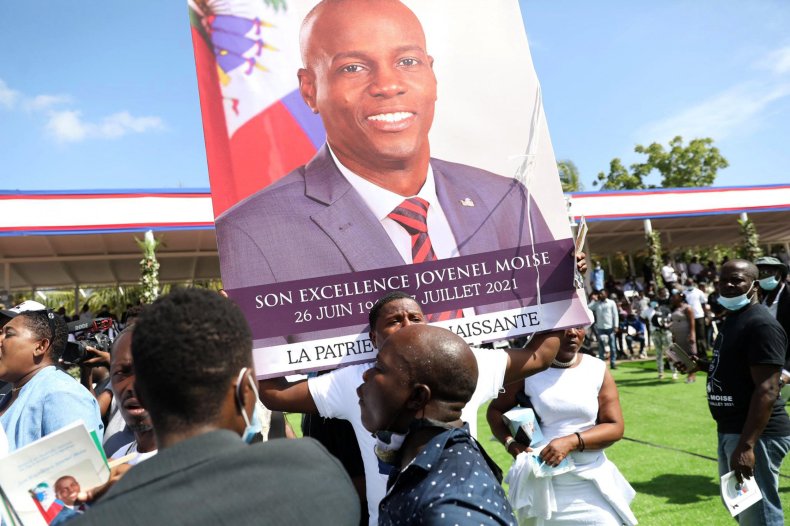 The services for Moïse were held at his family's seaside property in Cap-Haitien. Protests occurred outside the funeral, and Reuters reported witnesses smelled crowd control gas used on protesters and heard detonations thought to be gunshots.
There were no immediate reports of injuries among protesters or authorities, and there have been no indications of injuries to any guests at the funeral.
A brass band and church choir opened the ceremony for Moïse moments before the disruption. Reuters reported four pallbearers in military attire guard the late president's closed wooden casket as his widow looked on.
There have been reports of tension in the country since Wednesday, the first of three days of mourning. During a Thursday memorial service for Moïse inside Our Lady of the Assumption Cathedral in Port-au-Prince, people in the congregation were heard shouting, "Justice before funeral."
Authorities also clashed with the protesters on Thursday at Cap-Haitien when Police Chief Léon Charles inspected the funeral site for security. Charles was booed and heckled, and at one point a guarded police convoy drove through a flaming barricade set up by protesters.
It is still unclear who was behind the attack on Moïse and his wife, though both supporters and non-supporters of the late president have speculated his assassination was a plot by the country's Port-au-Prince-based elite against the poor black majority. Haitian police have rejected allegations that government officials were involved in Moïse's killing.
Arrests tied to the assassination have grown to 26. The Associated Press reported three people arrested were Haitian police officers.
"There was infiltration in the police," Charles said when announcing the most recent arrests on July 20. Haitian police have also killed four people linked to the assassination of Moïse at his private residence in the early hours of July 7.
Haiti's First Lady Martine Moïse was also shot multiple times during the attack that killed her husband. She was flown out of Haiti and treated for her injuries in Miami before returning to her country on July 17.
Jovenel Moïse first won a presidential election in 2015, but it was later invalidated amid accusations of fraud. A new election was eventually held, which Moïse also won. He assumed office in 2017.
Updated 07/23/21 12:55 p.m. EDT: This story has been updated to include more information on the funeral services of Jovenel Moïse and more details of his assassination.