The United Nations peacekeeping force tasked with controlling conflict between Israel and Lebanon is pleading for calm amid a new, persistent escalation along the tense border between the two nations.
News of the unrest first emerged Wednesday amid reports of rocket fire from Lebanese territory across the disputed Blue Line boundary and into Israel. The Israel Defense Forces (IDF) reported that sirens sounded in the villages of Qiryat Shemona, Kfar Giladi and Tel-Hai.
"Three rockets were fired from Lebanon into Israeli territory. Two of them fell in Israeli territory, one of which did not cross into Israeli territory," the IDF said in a statement. "In response, IDF Artillery forces fired into Lebanese territory."
The IDF then sent reports that it had made two additional strikes, bringing the count to three attacks on Lebanon within the course of two hours.
Meanwhile, the United Nations Interim Force in Lebanon tracked the developments, which take place on the anniversary of a blast that devastated the port of Lebanon's capital Beirut, deepening an economic crisis that has worsened a year later.
"Just after noon today, UNIFIL received reports that at least two rockets had been fired from Lebanon towards Israel," a spokesperson for the U.N. Interim Force in Lebanon said in a statement sent to Newsweek. "The IDF confirmed the reports and responded with artillery fire."
In response, UNIFIL Head of Mission and Force Commander Major General Stefano Del Col established "immediate contact with the parties." He "urged them to cease fire and to exercise maximum restraint to avoid further escalation, especially on this solemn anniversary."
"UNIFIL remains fully engaged with the parties through our liaison and coordination channels and we are working with the LAF to ensure immediate follow up on the ground and to reinforce security along the Blue Line," the statement said. "It is imperative to restore stability immediately so UNIFIL can begin its investigation."
Reports of territorial violations between Israel and Lebanon were not uncommon and the Lebanese Armed Forces had earlier reported Wednesday that an Israeli spy plane had crossed into Lebanese territory in the Mediterranean.
"An Israeli enemy reconnaissance plane violated Lebanese airspace from above the sea, west of the town of Damour, and carried out circular flights over the areas of Beirut and its suburbs, Baabda and Aley, then left the airspace at 13:20 from above the sea opposite the town of Damour," the LAF said.
And as chaos emerged from their border at land, Lebanon's state-run National News Agency first reported that rockets of unknown origin had been fired toward Israel, with two reaching across the Blue Line and three falling within the plans of southern Lebanon's Marjayoun. Reports followed of Israeli shelling of Marjayoun and nearby areas such as Rashaya al-Fokhar and Dis al-Khouraibeh as well the hills and forests by Kfar Shuba and Habariya, where Lebanese Civil Defense forces were mobilized to extinguish fires ignited by the shelling.
The Lebanese Armed Forces confirmed the news and said, all together, some 92 shells had been fired by Israeli units. The Lebanese military also said it had opened an investigation into the rockets fired from Lebanon.
The IDF later warned it would further hold its northern neighbor accountable for any cross-border attacks.
"This is the third time in recent months that rockets are being launched at Israeli civilians from within Lebanon," the IDF said in a statement sent to Newsweek. "This attack on Israeli civilians is the responsibility of the Lebanese government. As well as a direct violation of UNSC Resolution 1701 which called for the disarmament of all non-State armed groups in Lebanon."
"The IDF will not accept any threat to Israeli sovereignty and will continue to do everything possible to defend the State of Israel," the IDF added.
Hours later, reports emerged of further attacks on Lebanon and the IDF confirmed to Newsweek in a statement it had conducted airstrikes.
"Earlier today, rockets were fired from Lebanon into Israeli territory. In response, IDF fighter jets struck the launch sites and infrastructure used for terror in Lebanon from which the rockets were launched," the statement said.
"An additional target in the area from which rockets have been launched in the past was struck as well," the IDF added.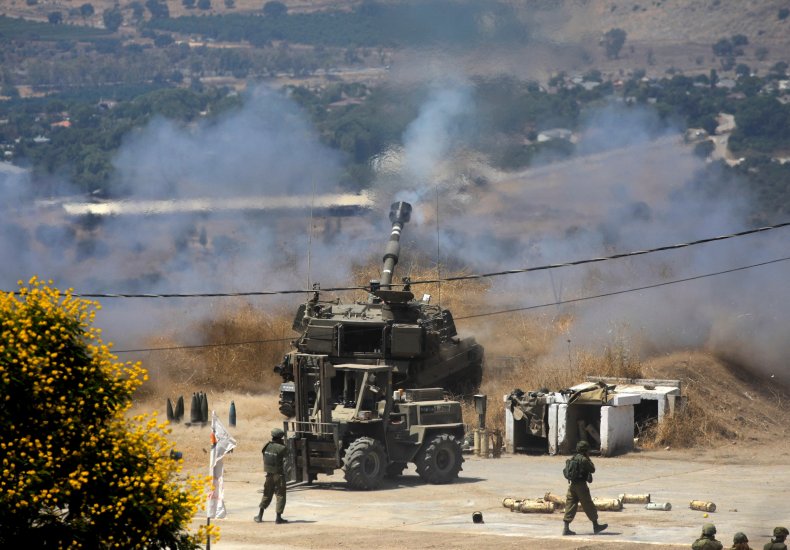 The latest fighting comes roughly two weeks after a previous round of hostilities in which the IDF fired on Lebanon in response to rocket launches that occurred just hours after neighboring Syria accused Israel of conducting airstrikes there.
Up to three rounds of rockets were fired from Lebanon, and two barrages from Syria, throughout 11 days of conflict in May between the Israeli military and Palestinian factions led by the Hamas movement in Gaza. Pro-Palestinian protesters also stormed the Blue Line, drawing IDF fire that resulted in at least one death.
Israel remains in a technical state of war with Lebanon and Syria since the country's 1948 establishment on territory also claimed by Palestinians, an event that sparked a regionwide conflict and two more pan-Arab wars with Israel. Israel has also fought two wars in Lebanon, mainly against the powerful Iran-backed Hezbollah movement, and today continues to conduct strikes against suspected Iran-linked targets amid a decade-long civil war in Syria.
But as Iran and Israel's murky conflict plays out across the region, Tehran has sought to only fortify its relations with Damascus.
Also on Wednesday, Iranian Expediency Discernment Council Secretary Mohsen Rezaei traveled to the Syrian capital for a meeting with Syrian People's Assembly Speaker Hamouda al-Sabbagh, in which the two sides reaffirmed their ties.
"For forty years, the Islamic Republic of Iran and Syria have been cooperating like two brothers against the colonial aggression and for the establishment of peace and security," Rezaei said, according to an Iranian readout. "We have achieved good things in these four decades. We stood together against the worst terrorists."
But he acknowledged that "trade relations between the two sides are now weak" and called for an expansion in this field.
Sabbagh, for his part, praised the bilateral cooperation between the sides against militant groups, saying "Syrian blood has mixed with Iranian blood, which has resulted in victories in the face of this phenomenon that threatens the entire world."
"We are facing one enemy and one destiny," Sabbagh said, according to a readout shared by the Syrian parliament. "Therefore, concerted joint efforts between the Syrian and Iranian sides and activating and strengthening cooperation between them will benefit the two friendly countries and peoples."
Iran has also sent humanitarian aid to Lebanon, as has a number of nations, in the wake of last year's port blast and an underlying financial collapse that has led to sharp currency depreciation, soaring consumer prices and a shortage of basic resources. Israel too has offered aid, though their hostile state of relations would complicate any deliveries.
The White House announced Wednesday that the U.S. would provide Lebanon with nearly $100 million in new humanitarian assistance, adding to roughly $560 million in sent over the last two years.
Commenting on the latest unrest that same day, State Department spokesperson Ned Price echoed the stance of President Joe Biden and Secretary of State Antony Blinken by weighing in on the side of Israel, the U.S.' top Middle East ally.
"When it comes to the rocket attacks, we absolutely condemn the rocket attacks from armed groups based in Lebanon that were fired into Israel," Price said. "As the President has said, as Secretary Blinken has said, that Israel has the right to defend itself against such attacks. We will remain engaged with Israeli partners, with Lebanese officials, and other partners in the region in an effort to de-escalate the situation."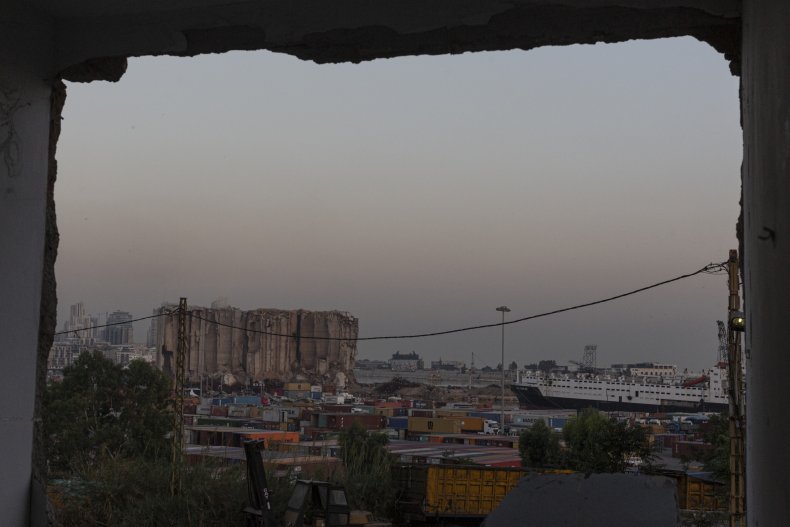 This is a developing news story. More information will be added as it becomes available.